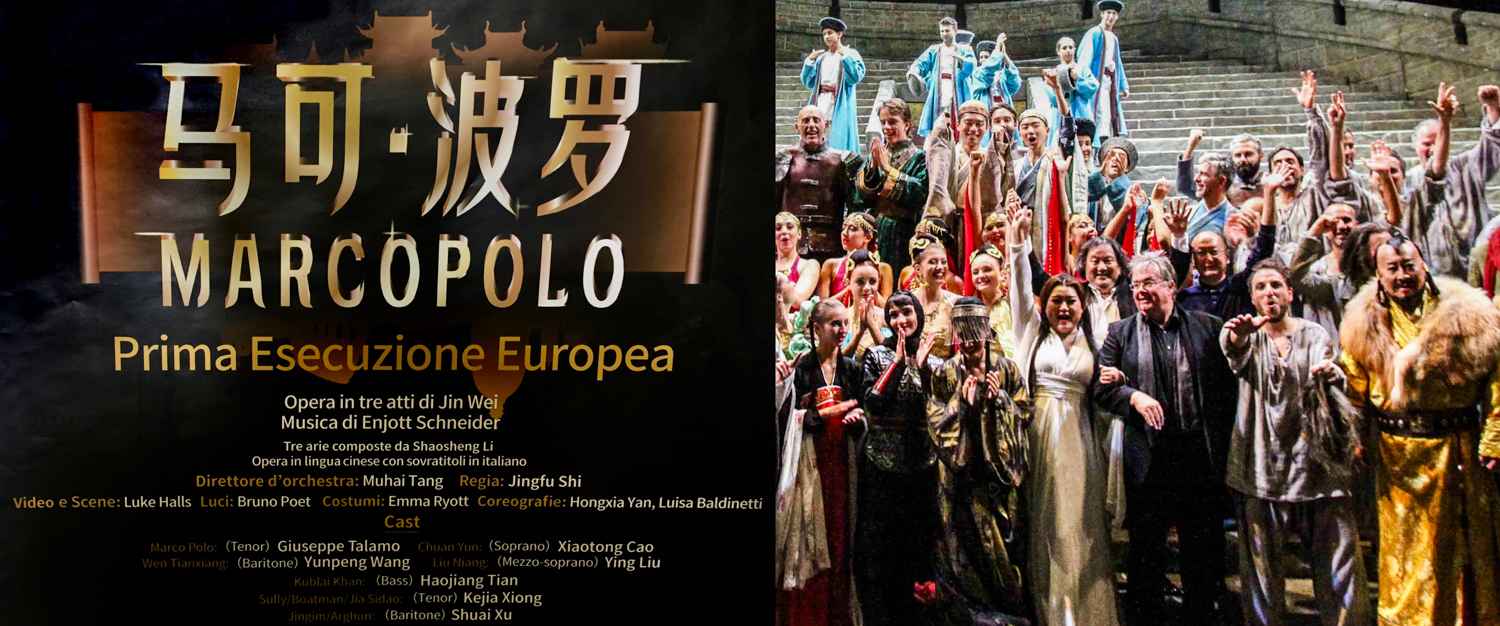 From September 22 to October 1, the European premiere of my opera "MARCO POLO", composed in Chinese and commissioned by the Chinese government, took place in Milano and Genova (Italy). After the three productions in Guangzhou and Beijing (2018) as well as in Quanzhou (2019), this European tour was now a successful test: The fact that the press and audience enthusiastically acclaimed these performances was very gratifying. Even more gratifying was the fact that the opera now "functions internationally": the Italian singers and the brilliant choir of the Teatro Carlo Felice in Genova proved that it is also possible to study and sing in Chinese outside China without any problems. Just as Bizet's "CARMEN" was sung in French or Musssorgski's "BORIS GODUNOW" in Russian, "MARCO POLO" was sung in Chinese as naturally.... Now the ice is broken. The entry into the international repertoire can begin.
Press headlines:
"Marco Polo" in cinese, che bella sopresa. L'Opera kolossal Lancia la nuova stagione…brillante la prova del coro. / "Marco Polo" in Chinese, what a lovely surprise. The new season starts with a monumental opera.... Brilliant performance of the choir. (Margherita Rubino)
----------
"Marco Polo" unisce Oriente e Occidente in un'opera epica in prima esecuzione europea… , applausi lunghi e calorosi. / Marco Polo" unites East and West in an epic opera...long and warm applause (Giulia Cassini)
--------
Praise to the Teatro Carlo Felice, which has the unique dimension to create such a big project...". (Emanuela Mortari)
------------
Il linguaggio musicale è bello e vario, tra dissonanze di passagio e scrittura melodica, non priva di citazioni pucciniane e canto declamato, eseguito dalla "nostra" orchestra guidata da Tang Muhai. / The musical language is beautiful and varies between dissonant passages and melodic spelling, it also features declaimed singing and a diction of the Range Puccinis, accompanied by "our" orchestra conducted by Tang Muhai.
--------------------------------------------------------------------------------------------------------------------------------------------------------------------------------
In the run-up to and during the performances, Genova's Lord Mayor, the Ambassador of the People's Republic of China Jun Hua LI and the producer and chairman of the state-owned "China Arts & Entertainment Group" Jin Sheng LI also took the opportunity to present themselves: the idea of a "New Silk Road", which unites the peoples of China, was honoured and realized in the most beautiful way in the international "MARCO POLO" project.
My personal highlight was the gigantic revolving stage in the form of an amphitheatre. The amphitheatre was shipped from Guangzhou (the port city of Canton) to Genova by ship and chugged across the world's oceans for two months.... just like the sea route version of the Silk Road at that time in Middle Age.