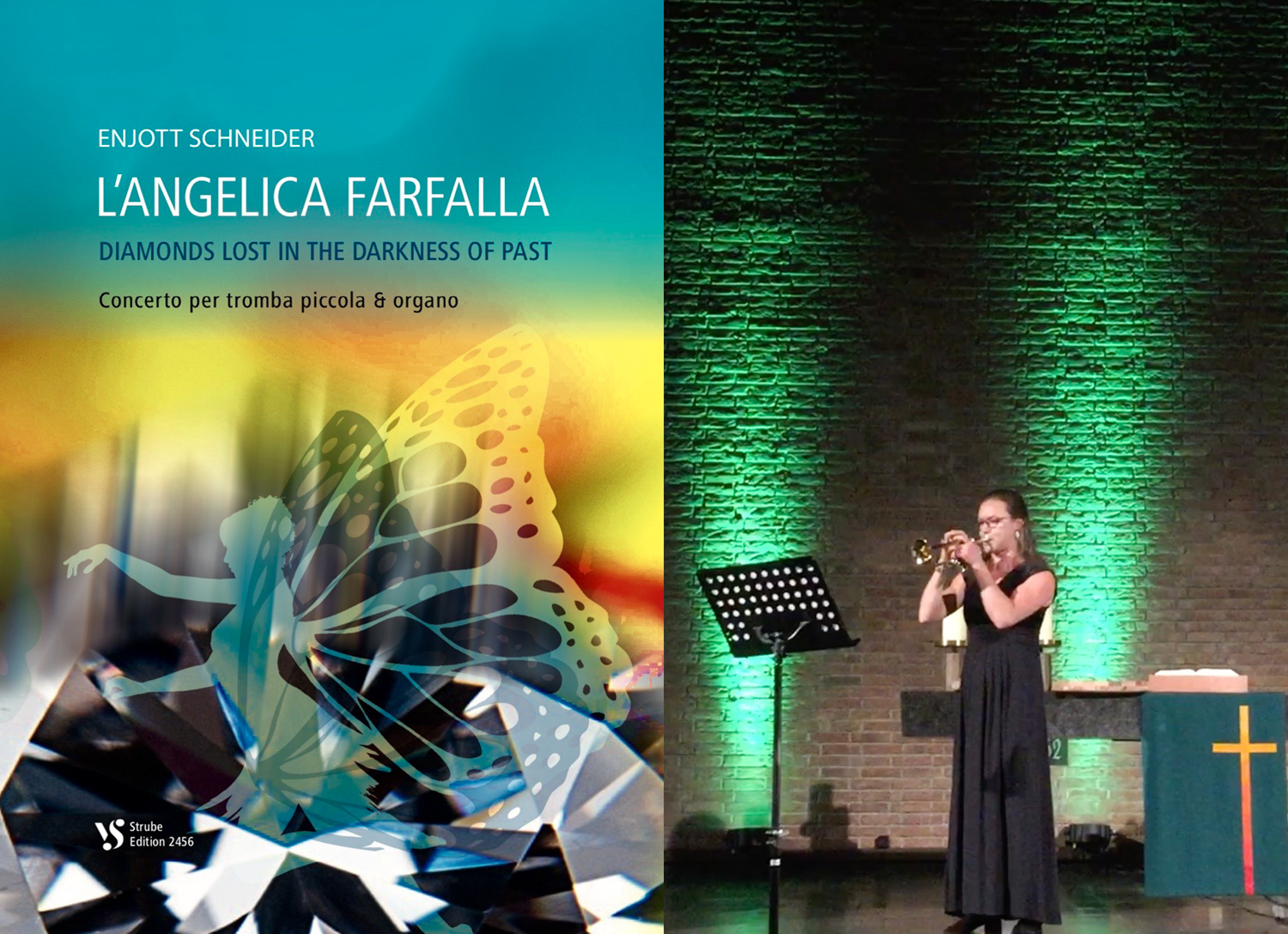 SEPTEMBER & OCTOBER 2020 WITH FOUR PREMIERES
On September 4th in Lamole (Chianti/Italy)... and then further performances in Impruneta/Firenze, in Castelina/Siena- was the premiere of the CONCERTINO FOR BASSOON & STRINGS "ODE TO HARMONY", composed in August: Jonas Alexander Beckmann (bassoon), Laura Sophia Hummel (solo violin) and the orchestra BELLA MUSICA of the Mozarteum Salzburg, conducted by Stefan David Hummel.
On 8 October, Christuskirche Dormagen gave a concert entitled "The Language of the Universe and Freedom" with a show of works by Enjott Schneider to mark his 70th birthday and with two premieres:
Organist Georg Wendt played the UA of the SILENT PRELUDES. ABOUT INSECTS & THE MICRIBIOTIC WORLD for organ, sound design and video projection With the young virtuoso Mechthild Drop (Netherlands) on the piccolo trumpet he also played the three-movement concerto "L'ANGELICA FARFALLA. DIAMONDS LOST IN THE DARKNESS OF PAST" for trumpet and organ.
On 16 October, the opening concert of the 45th "Fränkische Musiktage" featured a world premiere - remarkable in times of the Corona pandemic: Enjott Schneider's "BEETHOVENS SCHÖPFUNG" for soloists, choir and ensemble (commissioned for the Beethoven Year 2020) was performed by soloists, choir and ensemble of the Süddeutsche Kammerchor, conducted by Gerd Jennemann. Further concerts followed in Frankfurt's Deutschordenskirche, in the "Bergkirche" of Gründgau and in the Basilica of St. Martin in Bingen. Highlight and great honour was the participation of Monika Grütters, Minister of State for Culture and Media, who was able to make a fiery plea for the preservation of culture in these times of crisis of the pandemic.