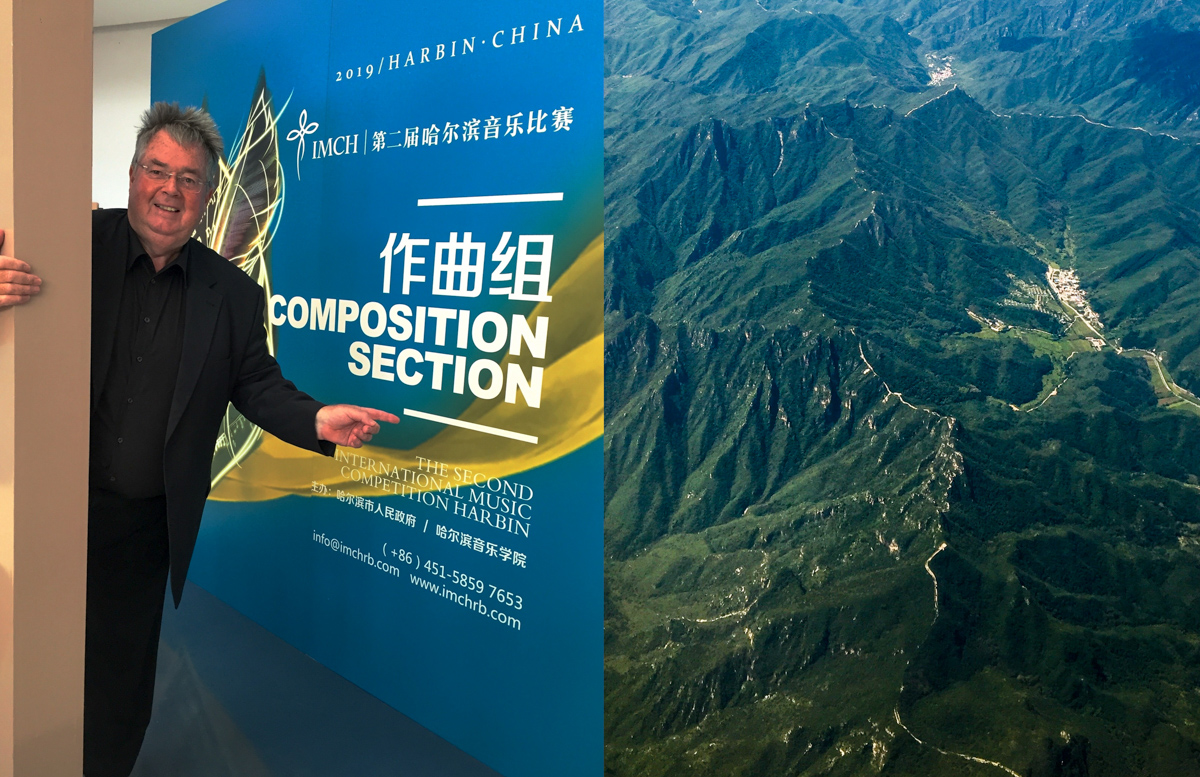 Enjott at HARBIN MUSIC COMPETITION... and looking at the Great Wall of China, photo taken from the airplane from 11.000 meters above. China is always amazing!
AUGUST & SEPTEMBER 2019: CONCERTS & WORK IN JURY
More to the background of the composer's profession belongs the collaboration as jury member at competitions. Looking through stacks of scores and making serious decisions about people's lives is as strenuous as it is responsible! - These were four competitions in the summer of 2019: the Tyrolean Composer Prize, won by the Austrian artist Rita Goller; the "International Music Competition" in Harbin, China's northernmost metropolis, considered to be a musical centre of China. . Eight major orchestral works were performed by the Harbin Philharmonics and had to be judged by an international jury: Unsuk Chin (Korea), Xiaogang Ye (China), Robert Beaser (Julliard School New York), George Lewis (Columbia University New York) and Enjott Schneider (Germany). The 1st prize of 50,000 dollars went to Sam Wu (Australia). In Brussels/Italy there was the competition "Leonardo 4 Children" as an artistic examination of Leonardo da Vinci. In St. Peterburg (Russia) the competition "National Collection" offered a special colour: Here compositions were awarded which use "ethnological" or "local" instruments. A very important competition, because such music is usually labeled as "folklore"...although (as the more than 80 scores showed) it was a most serious line of contemporary music.
In addition to the more public "World Premieres", there were many concerts with repeat performances in summer 2019. For example, my opera MARCO POLO (composed in Chinese language) was performed in Quanzhou/China from 1 July, and in September2019 as a European premiere in the opera houses of Milan and Genoa (Italy). On 3 August 2019 the Singapore Chinese Orchestra played my "EARTH & FIRE" for sheng and orchestra (soloist: Wu Wei) in Singapore and then went on a European tour from Konzerthaus Berlin to Forli (Italy) and the Dodoni Festival 2019 in Greece - there spectacularly in the ancient theatre with its 18,000 seats (see photo). Besides my "EARTH & FIRE" the impressive "FIRE RITUAL" by the Chinese composer Tan Dun is played under the direction of Tsung Yeh.
The concert tour of the American organist Felix Hell (New York), who "celebrates" my Toccata SCHLAFES BRUDER with stupendous virtuosity and by heart, is to be emphasized, so in Paris (Oratoire du Louvre) on 6 July, Kaiserdom Königslutter on 14 July, on 20/21 July in the Heidelberg Audimax with orchestra, on 31 July in the Münchner Frauendom and on 22 August in the Passauer Dom. The Nuremberg Symphony Orchestra with the Saxophone Quartet Clair-Obscur will play BERLIN PUNK on a tour from Nuremberg to Munich.