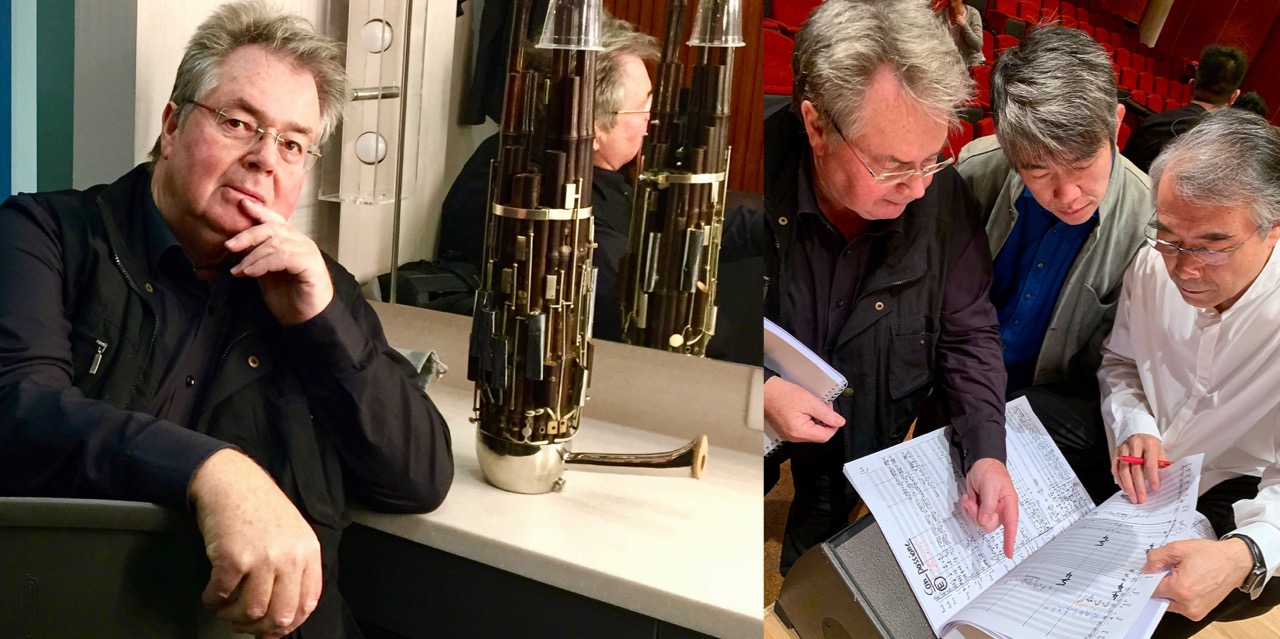 Worldpremiere Hongkong 2019 February
ASIA - LONGING FOR THE ORIGINS
If I look at the musical focal points of the last months and years, "Asia" has an outstanding significance. This also includes - surprisingly for some - Siberia, where I have already recorded several CDs and had concerts. Krasnoyarsk is quite exactly the geographical center of Asia and the Siberian world with the infinite fauna and flora, with the archaic energy of shamanism and the healing spirits of natural medicine is very close to TCM traditional chinese medicine and life view. SPIRITS OF SIBERIA is dedicated to this fascinating world and will be premiered on September 13th in Krasnoyarsk by Reinhold Friedrich (trumpet) at the festival "Asia - Siberia - Europe". Syria also belongs to Asia, for which I wrote the work PRAYERS for the Arabic oud and organ performed in February 2019.
The ancient Chinese way of thinking is undoubtedly the centre of my Asian longing. Many works were created from this center: YIN & YANG composed for the Sheng virtuoso WuWei (with whom I have been working for 22 years now) has become a real hit: European Est premiere in Jena on 30 and 31 January 2019, then CD recording there in March, then on 19 June with the Hamburg Camerata, on 23 and 24 June with the Wuppertal Symphony Orchestra. WuWei will also play EARTH & FIRE with purely Chinese orchestral accompaniment on 3 august in Singapore with the SCO Singapore Chinese Orchestra and then go on a European tour with the SCO in September. Erratic rock is the third production of my opera MARCO POLO (which I composed in Chinese language) ....this time in Quanzhou from 28 June 2019, and on a European premiere (also conducted by Muhai Tang) at the Teatro Felice in Genoa from 28 September.
On 22 February 2019 the world premiere of THE TRAVELS OF MARCO POLO took place at the Hong Kong Arts Festival. Then there was the next commission for a double concert THE DAO OF WATER for Yanqin (the Chinese dulcimer) and Kanun (the Turkish dulcimer), which will premiered on February 22nd in 2020. At the same time, a europeanized version for two flutes and a western symphony orchestra will be created. This work hits the core of my Asian orientation: in Daiosmus, "water" is the symbol of all being. It is - as Laotze always pointed out - modest, humble, always downward orientated and never up-and-coming, it is apparently very weak... and yet it is so strong that it can destroy rocks. This resilience as a sign of strength and power also characterizes the nature of the Shaolin monks, who with concentration and mental power gain the upper hand in every battle and against matter. Also inspired by water is my piano trio MOON OVER ERQUAN WATERS, which I composed in July. It will be premiered in Shanghai in 2020 and is based on a Chinese melody of the same name, which has an almost cult reputation far beyond China.
So the series of the Asian colored works can be continued easily. For the Kaoshiung Chinese Orchestra in Taiwan the work JI YING is extended by one movement and performed a new on 14th December 2019. A work HEIWA NO KANE (Bell of Peace) for String Orchestra is currently being composed which will be premiered in April 2020 in Hiroshima in commemoration of "75 Years of the Atomic Bomb".