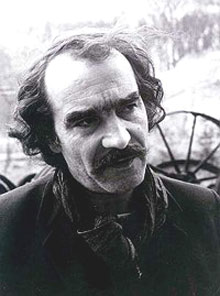 Update Required
To play the media you will need to either update your browser to a recent version or update your
Flash plugin
.
Category: Symphonic / Orchestral
Duration: 9 Minutes
Publisher of notes/sheet music: Schott Music GmbH , Leihmaterial , 2005
Instrumentation: Brass soloists:
5 trumpets (B)
2 french horns (F)
3 tenor trombone
Bass trombone
Bass tuba

Symphony orchestra:
Piccolo
Flutes1/2
Oboe 1/2
Clarinet (B) 1/2
Bassoon1/2
contra bassoon
French horn (F) 1-4
Tenor trombone 1/2
Bass trombone
Bass tuba

4 percussionists:
Perc.1: Kettledrums
Perc.2: bass drum, trinagle, hanging cymbals, claves, temple blocks, metal
Perc.3: snare drum, glockenspiel, hanging cymbals, metal
Perc.4: flexaton, xylophon, 3 tomtoms, hanging cymbals (large), metal
(metal should be bars, pipes, sheets, bins, containers, ladders)



large string section
(16-14-12-10-8)
Solo instruments: Horn, Posaune, Trompete (B), Tuba
Introduction: With the trivial motifs, borrowed from the scrap-yard of music history, the brass players portray the 'bulk garbage' thoughts of Jean Tinguely (1925-1991), while the symphony orchestra keeps itself rather serious or avant-garde. At one stage the chaotic 'Basler Guggemusik' with the Basel rhyme "Z'basel an min Rhi" serve as homage to the Carnival lies if Tinguely.

Particular care is taken in the experimental use of ' creaking noises' that is prescribed in the score for the strings: hard impressing of the bow on the strings produces a loud, croaking sound. The same is expected from the percussionists where the use of 'everyday' instruments like lids, buckets, brass plates or rods are prescribed, in order to produce a machine-like junkyard-flair of unconventional sounds. This lies wholly in line with Tinguely's way of thinking, who commented on his garbage-materials: 'I let them play tricks, be stupid and monkey about...one has to do that well and very seriously.

'The joke is playing along with it in all seriousness. Tinguely's history is one of the rebel, who, as a young and uncompromising communist, wanted to be a carnivalist, wanted to revolutionise the conditions of a lost and unjust society, and , as an artist, wanted to be a carnivalist.' (Peter Gronau). Tinguely formulates this similarity: 'I try to concentrate on the technical frenzy of our cheerful industrial world. I want to express this by almost distraught means - like Sisyphos, gridlocked, guaranteed without meaning.' Or: 'Art is upheaval. I organise this revolt. I take leave of the throne of art, create artworkd that expressly want to escape the system.


Dedication: Dedicated to the BACH, BLECH & BLUES ensemble


World premiere: 09.05.2006, Post station Berlin
Performers at world premiere: Bach, Blech&Blues and the RIAS Youth Symphony Orchestra, conducted by Markus Poschner