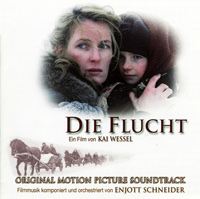 Update Required
To play the media you will need to either update your browser to a recent version or update your
Flash plugin
.
Category: Recordings , Film Music
DIE FLUCHT (director: Kai Wessel, a Teamworx production) is a two-part event in television that has indeed become a milestone in film history. Great cast and production. A great document of European war history. The elaborate film score, composed and conducted by Enjott Schneider, was written in just a few weeks and - inspired to the highest degree by the fascinating images and the shocking story - was nevertheless one of the best film scores. It also exists as a Symphonic Suite with Orchestra.
The magazine NMZ (Neue Musikzeitung) named the soundtrack as "beste deutsche Filmmusik des Jahres" and in august 2007 the score was awarded with the "Deutscher Fernsehpreis Beste Filmmusik"
- In the photos below (click to enlarge) a detailed work report is given.
Introduction: Enjott Schneider: DIE FLUCHT - a film music is created

As a substitute composer I was confronted very late in November 2006 with this film, which I got to know - as is usual today - with "temp tracks" on two DVDs: The temporary tracks with the compositions by Ennio Morricone, Hans Zimmer or James-Newton Howard showed me that a grand gesture and a dominant music with a narrative character are required. In the "spotting session" - that important meeting at which the style, stakes and functions of the film music are discussed and determined in detail - my partners then expressly requested a great epic music, such as in Morricone's "Once upon a time in America" (according to Gabriela Sperl, the screenwriter and co-producer). According to director Kai Wessel, the music should have an oversized spectrum of expression and, if possible, already contain in the main theme the love for the homeland East Prussia, the beauty of a landscape, the greatness of an unusual female figure, but also already the knowledge of the coming pain and all suffering.
Fortunately, I had already completed several productions with Teamworx-Film and especially with Gabriela Sperl ("Stauffenberg", "Nicht alle waren Mörder"), so that a certain understanding was guaranteed. In order to have nevertheless security, I developed a topic framework before the actual setting, which covered dramaturgically all characters and their relations. After several sketches (simulated with a sampling orchestra) I was then given a coherent thematic framework:
The Lena theme in E minor (with the significant minor sixth and a 16-bar harmonic arc) was the main theme in the title and end credits. There was a vocal version of this as "inner voice" Lena. Derived from this (in ¾ time and shifted to C minor) was the trek theme, in which the main melody circles endlessly over stomping bass figures. In addition, there was Lena's "personal theme" in C minor (to be heard at the end of the title and end credits), which is varied several times (e.g. as a deep string chorale when the prisoners are led out to be executed, e.g. in a C major variant during the friendship with Heinrich. One theme in G major (the parallel key to the main theme in E minor) was kept very positive - at the request of Gabriela Sperl - in order to counteract the rather gloomy tuning of the film: it is the theme of hope, the love for East Prussia, with which the film (before the title music begins) quietly concludes.

Most of the time, the other themes also express the world of Lena's feelings. The father theme, with its ambivalent alternation of D minor and F sharp minor, tells of Lena's ambivalence in her relationship with her father. The theme of her daughter Vicky (originally long and independent) appears only in short fragments, because it is too much overshadowed by Lena's themes. Lena's love for the French prisoner of war Francois has a special significance: for these mysterious feelings, which go beyond all rules of etiquette of the East Prussian nobility, I chose the magical-dark timbre of the duduk (an Armenian wind instrument that has become more popular since "Gladiator") at an early age. The theme of Ferdinand, her sensitive friend, who lives in discord with his father and the conventional landed gentry, is detached from Lena's emotional world until it finally perishes in the atrocities of the time: a chromatic, bass-laden theme with many dissonances.
After the themes were fixed, the composition was done very quickly in the form of sampling layouts. Within three weeks, 180 minutes of film
(with a high music content of 150 minutes) and were presented to director Kai Wessel as well as producers Nico Hofmann, Joachim Kosack and Gabriela Sperl in two discussion-packed sessions shortly before Christmas 2006. Solo soprano (Gabriele Steck), duduk (Sandro Friedrich) and the partly highly virtuoso part of the solo violin (Manuel Druminski) were already genuinely recorded especially for the layout approval, giving the music a greater power of persuasion. Afterwards, the green light was given for the production: from 20.12.2006 to 4.1.2007, over 1000 sheets of music orchestral scores and parts were written by hand (which is my personal preference, since it surpasses the computer in speed), a third of which was then transferred by Dorothea Hofmann (the typesetter) in perfect notation: these were permanent 18-hour working days over Christmas and New Year, otherwise the planned orchestra date of 6/7 January 2007 would not have been possible. This in turn was imperative because the film mixes in Hamburg were already scheduled for January 11.
After the orchestra folders had been sorted (4,500 sheets of music for 80 musicians) and the working tracks had been played in with a click (to keep to the exact timing) and checked a hundred times over, the music recordings ran very professionally and without complications: My contractor and concertmaster Manfred Hufnagel, with whom I have been working since ?Herbstmilch? 1988, had put together my "Munich Philharmonic Film Orchestra" again (mainly from the ranks of the Munich Philharmonic). Sound engineer Klaus Strazicky, with whom I have been working since 1995 (he recorded my soundtracks for "Mädchen Rosemarie" or "Schlafes Bruder", for example) had prepared the Bavaria Music Studios with 5.1 surround miking, the Protool setup with almost 200 orchestra tracks and monitoring with 80 headphones, so that everything - regulated according to complex track and time code plans - could get started. For musicians and also for me as a conductor, such a recording is the hardest work: in two 10-hour working days, a not uncomplicated piece of music has to be played off the page, flawlessly and yet with an optimum of freshness and expression, and immortalized on a sound carrier. That means immense concentration. In such moments, one looks with envy at the colleagues on the American film music scene, who have six times the money and time available for a recording of 150 minutes of film music.
Nevertheless, the subsequent music mixing, which was then five-channel on the large Digidesign Icon console (with all the technical refinements) in my Munich recording studio, quickly gave rise to an euphoric mood: It was worth it! A great film music was created, which motivated, challenged and finally made everyone involved happy.
Records: 2007
Performers on recording: Munich philharmonic film orchestra, conducted by Enjott Schneider with Sandro Friedrich Northrop (Duduk), Manuel Druminski (Solo violin), Gabriele Steck (Soprano), Enjott Schneider (Piano)

Recorded on 6.7.2007 in the Bavaria music studios, sound master: Klaus Strazicky.

Orchestra:
Violin: Manfred Hufnagel (first violin), Norbert Bernklau, Thais Coelho, Jonel Craciunescu, Nenad Dalore, Karel Eberle, Alina Florescu, Ingrid Friedrich, Michael Friedrich, Ulrich Hahn, Bernd Herber, Andrea Karpinski, Ralf Klepper, Alexander Kostin, Karol Liman, Evian Mihvea, Alexander Möck, Ursula Riehm, Peter Riehm, Hermina Szabó, Josef Thoma, Yusi Chen, Zhou Qi

Viola: Wolfgang Berg, Hans Ulrich Breuer, Agata Fiolek, Eva Maria Klose, Reto Kuppel, Julia Mai, Norbert Merkl, Andreas Muck, Burkhard Sigl, Johannes Zahlten

Cello: Peter Besig, Sven Faulian, Song Jae-Won, Thomas Ruge, Manuel von der Nahmer, Emil Radutin, Wulf Schaeffer, Markus Wagner, Clemens Weigel, Veit Wenk-Wulf, Gerd Zank

Double bass: Marc Dorin, Herbert Duft, Holger Herrmann, Ingo Nawra, Alexander Preuß, Piotr Stefaniak, Jesper Ulfenstedt, Johann Wagenbauer

Flute: Burkhard Jäckle, Alexandra Murr
Bass flute: Giuseppe Solera
Oboe: Ulrich Becker, Jürgen Evers
Cor anglais: Yeou-Hee Kwak
calrinet: Harald Harrer, Carolin Heilig
Bass clarinet: Stefan Schneider
Bassoon: Johannes Overbeck
Contrabassoon: Wolfgang Piesk
Horn: Franz Kanelzky, Maximilian Hochwimmer, Marc Ostertag, Karl Reitmayer,
Trumpet: Josef Bierlmeier, Frank Blödhorn
Trombone: Markus Blecher, Hans Jörg Profanter, Uwe Schrodi
Percussion: Stefan Blum, Daniel Wehr
Harp: Uta Jungwirth
Piano: Enjott Schneider