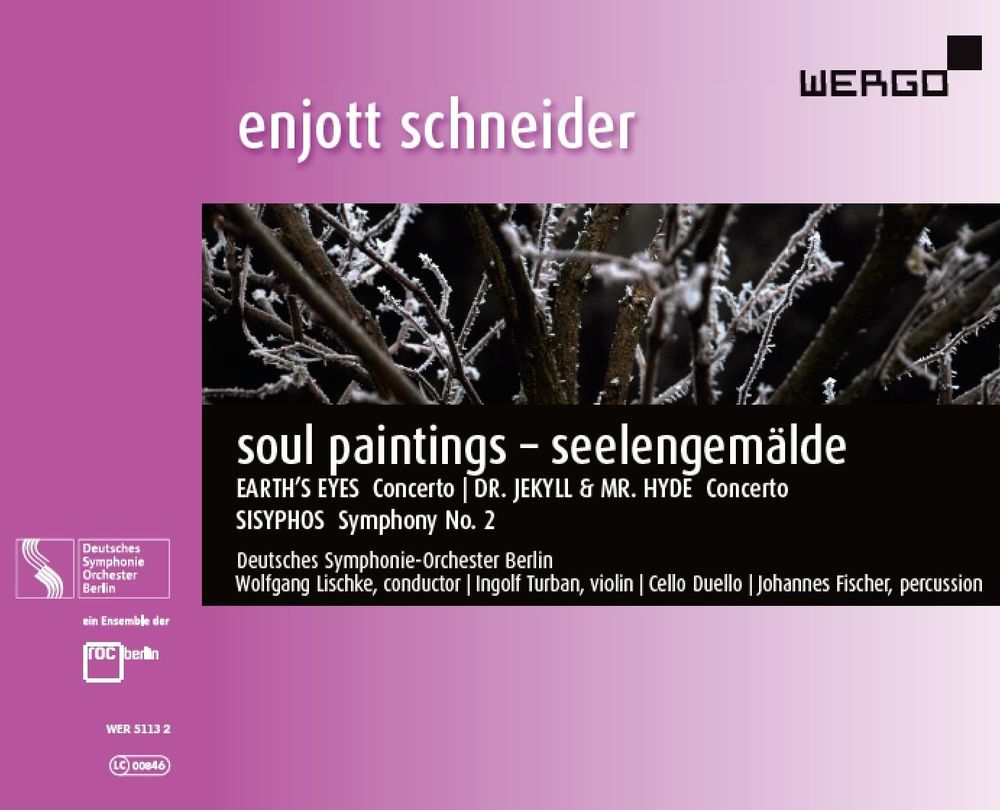 Update Required
To play the media you will need to either update your browser to a recent version or update your
Flash plugin
.
Category: Symphonic / Orchestral , Recordings
Emotions: sometimes vulcano-like, sometimes lyrical - but always from deepest inside the heart...... with excellent soloists: Ingolf Turban with Violin Concerto AUGEN DER ERDE / EARTHS EYES, Johannes Fischer with Percussion-Symphony SISYPHOS, Jens-Peter Maintz and Wolfgang Emmanuel Schmidt with Cello-Duello in DR. JEKYLL & MR. HYDE
Movements: Including works for soloists and orchestra - - - - -


DEUTSCHES SYMPHONIE-ORCHESTER BERLIN DSO (German Symphony Orchestra)
condcuted by Wolfgang Lischke - - - - - -

___________________________________________________


"AUGEN DER ERDE / EARTH'S EYES"
CONCERT FOR VIOLIN AND ORCHESTRA
Id1 I: Königsee
Id2 II: Mondsee
Id3 III: Lago Di Garda

cadence by Ingolf Turban
Musikverlag (music publisher) Ries & Erler
Ingolf Turban (violin)

________________________________________

"DR. JEKYLL & MR. HYDE" CONCERT FOR
2 VIOLONCELLOS AND STRING ORCHESTRA
Id4 I: Prologue
Id5 II: "Good" and "evil" in Dr. Jekylls Laboratory
Id6 III: Foggy London: Carew is murdered
Id7 IV: Mr. Hyde, the hunted outlaw (Scherzo)
Id8 V: Manic depression, Metamorphosis and Suicide
Id9 VI : Epilogue

Musikverlag (music publisher) Ries & Erler
CELLO-DUELLO featuring Wolfgang Emanuel Schmidt & Jens-Peter Maintz

____________________________________________________________

"SISYPHOS" SYMPHONY NO. 2 FOR DRUMS AND ORCHESTRA
Id10 I: Allegro vivace "Punished by gods"
Id11 II: Adagio "Visions"
Id12 III: Vivo. The liberation of Sisyphos

Schott Music
Johannes Fischer (percussion)
Introduction: SOUL PAINTINGS – MUSIC AS EXPRESSION

In the idle dispute whether music is more about "form" or "content" it should be noted that design and expression always depend on each other and that just their balance is crucial for the perception: Each work architecturally plays with tones, colors, textures or genres and is a composed "form". All musical components (like intervals, rhythms, tones, themes, time) are, however, also loaded by the music-historical use in constant contexts as "expression of an subjectivity" - regardless of whether in the tradition of songs, operas, ballets or sacred music. Especially the type of a solo concert suggests that music is an expression of the soul: subjectivity and psychological basis of the abstract sound are particularly becoming accessible, visible and centered in an individual.
In the three works of this CD-recording spiritual procedures are deliberately emphasized in the focus of the sounding - also in mythological collective coloring or archaic woodcut-likeliness.
Records: WERGO WER 5113-2, 2015
Performers on recording: Ingolf Turban (violin)

CELLO-DUELLO featuring Wolfgang Emanuel Schmidt & Jens-Peter Maintz

Johannes Fischer (percussion)


Audio recording Teldex-Studios Berlin from May 26 to 29, 2015
Recording, editing and mixing: PEGASUS MUSIKPRODUKTION Florian B. Schmidt & Aki Matusch

It has been the BR-Klassik CD recommendation of the week!!! - see below the text of BR-Klassik editor Matthias Keller