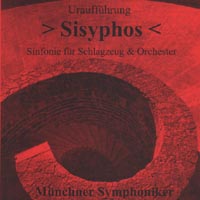 Update Required
To play the media you will need to either update your browser to a recent version or update your
Flash plugin
.
Category: Symphonic / Orchestral
Movements: 1: Allegro vivace 'Punished by gods'
2: Adagio 'Visions' 3: Vivo 'The liberation of Sisyphos'
Duration: 30:00 (14:00 / 08:00 / 08:00)
Publisher of notes/sheet music: , 2006
Instrumentation: 2 fl.(also picc.), 2 ob, 2 clar, bass cl., 2 bs., 3 hr., 3trp., 3 tro (TTB), bass tuba, solo percussionist, 2 percuss., strings (16-14-12-10-8)
Solo instruments: Percussion
Introduction: The 35-minute symphony is inspired by the mythological figure of Sisyphos who was doomed to perpetuel labour because of his slyness with which he even brought Death to his mercy.
The first movement, 'Punished by Gods', mirrors in the forms of Rondo and Perpetuum Mobile the state of meaningless activity. The second movement 'Visions' is inspired by Albert Camus' essay on the figure of Sisyphos as a metaphor of the absurd and presents 'illusion' and 'hope' as the actual causes for human suffering - false dreams of utopia and hoping for better times instead of the acceptance of labour, emptiness and finiteness.
Through these insights the third movement 'the Liberation of Sisyphos' succeeds, in an awe-inspiring feat, to portray his liberation: the liberated being finds himself in the 'Now' and in his fate there is no punishment. The fight against the summit might fill one's heart. 'We need to imagine Sisyphos as a happy person', Albert Camus answered the central question positively for everyone, 'whether life and the effort of living is worth in or not'.


Dedication: ...for Stefan Blum and many years of friendship


Additional remarks: The piece can be peformend as a symphonic solo concert or as a symphony as well as individual pieces.
World premiere: 02.10.2001, Herkules-Saal Munich
Performers at world premiere: Stefan Blum (percussion) and the Munich Symphonics,
direction: Heiko Mathias Förster
Press reviews for world premiere: Süddeutsche Zeitung (13.2.2001): ...the third work of the evening in the Herkulessaal became the chief event. It was the premiere of Enjott Schnieder's Symphony No. 2 for percussion and orchestra. (..) He wants to compose music that catches the listener, music that stimulates psychological response mechanisms, music that tells a story. And he achieves this in an astounding manner. Apparently, the Sisyphos myth deeply affects this much-engaged composer. (..) And everything fitted like a glove, especially in the impulsive corner movements. The percussionist Stefan Blum made his Sisyphos-like workload seem like fun to look at and to listen to. (Reinhard Schulz).

Records: 2015