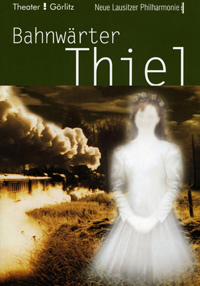 Update Required
To play the media you will need to either update your browser to a recent version or update your
Flash plugin
.
Category: Opera / Music Theatre
Eine große Oper basierend auf dem Libretto des Nobelpreisträgers Gerhardt Hauptmann mit der Tragik einer geknechteten Figur, die in Vielem (...Mord an Frau und Kind) an Wozzeck erinnert: Kind des literarischen Realismus um 1900, mit Transparent-Machung psychoanalytischer Strukturen: ein Mann zwischen zwei Frauen, der verstorbenen in der Religiosität sich überhöhenden Minna (die Heilige) und der Lust und Fleisch liebenden Lene (das sinnliche Weib).... Es bleiben nur Wahnwelt, Mord und Irrenhaus. Das vermag zu fesseln, wie die einhellig begeisterten Kritiken unten belegen.

- Während bei Gerhardt Hauptmanns die Erzählung von Naturstimmungen formal bedeutsam ist, so übernimmt in der Opernversion das Orchester die Aufgabe, in Naturbildern den unaufhaltsamen Abstieg zu beschreiben. In der Komposition INNENWELTEN - INNER WORLDS sind diese Tableaux als Orchesterstücke erschienen und auf WERGO-CD eingespielt.... eine symphonische Einstimmung in die packende Oper.
Movements: Inhaltsverzeichnis:

Tableau symphonique Nr. 1 (?Es war einmal??)
1. scene:
I/1: Am Friedhof. Minna wird beerdigt (Tutti)
I/2: Im Dorf. Thiel und Tobias (Thiel, Tobias, Choir)
I/3: Lene packt sich Thiel (Thiel, Lene, Minna)

Tableau symphonique Nr. 2 (?Zeit vergeht in der Natur?)
2. scene:
II/1: Thiel beim Pfarrer(Pfarrer,Thiel,Choir)
II/2: Was ist der Mensch? (Pfarrer, Thiel, Tobias)
II/3: In der Falle des Fleisches (Thiel, Lene, Tobias)
II/4: Der Alltag und der Dorfklatsch (Tutti)

Tableau symphonique Nr. 3 ('Weg durch märkischen Wald?)
3. scene:
III/1: Thiel im Bahnwärterhaus. Seine Welt. (Thiel)
III/2: Lene misshandelt Tobias (Lene, Tobias)
III/3: Misteriöse Andachten (Thiel, Minna, Lene, Choir)

Tableau symphonique Nr. 4 (?Unwirkliche Natur?)
4. scene:
IV/1: Thiel bekommt Panik. Er will heim. (Thiel)
IV/2: Misshandlung des Tobias (Thiel, Lene, Tobias)
IV/3: Lene über ?Fleisch? (Lene, Thiel, Choir
---- Pause ---
Tableau symphonique Nr. 5 (?Intermezzo oscuro?)
5. scene:
V/1: Thiels Trauma: Zwischen Minna & Lene (Tutti)
V/2: Lene will zum Acker (Thiel, Lene, Tobias, Pfarrer)

Tableau symphonique Nr. 6 (?Friede der Natur?)
6. scene:
VI/1: Familienidylle auf dem Acker (Thiel, Lene, Tobias)
VI/2: Das Unglück: Tobias vom Zug erfasst (Tutti)

Tableau symphonique Nr. 7 (?Schienen ins Nichts?/Film von Kirsten Winter)
7. scene:
VII/1: Thiels Wahn und Verzweiflung (Thiel, Minna)
VII/2: Tobias ist tot. Übergabe des Leichnams (Tutti)
VII/3: Thiel ohnmächtig im Krankenbett (Thiel, Lene)

Tableau symphonique Nr. 8 (?Mondnacht?)
8. Bild:
VIII/1: Lene und ihr Kind ermordet! (Pfarrer, Chor)VIII/2: Thiel auf den Schienen ? irr geworden (Thiel, Choir)VIII/3: Thiel in der Irrenanstalt (Thiel, 2 Wärter, Choir)
Duration: 145 Minutes
Publisher of notes/sheet music: Schott Musik International , 51 289 , 2003
Instrumentation: Thiel high baritone
Lene dramatic soprano
Minna lyrical soprano
Tobias child (speaking and folk song voice)
Pfarrer Bass

village people, constabulary, institute supervisor:
Frau 1 alto
Frau 2 mezzo soprano
Mann 1 tenor
Mann 2 baritone

Choir (at least 20 people)
--------------------------------------------------------
Orchestra:
2 Fl. (2. also Picc.) / 2 Ob. / 2 clar. / 2 bas. /
4 Hr. / 3 trp. / 3 tro. / harp / 2 percussionists /
large string section
-------------------------------------------------------
Also ad libitum: Projections of moving and still pictures (DVD with original footage by experimental film maker Kirsten Winter available at Schott International) and sound effects (sounds. etc)
Additional remarks: Libretto by Julia Cloot and Enjott Schneider
Commissioned by the Oberlausitz/Niederschlesien music theatre
World premiere: 07.02.2004, Görlitz theatre
Performers at world premiere: Direction: Aron Stiehl Stage & costumes: Karen Hilde Fries
Theatre choir, extra choir and the Prague radio choir
Neuen Lausitzer Philharmonie orchestra
conducted by GMD Eckehard Stier
Choir rehearsal master: Myron Michailidis

Thiel: Hans-Peter Struppe
Lene: Yvonne Reich
Minna: Anja Meyer
Priest: Stefan Bley
among others.
Press reviews for world premiere:

"Wärter im Mordmorast" (Die Welt from 2.3.04, also: ?Oper & Tanz?, March-April 2004):
A skillful grip to use the choir as commentator: The singers pursue Thiel, carp and grumble on account of his behaviour. Thus the opera gets the interesting second level: The (pre) judgment by people of others. Enjott Schneider has well met the sombre-narrow atmosphere of the novella. His music is often melodic, symphonically flattering and places, with rough beats, sharp accents on the wind players. (Ute Grundmann)

Records: Selbstverlag,
Performers on recording: A video documentary (short and long versions) with 3 cameras (Z-Art film productions Munich) as live recording and can be ordered with the author.