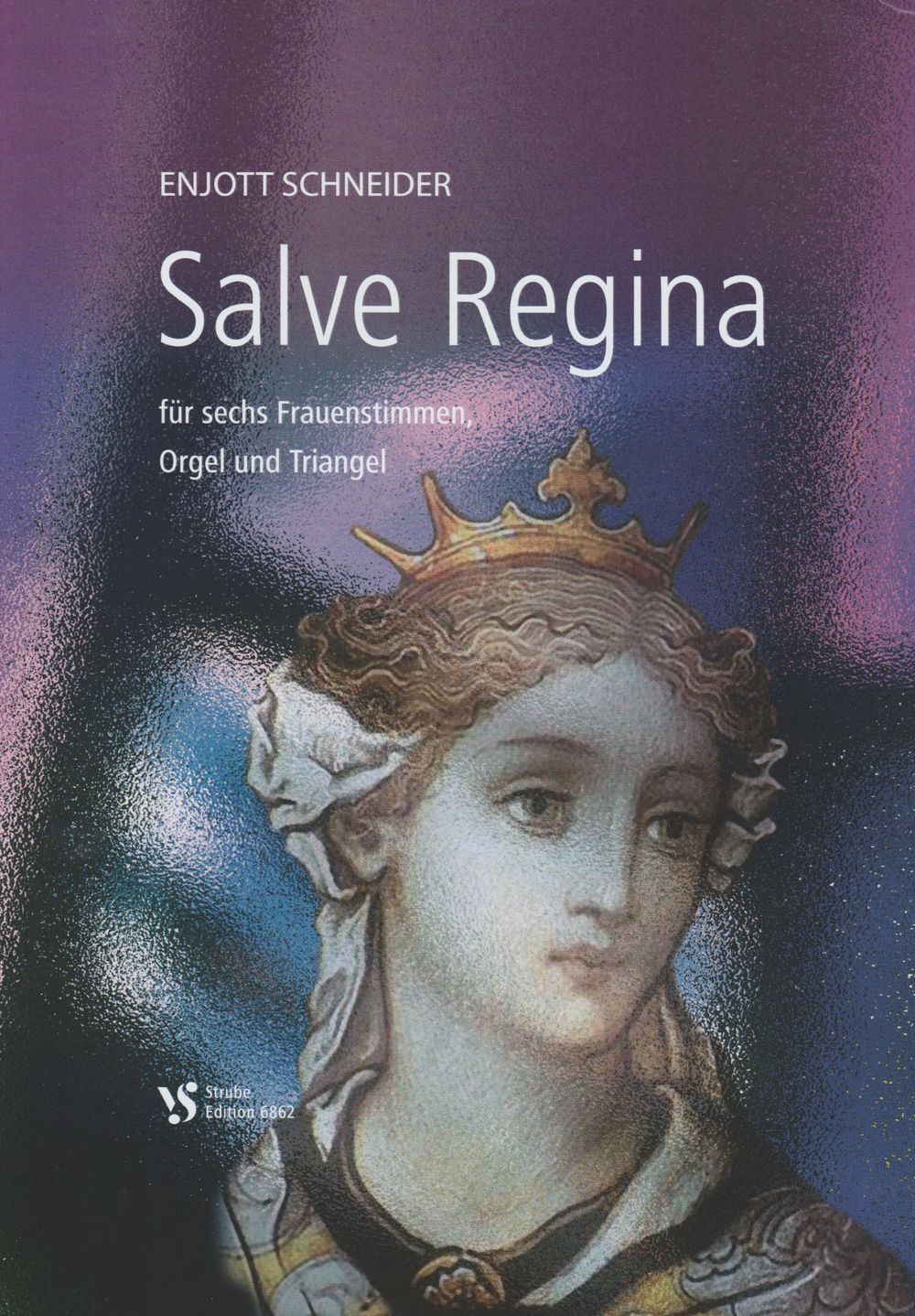 Update Required
To play the media you will need to either update your browser to a recent version or update your
Flash plugin
.
Category: Choir / Vocal , Organ / Sacred Music
Duration: 5 minutes
Publisher of notes/sheet music: Strube-Verlag Munich , 2014
Instrumentation: Choir with soprano 1+2, mezzo-soprano 1+2, alto 1+2,
as well as an organ (possibly with two manuals).
The triangle can also be played by one of the choristers.
Text/Lyrics by: Hermannus Contractus (1013-1054)
Introduction: In my opinion, due to its focus on Mary, the Marian antiphone SALVE REGINA is an archaic text that appears to be the female counterpart of the rather male PATER NOSTER. The tale that Bernhard von Clairvaux added the final line "O clemens, o pia" in the Speyer cathedral has been disproved. Nevertheless, the novel adoration of the Virgin Mary of that time - a belief that was also shared by the St. Bernhard - is contrasted with the emerging general adoration of women in the courtly minnesong and the poetry of the Trouvères and the acceptance of 'love' as a literary subject. Based on that very same spirit, this composition of SALVE REGINA has been composed and it spreads the harmonious and colourful sound language of that time that has been shaped by 'sweetness' - and that has been projected onto modern times. The melodic quotations are taken from the popular version of the Belgian baroque composer Henri Dumont (1610-1684).
       SALVE REGINA was also the name of movements in my organ symphony no. 2 "Die Marianische" (The Marian) and the organ symphony no. 14 "Die Romanische" (The Roman). These individual movements can also be played in concert programs as the harmonious accompaniment of this choir version. 
 

Dedication: cordially dedicated Kunibert Schäfer on the occasion of the "Segunda Semana
de la Música Sacra de La Habana"
Additional remarks: Text by Hermannus Contractus (1013-1054):
Salve, Regina, mater misericordiae,
vita, dulcedo, et spes nostra, salve.
Ad te clamamus exsules filii Evae.
Ad te suspiramus,
gementes et flentes in hac lacrimarum valle.
Eia, ergo, advocata nostra,
illos tuos misericordes oculos ad nos converte.
Et Jesum, benedictum fructum ventris tui,
nobis post hoc exsilium ostende.
O clemens, O pia, O dulcis Virgo Maria. Amen.
 
 
German translation:
Sei gegrüßt, o Königin,
Mutter der Barmherzigkeit,
unser Leben, uns're Wonne
und uns're Hoffnung, sei gegrüßt.
Zu dir rufen wir verbannte Kinder Evas,
zu dir seufzen wir
trauernd und weinend in diesem Tal der Tränen.
Wohlan denn, uns're Fürsprecherin,
wende deine barmherzigen Augen uns zu,
und nach diesem Elend zeige uns Jesus,
die gebenedeite Frucht deines Leibes.
O gütige, o milde, o süße Jungfrau Maria.
 

English translation:
Hail O queen. Mother of mercy,
Our life, tenderness and hope; hail.
To you we call, the exiled sons of Eve.
To you we sigh, groaning and weeping
In this valley of tears.
O our advocate, turn therefore
Those pitying eyes of yours
To us.
And show us after this exile
Jesus, the blessed fruit of your womb.
O merciful, o holy, o tender virgin Mary.
World premiere: 08.03.2015, Cathedral of Havana/Cuba on the occasion of the "2nd week of the Musica Sacra Havanna"
Performers at world premiere: Female choir "Ensemble Vocal Luna" (conductor and rehearsal director Wilmia Verrier) under the direction of Kunibert Schäfer