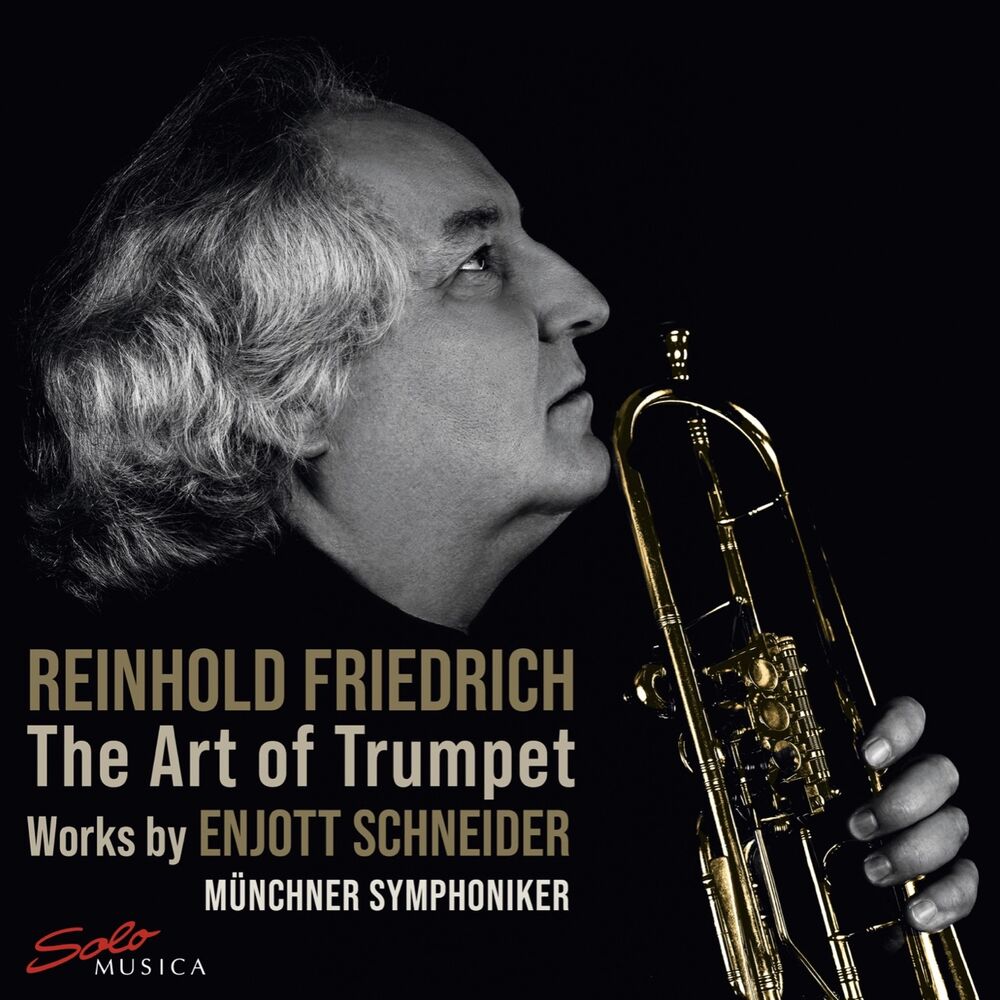 Update Required
To play the media you will need to either update your browser to a recent version or update your
Flash plugin
.
Category: Symphonic / Orchestral , Recordings
A very important CD release for me, because it presents - for the first time - Reinhold Friedrich, an excellent soloist, who is supported by congenial partners: Hannes Läubin (trumpet), Gregory Ahss (solo violin), Munich Symphony Orchestra, conducted by Martín Baeza-Rubio. Secondly, there are four special compositions of different character, - the double concerto VIVALDISSIMO with two trumpets chasing each other in a rush of sound, the double concerto ALTAI - TRACES FOR INFINITY with my Far Eastern longing (Central Asia, Siberia, China...) for an archaic world. ) for an archaic world, L'ANGELICA FARFALLA with "my" gems of early music, and finally IKARUS - DESIRE FOR THE LIGHT as an epic pictorial arc on the themes of "near-death experiences" and afterlife research, which have fascinated me for a long time. Thirdly, the "trumpet" was the first instrument of my musical education and still means a familiar timbre to me today. - On selected streaming platform you'll find a 3D-Mix DOLBY ATMOS in highest resolution.
"THE ART OF TRUMPET" was nominated in November 2023 by the ICMA-Jury for "Best Album of the year" for the International Classical Award 2024
Movements: WORKS BY ENJOTT SCHNEIDER
Vivaldissimo. Concerto for 2 Trumpets, Harpsichord and Strings
1: Allegro
2: Adagio
3: Vivo

Altai - Traces to Infinity / Spuren ins Unendliche,
Double Concerto for Violin, Piccolo Trumpet & Orchestra
4: Endlessness of Mountains
5: Horse Ride & Eagle Flight
6: Moon over Belukha Mountain
7: Rondo - Finale

L'Angelica Farfalla. Diamonds lost in the darkness of past, for Piccolo Trumpet & Orchestra
8: Part I (G. Caccini)
9: Part II: (G.F. Haendel / A. Vivaldi)
10: Part III: (A. Marcello)

Ikarus. Desire for Light, Concerto for Piccolo Trumpet & Orchestra
11: Carpe Diem. Life Now
12: Struggling & Disaster
13: Transition: Realm of Darkness
14: The Garden of Spirits
15: Ikarus: Desire for Light
Introduction: THE ART OF TRUMPET - Preface by the composer
The trumpet can be traced back for almost 4000 years in many cultures and more than any other musical instrument it is surrounded by the aura of something special: it was the signal giver at ritual, religious, military or royal state occasions. Not from wood or animal horn, but of metal hardened by fire whether bronze, silver or even gold it was manufactured already early. The sound of the trumpets captivated people already in Egyptian death cults, in temple rituals not only in Tibet, in warlike occasions and also in the biblical reports of the beginnings (in the books of Moses) as well as the concluding apocalypse and end-time revelation. When there the seventh seal is opened and seven angels give their signals, then this is connected with elementary shocks: with hail, fire, blood, - mountains of fire or stars of the universe fall into the oceans

The sound of the trumpet is still ambivalent today: even where it presents itself as sweet, it always resonates with a near-death shaking that can also become infernal and violent at any time. This sound remains connected with cosmic, divine or at least princely royal attitude.
The trumpet is an honest instrument that unmistakably proclaims a "now", a dense present. It does not know half measures. One cannot shyly hide behind it. Anyone who plays the trumpet knows the merciless risk: either perfection and brilliance, or pitiful dilletantism. There are no compromises.

Reinhold Friedrich is one of the most uncompromising artists in this field. He is one of the world's leading trumpeters - sometimes celebrated in the press as the "Trumpet God" - and impresses with a breathtaking variety of repertoire: whether classical valve trumpet, whether the high piccolo trumpet, natural trumpet, historical keyed trumpet , whether with the Jewish shofar or the softer flugelhorn, - his playing always becomes that event which is then able to provoke reactions ranging from goose bumps to a mental flight of fancy.

Whether a complex score of new music, whether baroque music and virtuoso classical music or "just" a little melody of folk music: Reinhold Friedrich always knows how to create with his playing that overwhelming presence of "Now!", which characterizes the trumpet so uniquely...

He is joined by equally exposed masters of their craft: solo trumpeter Hannes Läubin, long associated with Reinhold Friedrich as an equal duo partner and friend, and "Grisha" Gregory Assh, whose violin playing displays a similar stylistic breadth ranging from classical virtuosity to melodically heart-warming emotionality. This distinctive sound college is rounded off by the Munich Symphony Orchestra / Münchner Symphoniker, conducted by Martín Baeza-Rubio, which is as colorful as it is sensitive.
Records: Solo Musica, 2023
Performers on recording: Reinhold Friedrich / Piccolo Trumpet (1-15)
Hannes Läubin / Piccolo Trumpet (1-3)
Gregory Assh / Violin (4-7)

MÜNCHNER SYMPHONIKER
Martín Baeza-Rubio (conductor)

Label SOLO MUSICA GmbH SM 419

------------------------------------------------------------------------------------------------

Schott Music Mainz (1-3)
Verlag Ries & Erler Berlin (4-7)
Strube Musikverlag München (8-15)


Recording: München / Bavaria Musikstudios, 1.-4. Juni 2021 / 19.-23. April 2022,
By Pegasus Audio (Berlin) with Florian B. Schmidt (recording & editing), Aki Matusch und Christoph Binner (sound engeneers)

Fotos:
Cyrus Allyar (Reinhold Friedrich)
Manfred Schneider (Enjott Schneider)
Peter von Felbert (Münchner Symphoniker)
Privatarchiv (Hannes Läubin, Gregory Ahss)
Cover-Photo: Jürgen Schurr