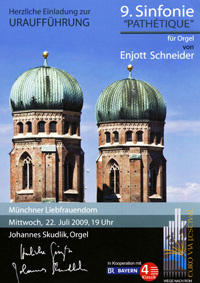 Update Required
To play the media you will need to either update your browser to a recent version or update your
Flash plugin
.
Category: Organ / Sacred Music
Movements: 1: GETHSEMANE (Adagio ? Allegro Vivo)

2: GEISELUNG: ECCE HOMO

3: GOLGATHA (Allegro molto vivace)

4: GRABLEGUNG: MARIA MAGDALENA (Adagio lamentoso)
Duration: 26-28 minutes
Publisher of notes/sheet music: Schott Music , ED 20670 , 2009
Instrumentation: Large organ with a minimum of 3 manuals
Introduction: The words 'pathetique' and 'pathos' come fram a Greek word meaning powerful emotion, feeli ng, passion or suffering; the associated verb means 'to suffer' . In the term derived from it by the Romans and applied specifically to rhetoric, 'pathos' refers to the emotional appeal of a speech intended to move listeners (movere) in t he 'grand style' (genus grande). Later on, Friedrich Schiller's aesthetic ideal of 'exalted pathos' led to the nineteenth-century idea of human freedom as something to be experienced through art: pathos was found in the individual facing up to suffering and struggling to rise above their fate and destiny.
Organ Symphony No. 9 depicts t he ultimate story of suffering, the hours in which Jesus became entirely human and bore pain and suffering for all mankind in a process of inner struggle that was his destiny: Gethsemane, Flagellation, Golgotha and The Tomb are movement titles that represent fou r stations of his ordeal.
The first movement Gethsemane is set at night and depicts on the one hand the struggle for certainty: 'Watch and pray that you may notfall into temptation' (Matthew 26 v.41, M ark 14 v.38), 'and being in agony he prayed more earnestly, and his sw eat was like draps of blood falling onto the ground' (Luke 22 v.44). Then there is the betrayal of Judas, who said 'Hail, Rabbi! and kissed him' (Matthew 26 v.49), followed by mockery and torture 'Then they spat in his face and beat him with their fists' (Matthew 26 v.67, Mark 14 v.65) .
"..
The second movement Flagellation: Ecce homo uses the 'scourging rhythm' that features in the Passions of the Baroque era for a vivid depiction of physical suffering: 'and they stripped him and put a purpie cloak on him, and wove a crown of thorns and set it upon his head ... and spat at him and took the reed and struck it against hi s head' (Matthew 27 v.28-30, Mark 15 v.16-19, John 19 v.1-5), causing even Pilate to exclaim in awe and compassion 'What a man is this!'
The third movement Golgotha begins like a scherzo, with a passionate development in the music leading to the desperate torment of 'Eli, Eli, lama asabthani!' ('My God, why have you forsaken me?') (Matthew 27 v.46, Mark 15 v.34). The earth trembles and rocks are rent asunder before the music reaches the quiet resignation of 'Father, into your hands I commend my spirit' -and when he had spoken, he gave up the ghost' (Luke 23 v.46).
The fourth movement The Tomb: Mary Magdalene continues with the theme of Jesus' experience of suffering from the perspective of the mysterious figure of Mary Magdalene. The evangelists all ascribe astonishing importance to this woman, naming her as the person who watched by the tomb and as the first to be told of the Resurrection by the angel after the Sabbath.
Organ Symphony No. 9 'Pathetique' teils a story of torment, struggle, wrangling with fate, flagellation, the gruesome crucifixion and the silence of the tomb. In style it pays homage to its older sister work, Pyotr Ilyich Tchaikovsky's 6th Symphony 'Pathetique', where the subtext relates Tchaikovsky's own struggles through life as a path of suffering culminating in his own death. Tchaikovsky's work inspired the tempo indications (including the idea of an emotional adagio as finale) and many of the musical ideas used here, with heightening of intensity, abrupt changes and powerful accumulation of emotion, full of pathos. The first performance was given by Johannes Skudlik on 22 July 2009 in the Frauenkirche in Munich.


Dedication: Dedicated to Johannes Skudlik
World premiere: 30.11.2009
Performers at world premiere: 22nd of July 2009 in the Munich Frauendom with Johannes Skudlik, recorded by the Bavarian Radio
Press reviews for world premiere: French review in L'ORGUE. Bulletin des Amis de l'Orgue, 2011 No. 293 S. 49:
Cette symphonie pour orgue sous-titrées 'pathétique' se réfère à la derniere oeuvre de Tschaikovski et porrait aussi rappeler la "Symphonie Passion" de Marcel Dupré, dont le programme est proche et l'expression cpmparable en dépit d'un langage ici plus dissonant at avancé. Longue et touffue, d'une écriture souvent dense et d'une structure très compartimentée (notamment dans I et II), l'oeuvre s'articule selon quatre mouvements....