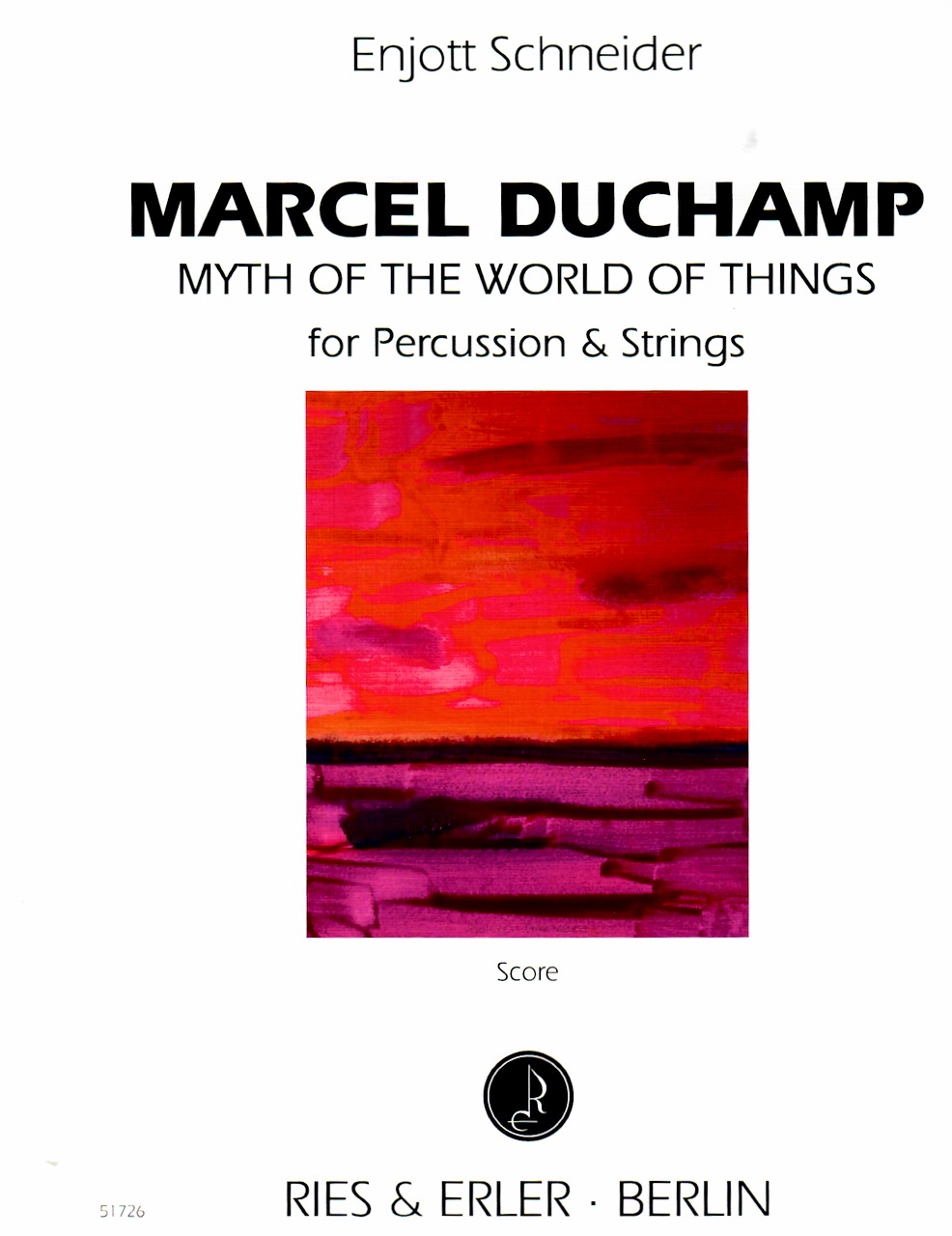 Update Required
To play the media you will need to either update your browser to a recent version or update your
Flash plugin
.
Category: Symphonic / Orchestral , Chamber Music
The composition refers to three works of art by Marcel Duchamp (1887-1968) from his period of upheaval around 1912, in which he finds a kind of mechanisation and technologically based aesthetics. Duchamp was fascinated by the "world of things", the mechanised objects of daily use, which he then finally elevated to the rank of innovative works of art with his "ready mades". In the composition, it is above all the percussion that represents the material world of everyday life. His stylistic shift from "retinal painting" to found objects and the aesthetics of mechanisation and technology is strongly linked to a stay by Duchamp in Munich. He was particularly fascinated by the Deutsches Museum with its technical exhibits.
Movements: I: VIERGE NR: 1 / VIRGIN NR: 1 (1912)
II: BOITE / BOX (1913/14)
III: MÉCANISME DE LA PUDEUR / Mechanics of the Shame (1912)
Duration: 13-14 Minutes
Publisher of notes/sheet music: Ries & Erler Berlin , 2022
Instrumentation: Streichseptett oder Streichorchester (2 Vl, 2 Vla, 2 Vc, Bass)
Percussion (Vibraphon, ,Bassdrum, Tamtam, woodblocks, Bongo, 2 hängende Becken, Kontrabassbogen, zwei metallene Stricknadeln, Metallstangen, diverse Alltagsgegenstände und Küchengeräte, drei Gongs, metal chimes, eine alte Nähmaschine)
Introduction: MARCEL DUCHAMP – MYTH OF THE WORLD OF THINGS

I: VIERGE NR: 1 (1912)
II: BOITE (1913/14)
III: MÉCANISME DE LA PUDEUR (1912)

1st movement: Vierge No.1 / Virgin No.1 (1912), pencil on copperplate paper (from the Philadelphia Museum of Art) shows the development of a new figure that he prepared in the paintings "Transition from Virgin to Bride". In his interest in apparatuses and machines to represent interpersonal relationships, he was fascinated by the analogy of sewing machine and woman, of sewing act and sexual act.

2nd movement: Box of 1914 / Boite de 1914 (1913/14) is close to the development of his readymades. In his art form of "boxes", small models of readymades, everyday objects and small written pieces of paper are kept inside a box. The spectator has the freedom to decide for himself the order in which he reads and looks. Musically, this resulted in the "collage principle", in which musical set pieces (also of a more banal kind such as Slowwaltz and Charleston) lie on top of each other and suddenly combine to form something new. The box from 1914 with photographs of notes and drawings glued to 15 cardboard boxes is in the Centre Pompidou.

Movement 3: Mechanics of the shame / Mécanisme de la pudeur - Pudeur mécanique still has the subtitle "The bride stripped naked by the bachelors. Here one again finds technical-schematic thinking and drawing to depict the most intimate feelings. Autobiographically, one finds in this painting the tragedy of his love (he was 24 years old in Munich at the time) for Gabrielle Buffet-Picabia, who was married to his artist friend Francis Picabia. He once drove 700 kilometres from Munich to the French Jura, only to meet his adored Unattainable for a few hours in the waiting room of a small railway station. So it's about a woman being harassed by two men, which is clearly reflected in the structure of the work (aggressive middle and end sections, intimate middle section). The painting (pencil, ink, ink on clay paper) hangs in the Centre Pompidou Paris.
Dedication: Sincerely for Stefan Blum, who let his noise creativity blossom again on the 110th birthday of the "ready made" style of Marcel Duchamp!
World premiere: 15.11.2022, München Schwere Reiter
Performers at world premiere: Am 15. November 2022 in München / Schwere Reiter im Rahmen des Projekts LA BOHÈME 2022, einem vierteiligen Konzertzyklus, welches die Situation von Künstlern reflektiert. Musik, Sprache, Videokunst und Licht sind dabei eng verzahnt. Gefördert von der Initiative Neustart Kultur und der Beauftragten der Bundesregierung für Kultur und Medien. – Aufgeführt vom Ensemble für Synkretische Musik mit dessen Percussionisten Stefan Blum als Solist.