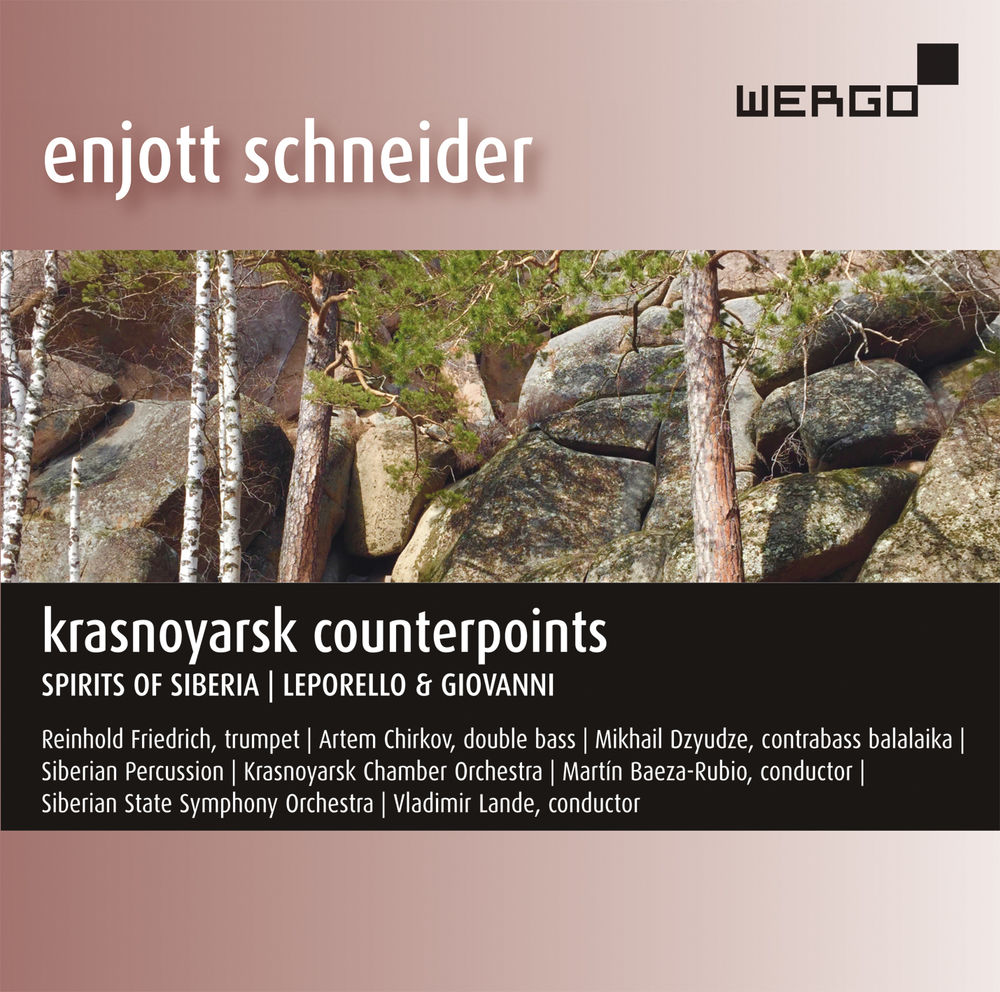 Update Required
To play the media you will need to either update your browser to a recent version or update your
Flash plugin
.
Category: Symphonic / Orchestral , Recordings
"Counterpoints" in Krasnoyarsk, a Siberian centre which geographically forms almost the centre of Asia: Composition commissions for two festivals, the "Transsiberian Art Festival" in April 2019 and the festival "Asia - Siberia - Europe" in September 2019. One for chamber orchestra - one for symphony orchestra. Once the natural world of the archaic world of Siberia - once the artificial world of Mozart's opera. In the first work, the double bass from art music (played by Artem Chirkov, the soloist of the St. Petersburg Philharmonic Orchestra) and the double bass balalaika, which seems almost exotic in such a context (played by Mikhail Dzyudze, a jack-of-all-trades from folklore to the electric bass of rock music) are juxtaposed. - In the other work, Reinhold Friedrich combines three highly contrasting registers of the trumpet and plays the flugelhorn, the trumpet and the high piccolo trumpet, which fathom the depths and are contrasts that can hardly be mastered from a technical point of view. BUT: the contrasts - as with the plus/minus pole of electricity - are the source of voltage and suspense. Yes, - consistently creating suspense and taking the listener on a journey marked by contrasts is the intention of this CD compilation
Movements: SPIRITS OF SIBERIA
for trumpet, strings and percussion group
1 SIBERIA – IN TUNE WITH NATURE / EINS MIT DER NATUR
2 YENISSEY – RIVER OF TEARS / FLUSS DER TRÄNEN
3 BIRCHES DANCING IN ENDLESS TAIGA / BIRKEN IN DER TAIGA TANZEND
4 ROCK PILLARS IN STOLBY / FELSENPFEILER IM STOLBY GEBIRGE
5 HORSES / PFERDE
6 SHAMANIC JOURNEY / SCHAMANENREISE

LEPORELLO & GIOVANNI
Concerto for double bass, Contrabass Balalaika and orchestra

7 PROLOG: SYMBIOSE & KONTRAST / PROLOGUE: SYMBIOSIS & CONTRASTS
8 LEPORELLO
9 GIOVANNI'S LIEBESVARATIONEN / GIOVANNI'S VARIATIONS ABOUT LOVE
10. LEPORELLO'S REBELLION
11 HÖFISCHE WELT – AUS DEM RUDER GELAUFEN
COURTLY WORLD – OUT OF ORDN UNG
12 GIOVANNI'S SERENADE
13 HÖLLENFAHRT – DECENT TO HELL
Publisher of notes/sheet music: Ries & Erler Musikverlag Berlin , Leihmaterial / music on hire , 2019
Introduction: SPIRITS OF SIBERIA was composed in 2018, premiered on 13 September in Krasnoyarsk and is dedicated to trumpeter Reinhold Friedrich. With his disparate trumpet registers he embodies the world of the shamans, which also reaches from the deepest primeval ground of the earth to the flight of clouds in the sky.
Siberia is a fascinating landscape of infinite expanse. With 13 millions of square kilometers it accounts 77% of Russias's land area. Siberia stretches southwards from the Arctic ocean to the mountains of Kazakhstan and to the borders of Mongolia and China. It is divided by the Yenisey river in two parts, Western and Eastern. With a rich fauna and flora the nature is omnipresent in Siberia: in immense dimensions one finds Tundra, Taiga, forests, lakes, rivers, gigantic mountains and steppe landscapes. Nature is animated everywhere and all animals, plants, mountains, lake are assigned to a spirit world. . That's why shamanism is more widespread in Siberia than anywhere else in the world. The trumpet concerto tries to depict something of this magical world of spirits, whose roots can be traced back over 50 000 years ton prehistory.

Dedication: Dedicated to my friend Reinhold Friedrich
Commissioned by the festival ASIA - SIBERIA - EUROPE with director Larisa Markosyan and art director Mikhail Benyumov.
Cooperation with Sergey Gazizullin and his group "Siberian percussion"
---------------------------------------------------------------------------------------------
LEPORELLO & GIOVANNI was commissioned by the russian double bass virtuoso Artem Chirkov (St. Petersburg Philharmony) who inspired me for a double concerto with the Contrabass-Balalaika. This musical instrument is mostly located in traditional folk music and in russian popular music, - but it possesses wonderful qualities for the classical concert hall. I looked for an poetic idea to assign this tense men's duo.... and found it in Mozarts Opera Don Giovanni (1st performed in Prague 1787): Don Giovanni, the womanizer between gallantry and brutal sexual urge; and Leporello, his servant, who is not a secondary character but also driven by ideas of personal freedom and frivolous phantasies....
The double concerto describes the permanently changing relation between these two men... and it quotes motifs and themes of the opera Don Giovanni written by the genious and immortal Wolfgang Amadeus Mozart. In cultural history we find the "Don Juan-Archetype" edited 1000 times by artists of all genres... but they overlooked the highly interesting character of his servant Leporello. When now the "noble" double bass meets the "rustic-style" contrabass-balalaika... then it strikes sparks and several surprises will be kept ready! – Thanks to the two outstanding performers of the world premiere Mikhail Dzyudze and Artem Chirkov for their energetic musicality during the implementation of this unusual rivalry!
Records: WERGO, distribution: Naxos, 2020
Performers on recording: Reinhold Friedrich, flugelhorn, trumpet, piccolo trumpet (1-6)
Krasnoyarsk Chamber Orchestra (1-6) (artistic director: Mikhail Benyumov)
Siberian Percussion (1-6) (artistic director: Sergey Gazizullin)
conductor: Martín Baeza-Rubio

Artem Chirkov, double bass (7-13) / Mikhail Dzyudze, contrabass-balalaika (7-13)
Siberian State Symphony Orchestra, Krasnoyarsk (7-13)
conductor: Vladimir Lande

Ersteinspielungen / First recordings

Recordings:
8.4. – 13.4. 2019 (7-13) and 9.9. – 14.9. 2019 (1-6) in Krasnoyarsk, Siberia / Philharmonic Hall
Recording & Editing: Florian B. Schmidt (Berlin)
Sound assistant: Regina Ablyaziha, Roman Dergachev (Krasnoyarsk)