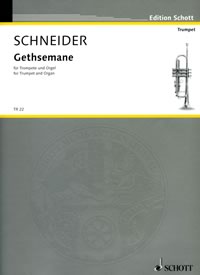 Update Required
To play the media you will need to either update your browser to a recent version or update your
Flash plugin
.
Category: Chamber Music , Organ / Sacred Music
Movements: One movement, meditation after Matthew's and Luke's texts from the Bible


Duration: 8:40
Publisher of notes/sheet music: Schott Music GmbH , TR 22 , 2007
Instrumentation: Organ (large organ with at least 2 manuals and pedal)

Trumpet in B (C)
Solo instruments: Organ, Trumpet
Introduction: The work broaches the issue of the mood mood and events of the last appearance of Jesus before his capture in the garden Gethsemane. In the Gospels it is reported that these events were accompanied by imploring prayers, repeated three times, which were like a warning to stay awake on guard for the last few hours. On the basis of a 12-tone series and the motifs and, above all, a chaccone are created, through which the repetitive imploring and desperate praying can be imagined.The free-flowing lines of the trumpet refer to the spirituality already detached by all things earthly by Jesus who realises his singularity and loneliness in the midst of his disciples.



Formal assembly:
Intorduction, Prayer I - Lento e liberamente Prayer II
Agitato, ma oppresso ? Prayer III


The quotes from the bible:

Matthew 26/38: ?Meine Seele ist betrübt bis an den Tod. Bleibet bei mir und wachet!?
Mt. 26/38: Tristis est anima mea usque ad mortum, sustinete hic et vigilate mecum.

Luke 22/44: ?Es ward aber sein Schweiß wie Blutstropfen, die fielen auf die Erde.?
Lc 22/44: Sudor eius sicut guttae sanguinis decurrentis in terram.

Matthew26/45: ?Siehe, die Stunde ist hier, dass des Menschen Sohn in der Sünder Hände überantwortet wird?.
Mt 26/45: Ecce adpropinquavit hora et filius traditur in manus peccatorum
Dedication: Dedicated to Christoph Well
World premiere: 08.12.2006, Münster Ingolstadt / Ingolstadt Organ days 2006
Performers at world premiere: Franz Hauk (organ)

Christoph Well (trumpet)

Italian premiere on 31.7.2007 in Brixen Cathedral with Christoph Braun (trumpet) and Frank Hauk (organ)

Press reviews for world premiere: Donaukurier Ingoldstadt:
A mysterious, queasy atmosphere fulfils the Gothic nave of the of the minster in Ingolstadt. Above the sombre sound of the deep organ stops, rises the timidly begging, almost declamatory insisting voice of a trumpet. Before the internal eye appears the scenery of a garden wrapped in the last dim light. The approaching menace is close. 'Gethesemane', the new work by composer Enjott Schneider, a premiere as part of the of the Ingolstadt organ days. The mood-timbres which Schneider uses reveal the film composition clearly.