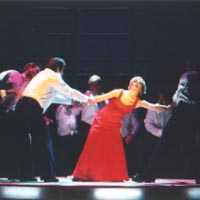 Update Required
To play the media you will need to either update your browser to a recent version or update your
Flash plugin
.
Category: Opera / Music Theatre
Movements: PROLOGUE:
Nr.2 Melodram (René):Strange, is it not? / Es ist schon seltsam...
Nr.3 Couplet (René): Cinema / Cinema
Nr.4 Melodram (René): Years later... / Jahre später...

First act:
1. scene:
Nr.5 Entrée (René, Christiano, Luigi, Debbie, Chor): Only just a few more minutes / Nur noch wenige Minuten
Nr.6 Duett (Diana, Dodi): Time is sometimes fear and sometimes joy /Die Zeit ist manchmal Fluch und manchmal Glück
Nr.7 Remembrance / Erinnerung (Dodi, Debbie, René)
Nr.8 Couplet (René mit Dodi und Chor): Since seven years I served here / Schon sieben Jahre dien ich
Nr.9 Rapzitativ (Dodi, René): Poignantly said René! / René, das hast du gut gesagt!
Nr.10 Duett 'High Society' (Dodi, René) mit Alptraum-Szene (Tutti): Gold in hands, then you have friends / Hast du Geld, dann hast du Freunde

2. scene:
Nr.11 Melodram (Diana, Debbie): Now tell me Debbie / Nun Debbie...
Nr.12 Duett (Diana, Debbie): I would sleep / Ich würde schlafen
Nr.13 Melodram (Diana, Debbie): I wished that I was wished for / Ich wünsche mir erwünscht zu sein
Nr.14 Dialogszene (Diana, Dodi, Debbie, René, Christiano): Lady Di and Mister Dodi / Lady Di und Mister Dodi
Nr.15 'Dream Fantasy' Arioso und Ballett (Diana und Tutti): ...and wish to be free / ...und wünsche frei zu sein
Nr.16 Titelsong 'Cry for Love' (Diana): To love was my dream / Liebe war mein Traum
Nr.17 Duett (Diana, Dodi): Starlight shines out from your eyes / Sterne in deinen Augen
Nr.18 Melodram (Diana, Dodi): Ah! I wish my children / Ach! Wenn jetzt die Kinder...
Nr.19 Finale I: 'Angelum Abyssi: Abaddon' (Paparazzi, Diana, Chor)

second act
1. scene:
Nr.20 Entrée: Chor und Ballettszene (Dodi, René, Trevor, Page, Tutti): Our days are simply boring / Die Neugier ist das Schönste
Nr.21 Ballade mit Chor (René, Chor, Paparazzi): If there was a god / Gabs je einen Gott
Nr.22 Schlägerei (Ballett, Tutti, Paparazzi): I believe the man is right / Ich denke der Mann hat Recht

2. scene:
Nr.23 Duett (Debbie, René): Sometimes youre a macho and sometimes youre a ham / Mal bist du ein Macho, wenn nicht ein Tyrann
Nr.24 Ensemble-Szene / Melodram ...that we will disappear from this world an go to a secret place /...von dieser Welt zu verschwinden, an einen geheimen Ort
Nr.25 Song (Diana, mit Dodi und René in der Szene): People need some tenderness / Menschen brauchen Liebe
Nr.26 Überleitung / Szene (Diana, Dodi, Debbie, René): How good the feeling is that one is protected / Es ist ein gutes Gefühl, so beschützt zu werden,
Nr.27 Couplet (Henri): Stop ! There is so much more to our lives / Schluß ! Es gibt noch andres auf der Welt
Nr.28 Finales Arioso (Dodi): Dawn will bring us freedom / Morgen kommt die Freiheit
Nr.29 Finale II: (Tutti, Chor, Ballett): We are the story seekers, we are the headline heaters / Wir sind die Paparazzi, ganz einfach: Paparazzi
Nr.30 Epilog: Requiem und Epilog (Tutti, Chor, René) ...et absterget Deus omnem lacrimam ab oculis eorum
Duration: 135:00
Publisher of notes/sheet music: Schott Musik International , 2001
Instrumentation: Lady Diana Soprano, Debbie (lady in waiting) Sopran (Soubrette), Mr. Dodi al Fayed Tenor (lyrical baritone), Rene (Mr. Dodis Butler) baritone, Henri Paul (security chief second in command, Ritz Hotel) baritone, Repossi (jeweler) baritone (bass) instrumental - cast: 2 flutes (and piccolo), oboe (also Englisch horn), 2 clarinets B (also bass clarinet)(also alto saxophone), 3 horns (F), 2 trumpets(B), 2 trombones (T-T/B), tuba, piano (also: celeste, additive percussion), keyboard (sampling keyboard), 1 percussionist (Marimba, Vibraphone, snare and bass drums, Tamtam, Toms, and more), 1 Drum set (Rock set), 1 guitar (E-guitar with Cleansound and distorter), 1 E-bass, large string section, large choir, ballet, playback (Live mix /mocrophone: 1 sound master).
Text/Lyrics by: Wolfgang Rögner, English translation: Dean Wilmington
Additional remarks: Song opera, stylistically between musical and opera
World premiere: 10.12.2002, Görlitz theatre
Performers at world premiere: Conducted by: Wolfgang Rögner, Inszenierung/Choreography: Valentina Simeonova, staging and costumes: Iris Jedamski, Dramaturgy: Peter Biermann, choir: Myron Michailidis, Diana Patricia Nessy, Debbie, lady in waiting: Barbara Siegel, Dodi al Fayed Frank Ernst, Rene, Dodis Butler Hans-Peter Struppe, Henri/Luigi Stefan Bley, Die Micha-Fuchs-Band Dresden, New Lausitzer philharmony
Press reviews for world premiere: Sächsische Zeitung (14.10.2002): ...the cheered premiere of 'Diana' on Saturday in the theatre of Görlitz. Respect is to be given to the achievement of the ensemble. Schneider's music sounded with Verve and glaze....


Records: 2002