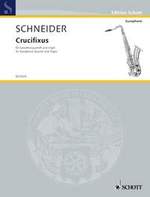 Update Required
To play the media you will need to either update your browser to a recent version or update your
Flash plugin
.
Category: Chamber Music , Organ / Sacred Music
Movements: Toccata - Adagio - Marcia funebre (Fuge)
Duration: 18:30 (4:20 / 5:00 / 9:00)
Publisher of notes/sheet music: Schott Musikverlag , ED 9323 , 1999
Instrumentation: 4 saxophones (S A T B) and organ
Solo instruments: Organ, Saxophone
Introduction: There are numerous references to Johann Sebastian Bach: The basic idea was to write a Crucifixus on the famous bass ostinato from Bach's Mass in B minor and to pay homage to the harrowing grief expressed in the original. Additionally, there are other connections with Bach: for example the characteristic B-A-C-H motif woven into the texture, or the adoption of the formal structure of the Toccata, Adagio and Fugue for organ.
Dedication: dedicated to the Rascher Saxophone Quartet
World premiere: 05.08.2001, Dom in Erfurt
Performers at world premiere: Rascher Saxophone Quartet,
Silvius von Kessel (organ)
Press reviews for world premiere: Süddeutsche Zeitung zur Münchner Erstaufführung(5.12.2000)
A bow for Schneider's'Crucifixus'. The piece, in three movements, moves more and more to the sombre reference in Bach's B minor. Schneider proved that no stylistic means are foreign to him. What would be wished by every composer of film music.

Eine Verbeugung war auch Schneiders 'Crucifixus'. Das Stück, das in seinen drei Sätzen immer mehr ins Düstere absinkt, bekundete in Zitaten die Referenz an Bachs h-moll-Messe. Schneider bewies, dass ihm keine stilistischen Mittel fremd sind. Was jedem Filmkomponisten (und auch anderen) zu wünschen wäre.
(Reinhard Schulz)
Records: BR production December 2000, 2000
Performers on recording: Bavarian Radio: Rascher Quartet and Harald Feller (organ)