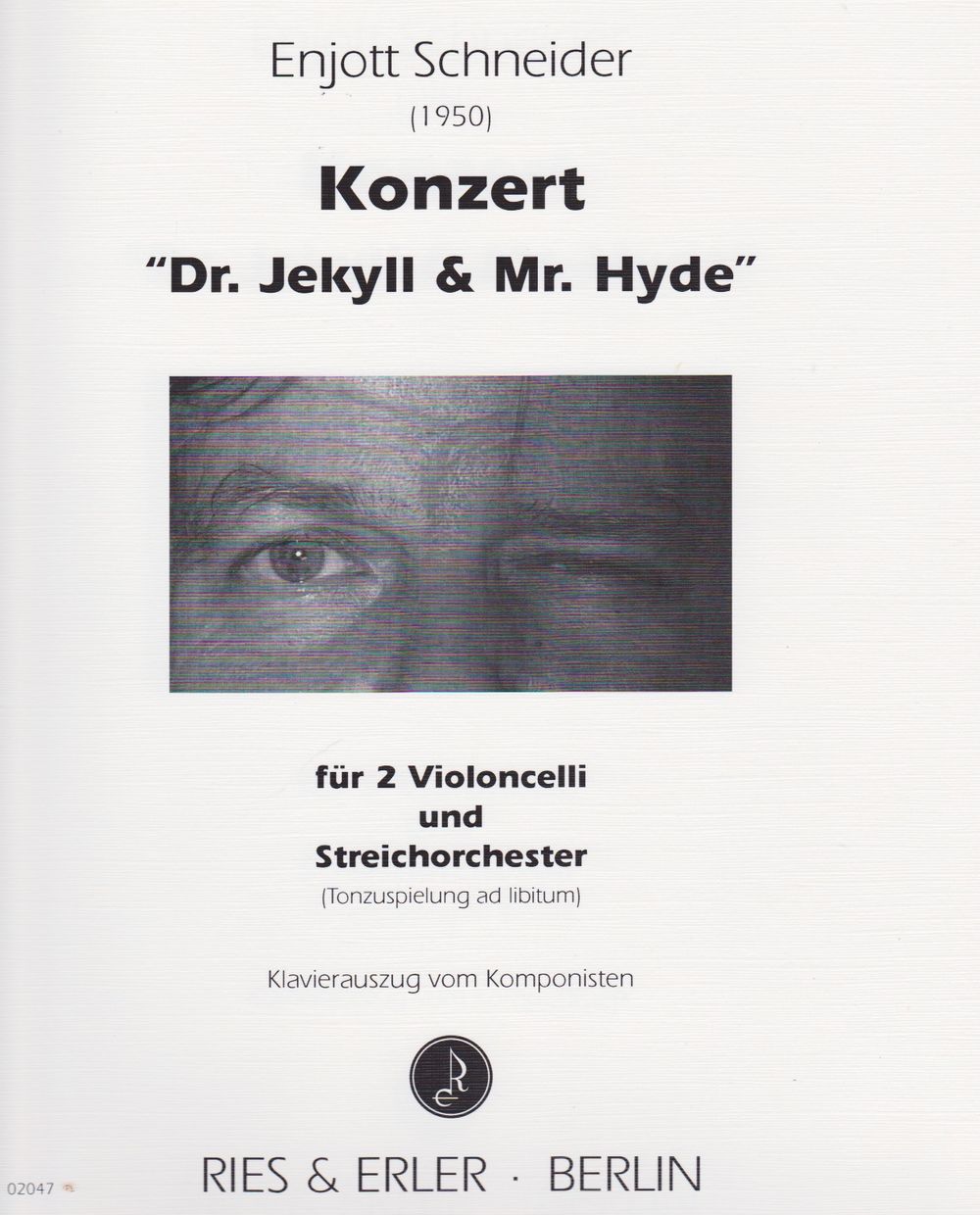 Update Required
To play the media you will need to either update your browser to a recent version or update your
Flash plugin
.
Category: Symphonic / Orchestral
Movements: 1: Prologue
2: "Good" and "evil" in Dr. Jekylls Laboratory
3: Foggy London: Carew is murdered
4: Mr. Hyde, the hunted outlaw (Scherzo)
5: Manic depression, Metamorphosis and Suicide
6: Epilogue

Duration: 18 minutes
Instrumentation:
Two solo celli and strings orchestra (V1, Vl2, Vla 1, Vla 2, Vc
and Kb ), as well as ad libitum sound transmission / sound design

Solo instruments: Violoncello
Introduction: STRANGE CASE OF DR JEKYLL AND MR HYDE (1886) des schottischen Autors Robert Louis Stevenson (1850-1894) created what is known as the most famous literary version of the doppelganger motif. The novella is based on nightmares Stevenson himself had and that he wrote down quickly right after waking up from those nightmares. A complex vision that foreshadows the Freudian psychoanalysis: the reputable Dr Jekyll, who learnt in his early youth how to suppress his vital desires in accordance with the Victorian savoir vivre, creates a chemical potion in his laboratory that personifies his own 'evil' characteristics as the independent, apish, mysterious and deformed persona 'Mr. Hyde'. However, Mr. Hyde, who is a sadistic psychopath and causes terror and murder at night in the foggy streets of London, takes over more and more of Dr Jekyll's personality. He dominates the 'good' Dr Jekyll who is forced to commit suicide after being plagued by depression and insanity (due to the fact that he is unable to change back to his own self and shake off the existence of the notorious killer, Mr. Hyde).
The existence of two so very opposite characters, that have a permanent bond due to their contrariness, offers an exquisite dramaturgy for a double concert with two celli: Mostly, 'good' and 'evil' can be distinguished from one another. However, sometimes - and those are the most interesting moments of the duo partners – the contrasts of the two elements become blurred in schizophrenia, which also leads to a loss of the musical identity.
Dedication: Sincerely dedicated to the soloists of the world premiere - Jens Peter Maintz and Wolfgang Emmanuel Schmidt.
World premiere: 27.10.2013, Rutesheim near Stuttgart
Performers at world premiere:
World premiere: 27th of October 2013 in the 2013 opening concert of the Cello-Akademie-Rutesheim, with Jens Peter Maintz, Wolgang Emmanuel Schmidt, and the Stuttgart Chamber Orchestra, cond.: Aurélien Bello

ATTENTION:
The short audio samples below were recorded from the last row at the world premiere and are therefore not in perfect sound quality. The samples are merely intended as a documentary note to indicate the inspired and perfect execution.
Records: 2015