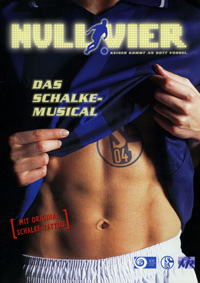 Update Required
To play the media you will need to either update your browser to a recent version or update your
Flash plugin
.
Category: Opera / Music Theatre , Recordings , Film Music
Movements: PART 1
1) Overture
2) Prologue
3) Schalke market (ensemble)
4) Where are the stars (president, manager, trainer)
5) Peek!Peek! / in a tattoo shop (Aurora, Jojo, Ümit, Mücke)
6) So close to the sky (Jojo, Louisa)
7) The princes of Revier (Gisela Schrader, women's ensemble)
8) Only a game? (Jojo, Louisa)
9) For a hundred years (disco hit with Ümit, Tutti)
10) Ahoi-sprinkler (Jojo, Stephan)
11) Trill-whistle song (trainer and mens ensemble)
12) Wrong phrases and the wrong time (Louisa)
13) Now the dream is over (Jojo)
14) Finale I
PART 2
15)Playing, playing, playing (Stephan, mens ensemble)
16) Strawberry, vanilla, tiramisu (Louisa, Anna)
17) Moment of truth-check (Aurora, Mücke, ladies ensemble)
18) The ideal player (Ragtime) (manager, trainer, president)
19) Buddy (Ümit, Jojo)
20) Etepetete (married couple, Stegemann, Louisa, ensemble)
21) Perverse world (Jojo, Louisa)
22) After the game is before the game (Gisela Schrader, Louisa)
23) Finale 2 (for 100 years)
Duration: 150 min.
Publisher of notes/sheet music: Schott Musik International , Leihmaterial der Bühnenabteilung , 2004
Instrumentation: Soloists, choir, ballet, big-band and symphony orchestra
Cast of the premiere and CD-live recording:

God Andreas Windhuis
The old man/football dan Heinz W. Krückeberg
Jojo /talented footballer Rasmus Borkowski
Louisa Stegemann Carina Sandhaus
Stephan Krause Sören Kruse
Ümit, the Turkish friend Evren Pekgelegen
Anna, Louisa's friend Isabell Classen
Aurora, tattoo lady Richetta Manager
Mücke Oli Sekula
Gisela Schrader Inez A. Timmer
President Nikolaus Rüegg
Manager Thorsten Tinney
Trainer Charlie Serrano
Sigrid Stegemann Gisela Kraft
Berthold Stegemann Heiner Dresen
Udo, kiosk owner Frank Berg
Jens Benjamin Harder
Radio commentator Manni Breuckmann
New Westfalen philharmonic orchestra and guests
Direction: Kai Tietje
Text/Lyrics by: Book: Michael Klaus, Song texts: Bernd Matzkowski
Introduction: In the 80s: 'The old man' sinks in front of the television, irritated by heart attack and concludes the bet with god. He is allowed stay until Schalke 04 wins. Then this succeeds - awkwardly because a love story with the cellist Louisa Stegemann. The story freely orientates itself by the legendary rescue of the club by then young Olaf Thon, but also by the intrigues to which rogues 04 were always put out.

In den 80er: 'Der Alte' sackt vor dem Fernseher genervt in den Herzinfarkt und schließt mit Gott die Wette noch ab: er darf so lange noch bleiben, bis Schalke 04 gewinnt. Dies gelingt dann - umständlich, weil eine Liebesgeschichte mit der Cellistin Louisa Stegemann aus bestem Hause Verrwirrung bringt - dem Jungtalent Jojo Schrader, - in einem spannend grandiosen Finale. Die Geschichte orientiert sich frei an der legendären Rettung des Vereins durch den damals jungen Olaf Thon, aber auch an den Intrigen und Ränken, denen Schalke 04 immer ausgesetzt war.
Dedication: Auftragswerk zum 100jährigen Jubiläum des
Vereins FC Schalke 04
Additional remarks: Erstes Fußball-Musical der Welt, - über 30 Vorstellungen ausverkauftes Haus.
World premiere: 05.09.2004, Musiktheater im Revier Gelsenkirchen
Performers at world premiere: Cast (see above)
Composition Enjott Schneider
Arrangements Kai Tietje, Thomas Zoller
Book Michael Klaus
Song texts Bernd Matzkowski
Direction Matthias Davids
Choreography Melissa King
Stage Knut Hetzer
Costumes Judith Peter
Dramaturgy Johann Casimir Eule
Wiebke Hetmanek
Sound design Norbert Labbudda
Disco arrangement Frankie Chinasky
Press reviews for world premiere: ZEROFOUR. Nobody comes past God
Musical for the FC Schalke 04 100th birthday

God, get up, you are Schalker. With the musical 'Zerofour' the music theatre in the district celebrates the pride of the town (Frankfurter Allgemeine Zeitung on the 11.9.2004).

The music of Enjott Schneider helps itself to eclectic-expertise with swing and soul, disco and Turkish pop, opera emotionalism and oratorio emotionalism, the witty story and multi-layer dramaturgy, however, preserves the musical from the appealing smoothness which sticks to the import genre in the German municipal theatre. (Andreas Rossmann)
Records: Schalke 04, 2004
Performers on recording: Premiere live-recording, Heinen Mobile Studios
Bonus track on the CD:
'For 100 years' (Arena mix) by Frankie Chinasky
(Artist & Acts GmbH München) produced in the Pepper Studios Munich.