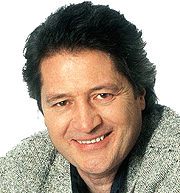 Update Required
To play the media you will need to either update your browser to a recent version or update your
Flash plugin
.
Category: Film Music
After the great success of the 3x 90 minutes VATER WIDER WILLEN (director: Peter F- Bringmann) with elaborately produced classical recordings, which then sounded in the picture by (film) conductor Max Oldendorf (actor: Christian Quadflieg)... there followed a TV series in two seasons of 13 episodes each. In the first season my graduate Annette Focks (now a renowned and very successful film composer herself) was my co-author, in the second season my graduate Andreas Weidinger (now a renowned film composer) was my co-author. - The inhaternal waves of the sequel remained the same: many (women's) stories about a star conductor, entanglements of his three increasingly grown-up daughters...and always a lot of music with many soloists.
Duration: 13 x 60:00
Additional remarks: 13 episodes (each 60 minutes) as a continuation of the ARD three parter from 1995. EVERYTHING NEW, THE CONCERT, THE ASSASSINATION, THE WIND MACHINE, IDLE MAGIC, DANGEROUS GAME, COINCIDENCE, MATTERS OF THE HEART, ALL OKI-DOKI, ANNOYANCE, HOME COMING
Movie: 1997
Movie directed by: Hans-Jürgen Tögel and Rainer Wolffhardt
Movie produced by: Bavaria Film-GmbH
Distributor of movie: WDR/SDR
Performers in movie: Produced in Greenhouse recording studio and in Sator recording studio (sound master: Klaus Strazicky), played by studio orchestra (conducted by Enjott Schneider) and various soloists, Annett Focks and Enjott Schneider (keyboards). The orchestral playbacks (Mahler, Grieg, Bizet, Wagner, Haydn etc.) produced with a symphony orchestra (conducted by Enjott Schneider) in Arco Studio Munich, sound master: Klaus Strazicky. Jazz piano: Markus Poschner, harpsichord: Enjott Schneider, virtuoso concert piano: Michael Schneidt, solo persuccion: Stefan Blum.