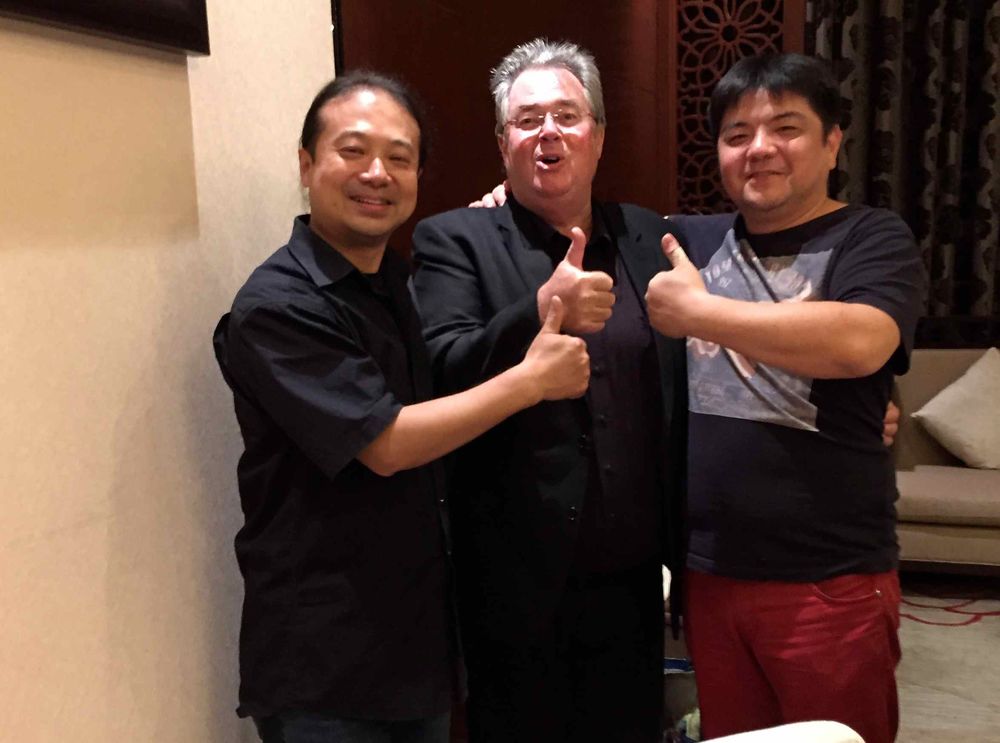 Update Required
To play the media you will need to either update your browser to a recent version or update your
Flash plugin
.
Category: Symphonic / Orchestral
Movements: 1: Tiger
2: Dog / Der Hund
3: Rooster / Der Hahn
Duration: 35 minutes
Publisher of notes/sheet music: Ries & Erler Musikverlag Berlin , 2016
Instrumentation: Solo Sheng and Solo Percussion
Flute 1 / Flute 2 (also Picc.) / Oboe 1 / Oboe 2 (also Engl.Hr.) / Clarinet / Bass Clarinet /
Bassoon / Contrabassoon / 4 french horns / 3 Trombones (T T B) Perc. 1+2 / Timpani /
Large String Orchestra (14-12-10-8-6)

Introduction: TIGER, DOG & ROOSTER
Concerto for Sheng, Percussion & Orchestra

Sheng and percussion are very rich in their tone and full of contrasts. This allows the detailed characterization of three animals in the Chinese astrology, which relate to artists and composer: the tiger (the composer, a metal-tiger), the dog (the Sheng soloist being a metal dog) and the rooster (the percussion soloist being an earth rooster).

THE TIGER:
I am my own laws!
The whole world is my territory,
where I love life free from restraints .
I restlessly reach for the stars,
which awaken my passion colorful and sparkling.
Optimism is my credo...
I am the tiger which is eager for life!

Indomitable energy, optimistic joy of existence, audacity and unrestrained feelings. Its rebellious and unpredictable nature is full of drive. Always on the run, curious and sometimes too hasty, the tiger loves its life in all its colorfulness. With its enthusiasm, recklessness and spontaneity the tiger magically attracts everyone. His enemies are called monotony and constraints. Especially the metal tiger is active, aggressive, always wound up to a high pitch and a passionate workaholic .


THE DOG:
I distinguish good and evil, friend and enemy.
And I am steadfastly loyal to the good.
I defend my territory with temper.
I respect tradition and values with self-discipline.
If there exists truth and equal rights for all,
I can enjoy my life.
I am the compassionate dog!

Trust, compassion, loyalty and a strong sense of justice distinguish the dog. The dog is smart, honest, selfless, critical, but also very generous. Once it made friends, it watches loyally and is able to distinguish friend and enemy with its great insight into human nature. The metal dog has clear principles, eagerly defends its territory, strictly - but nobly and charitably. The dog maintains adamant discipline and takes things very seriously. It is clear and yet can spend hours looking for compromises, because it often thinks pessimistic. When it finds happy solutions it howls out of joy. A sure friend whose friendships are never superficial. It gives prudent advice, without considering its own interests.


THE ROOSTER
I announce each day and give talkative signs!
My feathers are colorful and my comb is proud.
My appearance is immaculate and polished
and I create order with my gravely walk.
I love being decadent, am in love with jewelry and prestige
brilliant appearance and sharp intellect are my ideals.
I despise mediocrity.
I am the proud rooster!

The rooster is colorful, theatrical and extrovert. With its excessive self-confidence, loudly crowing, the rooster sometimes makes absurd plans, likes to fluff and may cause trouble by its presumptuous nature. However, it is talented and has an upright character. The rooster's belligerence is proverbial. It is subtle, neat, precise, organized, determined and vigilant. A concerned creature. A great actor, especially when it is the center of attention, can shine and is the cock of the walk. It is the shiny entertainer and likes being the head of a group of friends. The earth rooster organizes, classifies very analytically and can achieve true miracles by its eagerness to learn and its concentration. The rooster's drive to research doesn't know any boundaries. The rooster mainly shows the shiny side of its personality, even though it is often characterized by abnormal change of moods.
 

Dedication: Dedicated to my friends Li Biao & WuWei
Additional remarks: TIGER, DOG & ROOSTER. Concerto for Sheng, Percussion & Orchestra, ist ein Kompositionsauftrag des CHINA NCPA INTERNATIONAL PERCUSSION MUSIC FESTIVAL in Beijing.
World premiere: 26.08.2016, Beijing im National Center of Performing Arts NCPA
Performers at world premiere: First Performance:
26 August 2016 in Beijing/ NCPA National Center of Performing Arts with
WuWei (Sheng), Li Biao (Percussion), Orchestra of NCPA, Claus Peter Flor (Conductor)
Opening concert of the CHINA NCPA INTERNATIONAL PERCUSSION MUSIC FESTIVAL
Movie: