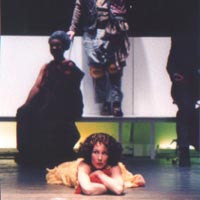 Update Required
To play the media you will need to either update your browser to a recent version or update your
Flash plugin
.
Category: Opera / Music Theatre
SALOME... mit sechs Vokalparts und 11 Instrumenten ist eine Kammeroper entstanden, die sich als expressive Konkurrenz zur großen Schwester erwiesen hat. Ein Kleinod für Opernhäuser, die den verwegenen Kontrast lieben.... David gegen Goliath... und der Gewinner ist ja bekannt: die schneidende Stärke der kompromisslosen Reduktion!!! Neu: aus dem französischen Original direkt und ohne Schnörkel übersetzt.
Movements: 35 einzelne Nummern von 1: Prelude, 2: Rondeau, 3: Recitatif, 4: Passacaille..... bis 31: Monodrame, 32: Recitatif, 33:Plainte, 34: Recitatif
Duration: 95:00
Instrumentation: Salome (mezzo soprano) / Herodias (soprano) / Herodes (baritone) / Der junge Syrer (Alto) / Der Page (Tenor) /Der Soldat (Bass) / Jochanaan (speaking voice)
Orchestra: fl, ob (also ob.damore), clarinet (also bass clar.)horn (F), two percussionists, strings (if possible orchestral 4-4-4-3-2, or soloists): Viola I, II, III, cello, double bass
Text/Lyrics by: Oscar Wilde (after the original French version translated by Enjott Schneider)
Introduction: libretto by Enjott Schneider translated from the original French version of Oscar Wilde's 'Salomé'. A chamber opera in a soloistic cast the work can also be performed in big theatre houses with a large string section. 'Das Salome-Prinzip' is an opera which nests within itself (opera reflecting opera) and which premiered (20 years after its creation) at the Music Theatre im Revier Gelsenkirchen (directed by Carolyn Sittig). It was celebrated enthusiastically (with Regine Herrmann in the title role) for its dramatic texture and intensity and received theater awards and honours in the Ruhr area.
Additional remarks: 'Das Salome-Prinzip' won Ruhr-Theatre prizerini 2002;
World premiere: 03.03.2002, Musiktheater Gelsenkirchen im Revier Gelsenkirchen
Performers at world premiere: Musical direction: Kai Tietje, staging: Carolyn Sittig, stage and costume : Jean Flammang, Dramaturgy: Johann Casimir Eule, Regine Hermann: Salome, Richetta Manager: Herodias, Erin Caves: Herodes, Anna Agathono: Der junge Syrer, Mark Adler: Page, Joachim Gabriel Maaß: Soldat, Roland Renner: Stimme des Jochanaan, Neue Philharmonie Westfalen
Records: private recording, 2001
Performers on recording: a private DVD-production is available through the composer or Janotta Arts Management and shows the opera as directed by Carolyn Sittig, musical direction: Kai Tietje at the Musiktheater im Revier/Gelsenkirchen under general manager Peter Theiler