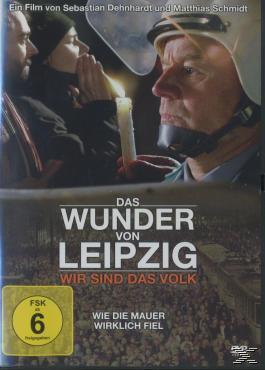 Update Required
To play the media you will need to either update your browser to a recent version or update your
Flash plugin
.
Category: Symphonic / Orchestral
Duration: around 7 minutes
Instrumentation: 2 Flutes (Also 2 Piccolos)
2 Oboes
1 Clarinet (B)
1 Bass clarinet (B)
2 Bassoons
3 Horns (F)
2 Trombones (T/B)
Tuba
Kettledrums
3 Percussionists
I: Thunder sheet, 3 triangles, small and large cymbals (hanging), 2 deep congas
II: Medium cymbal (hanging), 3 tomtoms (ad lib. rotoroms), vibraphone,
glockenspiel, metal crash plates, metal pipe, shater
III: Large drum, tamtam, cajon, timbals

Large string orchestra (14-12-10-8-6)



Introduction: The Miracle of Leipzig We are the people
Leipzig in Autumn 1989: Tounsands of German-Democratic-Republic (DDR) citizens go out onto the street. The demonstrate for more freedom, for citizens rights, for democracy! They demonstrate against a state that oppresses, spies on and monitors its citizens. This autumn on the streets of Leipzig history is written. It is the history of violent officials and of people who overcome their fear. It is a history of the nameless who change the world with their courage and who begin the end of the German-Democratic-Republic (DDR) and the entire East Block. It is the history of the Miracle of Leipzig.

In autumn 2009 the Leipzig revolution has its 20th anniversary. What started as a prayer of peace in the Nikolai Church in Leipzig developed in a matter of weeks to a powerful demonstration for more freedom, for reform and free voting in the German-Democratic-Republic (DDR). It was a revolution that almost ended in catastrophe.


Additional remarks: Based on the film music of the 90 minute HD documentary "The Miracle of Leipzig. We are the People" (2009: MDR, ARTE, broadview TV, TVP, Magyat TV) by Sebastian Dehnhardt and Matthias Schmidt (se also under Works "The Miracle of Leipzig of Leipzig. We are the People).


World premiere: 10.02.2018, 'Großer Konzertsaal' of the 'Musikhochschule Munich'
Performers at world premiere: World premiere as part of the 3. NIGHT OF FILM MUSIC (Munich music academy, Composers Club, German Composers association, in connection with the Bavarian Broadcasting Service: Live on BR4 Classic)

The Bavarian Radio Symphony Orchestra plays.