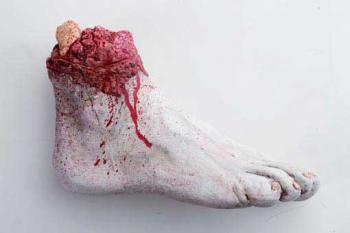 Update Required
To play the media you will need to either update your browser to a recent version or update your
Flash plugin
.
Category: Chamber Music , Opera / Music Theatre
A piece with theatric moods for a trombone player...imitating different moods from a criminal story in TV... gives the chance to play all these modern effects which we learned in the Sequenza by Luciano Berio ----
The Lady, the Teddybear and the Razor parodies, with a winking eye, the stereotypes of thriller music. The whole spectrum of virtuoso-avent-garde trombone technique is demanded from the trombone player. It is not only an abstract depiction, but a 'story telling music' providing pleasure for the player and listener.
Duration: 8:00
Instrumentation: Solo trombone
Solo instruments: Trombone
Introduction: Die Frau, der Teddybär und das Rasiermesser (1995) ist der Interpretin Angelika Frei gewidmet und stellt als 'Kriminalstück für Posaune solo' eine augenzwinkernde Parodie auf Stereotypen der Thriller-Musik dar. Der Posaune wird das ganze Spektrum der virtuos-avantgardistischen Posaunentechniken abverlangt, die aber nicht nur in einem abstrakten Formenspiel verbleiben, sondern als 'erzählende Musik' auch auf unmittelbaren Lustgewinn bei Spieler wie Hörern ausgerichtet bleibt. Die Dramaturgie des Verlaufs lautet: Vorspannmusik - Gruseln - Verfolgung - Mord - Blues - Nachspannmusik.
Dedication: for Angelika Frei
Additional remarks: Can also be staged as an absurd-grotesque scene.
World premiere: 04.06.1997, Karlsruhe Theatre (30th chamber concert of the Badischen Staatskapelle Karlsruhe)
Performers at world premiere: Angelika Frei