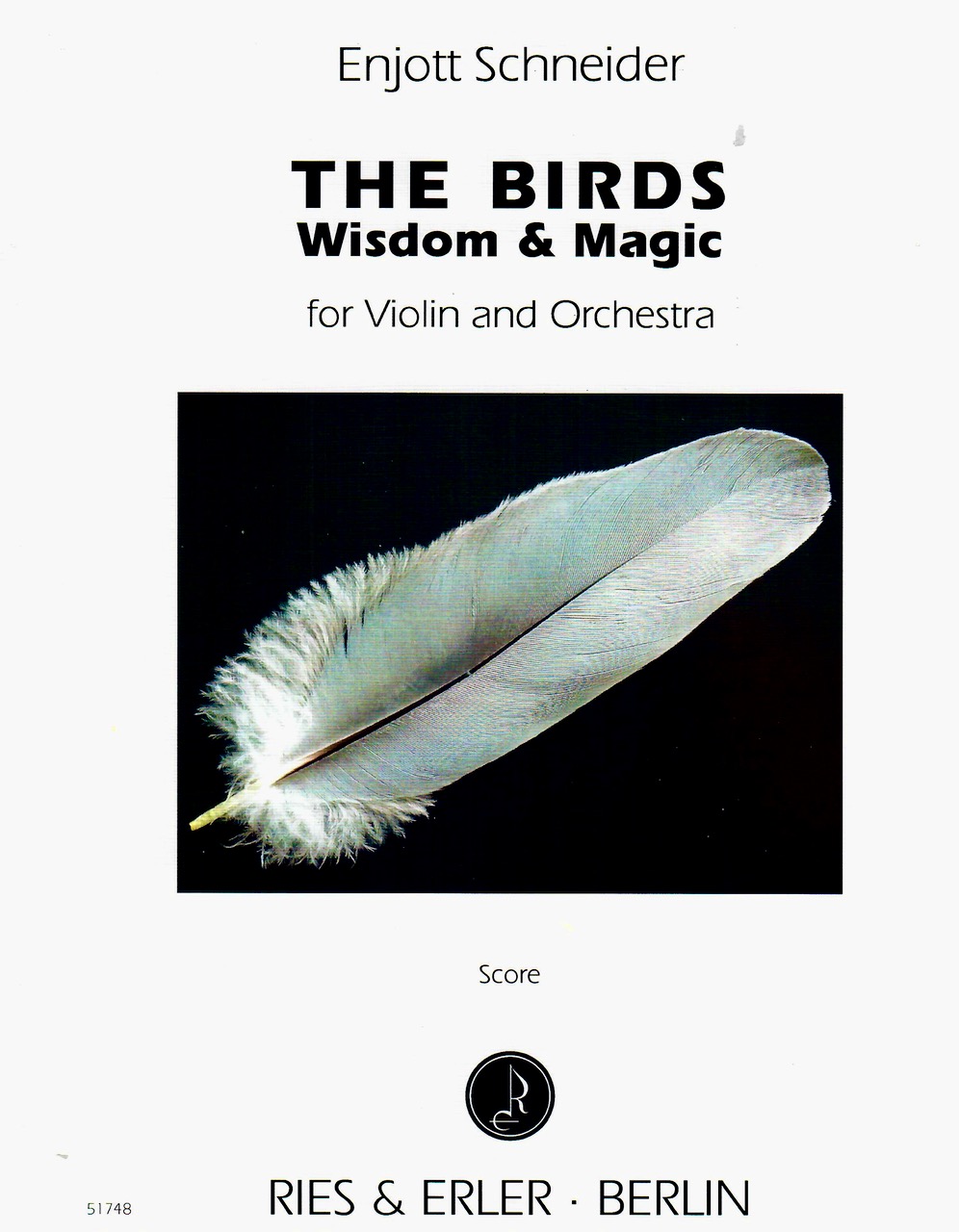 Update Required
To play the media you will need to either update your browser to a recent version or update your
Flash plugin
.
Category: Symphonic / Orchestral , Chamber Music
The wisdom and magic of birds has been documented since prehistoric times: Birds are messengers between heaven and earth, they were assigned to goddesses and gods, they are symbolic figures in myths, fairy tales and all religions, they seem to know about secrets and the future. Alchemy, with its Arabic roots, knows that the development of the human "soul" leads from the primordial blackness and its opposite, the white, to the subtlety of the astral world, and has typified this with bird beings. This is the central theme of this violin concerto, which deliberately shimmers in Eastern and Arabic diction. As a commission for the multicultural BRIDGES Chamber Orchestra and the Israeli violinist Itamar Zorman, this archaic-eastern ductus can also be experienced in the interpretation. - The focus is on the Catalan song "El Cant des Ocells" (Song of the birds), which cellist Pablo Casals played as a peace melody in each of his concerts as an encore. The work is also dedicated to him on the 50th anniversary of his death.
Movements: 1: Birth of the universe from spiral and bird's egg
2: Raven & Crow – Nigredo the Blackness
3: The Swan – Albedo the White
4: The peacock - colourfulness of the dazzling astral world
5: The Crane Dance – Ritual and Soul Flight

attacca sempre:
The compositions has to be performed without breaks as only one large musical poem.
Duration: 18 Minutes
Publisher of notes/sheet music: Ries & Erler Musikverlag Berlin , 2023
Instrumentation: Flute / Kaval / Clarinet / Saxophone soprano / French Horn
Quanoon / Triple / Oud / Azeri Tar / Guitar / Mongolian Shudraga / Harp
1: Arabic percussion, 2: Persian Percussion
String Orchestra (Vl1+2, Vla, Vc, Db)

If there are no transcultural music instruments, the score can be easily arranged f.e. 2 guitars, 2 harps, keyboards etc.
Introduction: Soul mutations of alchemy: from the darkness of the "Nigredo" symbolised by the raven and crow to the inner light "Albedo" of the swan (which was already recognised as a metaphor in Wagner's "Lohengrin" and Tchaikovsky's "Swan Lake"). The innocent white of the swan is represented by the favourite and peace melody of the dedicatee Pablo Casals "El Cant dels Ocells" (Song of the Birds). Then it goes on to the colour patterns of the astral world, represented by the peacock with its colourfulness and iridescence. It is the turning point where alchemy becomes aware of the importance of the inner world. Everything finally culminates in an ecstatic ritual: the crane dance with bird mask and feathers is a powerful manifestation of the physical world, - from which the soul can quietly and unrecognised rise back to its origin.
Dedication: In memory of the great Catalan humanist and cellist Pablo Casals (1876-1973) on the 50th anniversary of his death.
Additional remarks: Commissioned by BRIDGES CHAMBER ORCHESTRA and the Kronberg ACADEMY 2023 with artistic director Friedemann Eichhorn
World premiere: 29.09.2023, Casals Forum der Kronberg Academy
Performers at world premiere: 2023 September 29 in Casals Forum Kronberg
at the Kronberg Festival 2023 with Itamar Zorman (Violin solo)
and BRIDGES - Chamber Orchestra
Conductor: Harish Shankar