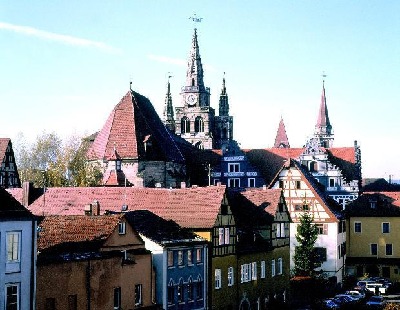 Update Required
To play the media you will need to either update your browser to a recent version or update your
Flash plugin
.
Category: Organ / Sacred Music
The "Orgelbüchlein" by Johann Sebastian Bach... was inspiring for these 18 Choral Preludes. The collection gives a fine overview on modern types of choral settings and choral improvisation. A "must" for all students of Sacred Music or Church Music. Published at Schott Musikverlag.
Movements: Contents:

The choral adaptations are not only stylistically versatile, but also in terms of how they are used.


1 AGNUS DEI (LAMM GOTTES) 150
Martin Luther 1528 (nach dem lat. Agnus Dei)
2 ALLEIN GOTT IN DER HÖH? SEI EHR 150
mittelalterlich, Nikolaus Decius 1522
3 AUS TIEFER NOT SCHREI ICH ZU DIR 150
Martin Luther 1524
4 BEFIEHL DU DEINE WEGE 145
Bartholomäus Gesius 1603
5 FRÖHLICH SOLL MEIN HERZE SPRINGEN 140
Johann Crüger 1653
6 HERR JESU CHRIST, DICH ZU UNS WEND 110
Gochsheim (Franken) 1628
7 HERZLIEBSTER JESU, WAS HAST DU VERBROCHEN 120
Genf 1543, Johann Crüger 1640
8 KOMM GOTT SCHÖPFER; HEILIGER GEIST 120
Martin Luther 1529, nach dem lat. Veni creator spiritus
9 KOMM, HEILIGER GEIST, HERRE GOTT 200
1524 Wittenberg (Martin Luther) nach ?Veni sancte spiritus?
10 NUN KOMM DER HEIDEN HEILAND 230
Martin Luther 1524, nach dem ambrosianischen ?Veni redemptor?
11 NUN SINGET UND SEID FROH 150
Wittenberg 1529, nach dem ?In dulci jubilo? (14. Jh.)
12 O HEILAND, REISS DIE HIMMEL AUF 140
Augsburg 1666
13 O LAMM GOTTES, UNSCHULDIG 230
Süddeutsche Fassung, Nikolaus Decius 1522/Erfurt 1542
14 SCHMÜCKE DICH, O LIEBE SEELE 340
Johann Crüger 1649
15 VON GOTT WILL ICH NICHT LASSEN 200
16. Jh., geistlich Erfurt 1563
16 WACHET AUF, RUFT UNS DIE STIMME 230
nach Hans Sachs 1513, von Philipp Nicolai 1599
17 WIE SOLL ICH DICH EMPFANGEN 120
Johann Crüger 1653
18 WIR DANKEN DIR, HERR JESU CHRIST 110
Nikolaus Hermann 1551/1560
Duration: Duration 36 Minutes
Publisher of notes/sheet music: Schott Music GmbH , ED 20348 , 2007
Instrumentation: Orgel solo (mind. 2 Manuale und Pedal)
Solo instruments: Organ
Introduction: The Ansbach Organ Book is a collection of eighteen chorale settings based on melodies from the German Lutheran hymnal. Intended for use in church services and little concert performances, the level of difficulty is easy to intermediate in a style that eschews experimental modernity. Each setting suggests a specific individual approach, however, so this collection presents an interesting selection of various post-modern techniques of melodic treatment in tonal church music. The stylistic examples included here may easily be adapted and applied to other chorales as an exercise in improvisation (adding a pedagogical aspect to this collection of organ pieces). The idea for this collection was put forwar by the church music director Rainer Goede (Ansbach) on the occasion ofthe restoration and inauguration of the 1738 Wiegleb organ in the church of St Gumbertus, Ansbach. The chorale settings are not restricted to the Baroque disposition used by the 'Franconian Silbermann' Johann Christoph Wiegleb (1690 -1749), but are designed to use the full sound potential and range of modern organs.
Some parts of this organ book were performed for the first time at the 2007 Ansbach Bach Festival, 30 July - 4 August 2007, in the church of St Gumbertus in Ansbach.
World premiere: 07.06.2009, St.Gumbertus Ansbach
Performers at world premiere: Vom 30.7.-4.8.2007 spielte während der Ansbacher Bachwochen Rainer Goede Choräle in Gegenüberstellung mit gleichnamigen Chorälen aus Bachs Orgelbüchlein.
Press reviews for world premiere: Zeitschrift LORGUE. Bulletin des Amis de lOrgue, 2008/III Nr. 283
Loin de céder aux principes dun language davantgarde, le compositeur à differentes techniques 'post-modernes' (lexpression figure comme telle dans la notice) et lui-meme indique que dun coté ces pièces peuvent servir de modèle dimprovisation et de lautre que, bien quinspirées par la restauration de lorgue St. Gumbertus dAnsbach (1734), elles sadaptent facilement à tous les instruments. Le niveau requis nexige pas une pratique transcendente et lon trouve à la fois des pages très facile et dautres qui réclament des doigts....

Zeitschrift THE AMRERICAN ORGANIST July 2009
18 Choral Preludes - These will definitely not be appreciated at the little brown church in the vale, but if youre adventurous, these are quite original preludes on wellkonwn German chorales. Each 'shows the different possibilities of how to deal delightfully with a tonal melody in postmodern pluralism'. Schneider is a talented improviser and each of these works exhibits one of his 'tricks'. In fact, he even mentions that 'the stylistic examples may easily be adapted and applied to other chorales as an exercise of improvisation'. Thus, this serves as a teaching collection as well. (Rollin Smith)
Records: 2008