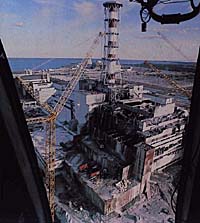 Update Required
To play the media you will need to either update your browser to a recent version or update your
Flash plugin
.
Category: Chamber Music , Organ / Sacred Music
Duration: 12:00
Instrumentation: Soprano (tenor), fl., bass clar., clar., percussion
Text/Lyrics by: Ernst Moritz Arndt
Introduction: ...if the first newspaper reports and state-official announcements immediately after the reactor accident in Ukrainian Chernobyl in respect with a dreistophigen evening song become 'The day now has passed and darkly there sleeps the world' by the romantic writer Ernst Moritz Arndt (26.12.1769-29.01.1860). If the naive romantic tone appears after the aggressive professionalism of the newspaper news while the first stanza still sounds like a foreign body, these circumstances turn round increasingly: the official announcements become increasing to empty word shells, - the message of the romantic poem with his child faith in the 'father' as a God prevailing on top becomes against it the real 'news'.

Additional remarks: There is also a version for 6 voices a capella
World premiere: 11.03.1992, Wiesbaden State Theatre
Performers at world premiere: Raphaela Weil (soprano) and soloists from the Wiesbaden State Theatre
Press reviews for world premiere: Wiesbadener Tagblatt (29.11.90): This work contrasts the cynical information policy of the Federal Government at that time... with the reverent physical attachment Ernst Moritz Arndts - Musically both spheres contrast by rhythmical speech-song and a simple song line of each other.