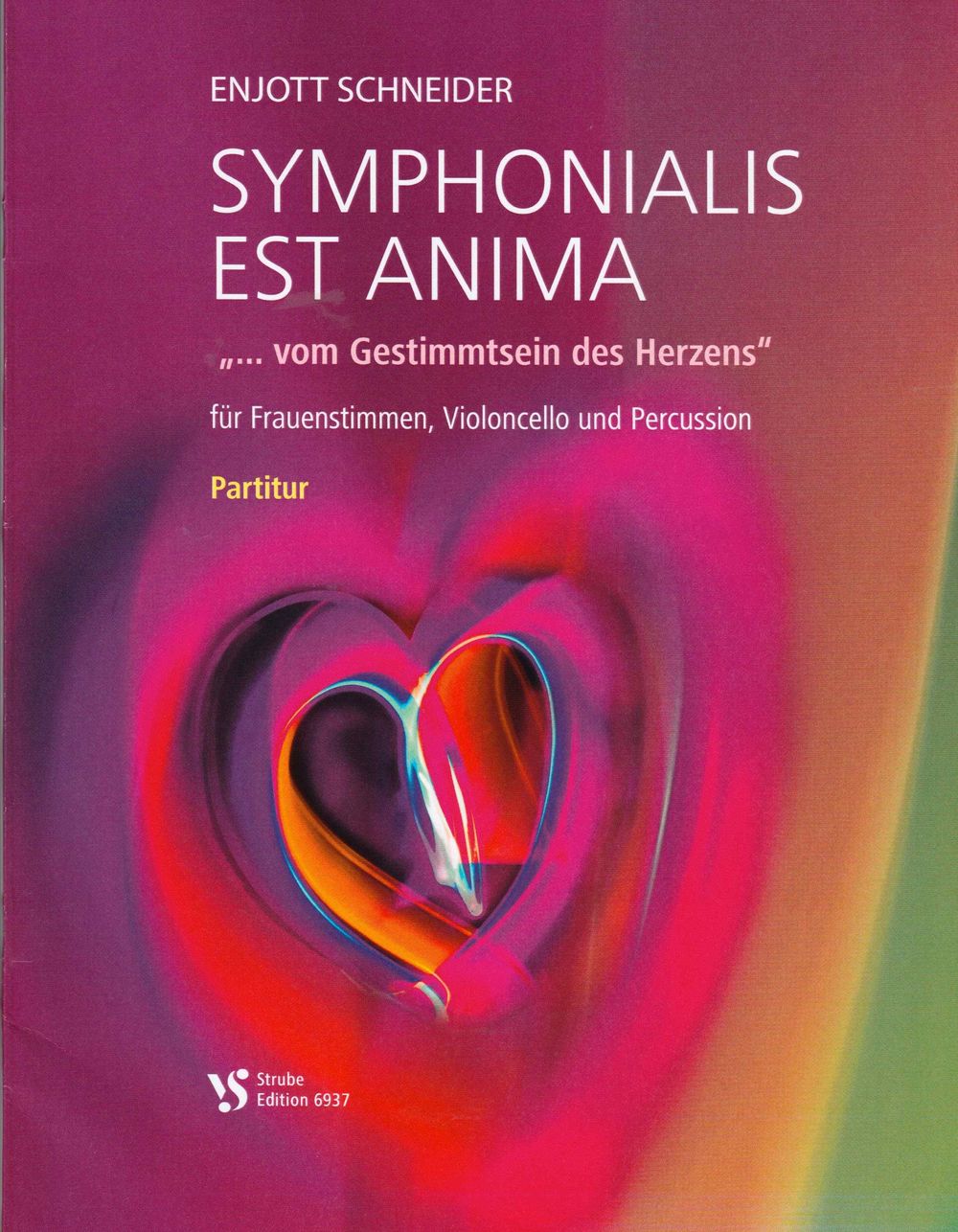 Update Required
To play the media you will need to either update your browser to a recent version or update your
Flash plugin
.
Category: Choir / Vocal , Organ / Sacred Music
Movements: 1: That's the soul / 2: Caritas abundat (Love floods) / 3: The windows to the soul / 4: O virtus sapientiae (O power of wisdom) / 5: Symphonialis est anima (The soul is symphonic)
Duration: 13-14 minutes
Publisher of notes/sheet music: Strubeverlag Munich edition No. 6944 , ED 6944 , 2016
Instrumentation: Female voices (soprano 1+2   alto 1+2),
percussion (triangle, bowed cymbals, TamTam, claves, rubbed glass on e2)
violoncello
 
Text/Lyrics by: Hildegard von Bingen (Latin)
Introduction: Texts:

No . 1
So the soul is the inner stability and the carrier of the body. Therefore, o man, recognize, how your soul looks like!

No. 2
Caritas abundat in omnia
de imis excellentissima super sidera
atque amantissima in omnia
quia summo Regi
osculum pacis dedit

(translation: the love floods everything
From the depths to the highest stars
And it is full of love for everyone,
because it gave the highest king the kiss of peace)

No. 3: The windows to the soul
The power of the soul can be seen in the eyes of man, if his eyes are clear, bright and transparent, because the powerful soul resides in the man's body, in order to accomplish quite a lot of deeds inside this body. The human's eyes namely are the windows to his soul.

No. 4
O virtus Sapientiae, quae circuiens circuisti
comprehendo omnia
in una via, quae habet vitam,
tres alas habens,
quarum una in altum volat,
et altera de terra sudat,
et tertia undique volat.
Laus tibi sit, sicut te decet, o Sapientia.

(translation: O power of wisdom
understandingly surrounding
everything in a rotating manner
in a way, that has life
having three wings,
one of which flying in the air
and the other struggling on earth
and the third is flying everywhere.
Praise to you, like you deserve, o wisdom.)

No. 5
The soul is for the body as important as the juice for the tree and its strengths are unfolded just like the shape of the tree: ... SYMPHONIALIS EST ANIMA

I warmly thank the researcher of Hildegard von Bingen Dr. Barbara Stühlmeyer for suggestions, help and translation upon assembling the texts.
Dedication: ............warmly dedicated to the ensemble CLARA VOCE and Alexander Müller
World premiere: 22.05.2016, St. Martin Basilica in Bingen for the 600th anniversary celebration
Performers at world premiere: Ensemble CLARA VOCE, conducted by Alexander Müller