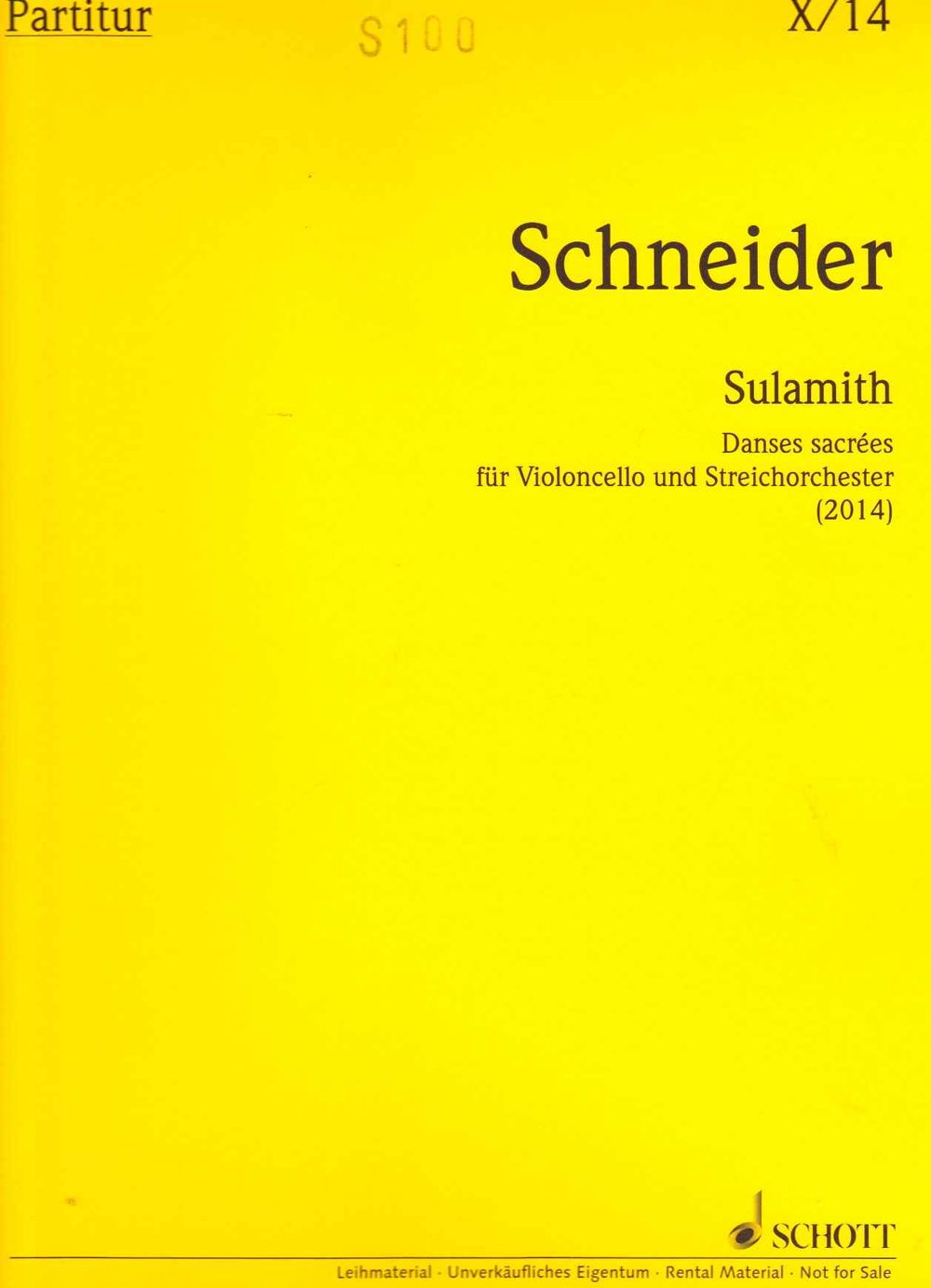 Update Required
To play the media you will need to either update your browser to a recent version or update your
Flash plugin
.
Category: Symphonic / Orchestral
Movements: 1: "Schwarz bin ich, doch schön..."
2: Der Reigen zu Mahanaim: "Wende dich, Sulamith!"
3: "Stark wie der Tod ist die Liebe"  
Duration: 13 minutes
Publisher of notes/sheet music: Schott-Music
Instrumentation: Solo cello / violin 1+2 / viola 1+2 / violoncello / double bass


Solo instruments: Violoncello
Introduction: 
The so-called "Hohelied der Liebe" (song of songs of love) is addressed to Sulamith and was in all likelihood written by Salomo. It is also called the "Lied der Lieder" (song of songs) and is considered one of the most mysterious texts in the Bible. Although the persona of Salomo itself is quite mystical, the persona of the 'bride' is even more arcane. Augustinus and many other exegetes interpreted this 'firework of the senses' as an allegory of the mystic union of the soul and God. Others recognised Arabic wedding rites or the occult connection between the old Gods of Vegetation - Ischtar and Tammuz. The Gospel of John shows a lot of parallels with the resurrection, when Maria Magdalena was addressed as 'Maria!' by the 'gardener' that was actually Jesus himself, the evangelist says: "Die wendet sich um" (she turns around). The paradisiacal garden, where Sulamith shows her endless beauty, refers to Jesus and to the garden Eden: 'Garden' is a continuous metaphor in the Bible. One of the most modern interpretation was provided by Paul Celan in his poem 'Todesfuge' (Deathfugue), written in 1944 in Czernowitz. In this poem, Sulamith personifies the Jewish victim. All of the mysterious elements are incorporated in the performance of the "Danse sacrée", where the physicalness of the dance seems to contradict the existential contents.

Dedication: sincerely dedicated to László Fenyö
Additional remarks: The composition is the orchestra version of SULAMITH for cello and organ, that celebrated its world premiere with Laszlo Fenyö on the occasion of the FUGATO festival in Bad Homburg in 2010.
World premiere: 28.10.2014, Cello-Akademie Rutesheim
Performers at world premiere: 'Cello-Akademie' Rutesheim 2014 with László Fenyö and the 'Südwestdeutsches Kammerorchester', Cond.: Johannes Klump. The photos below are from the world premiere and were taken by Rainer Moeller.

Movie: