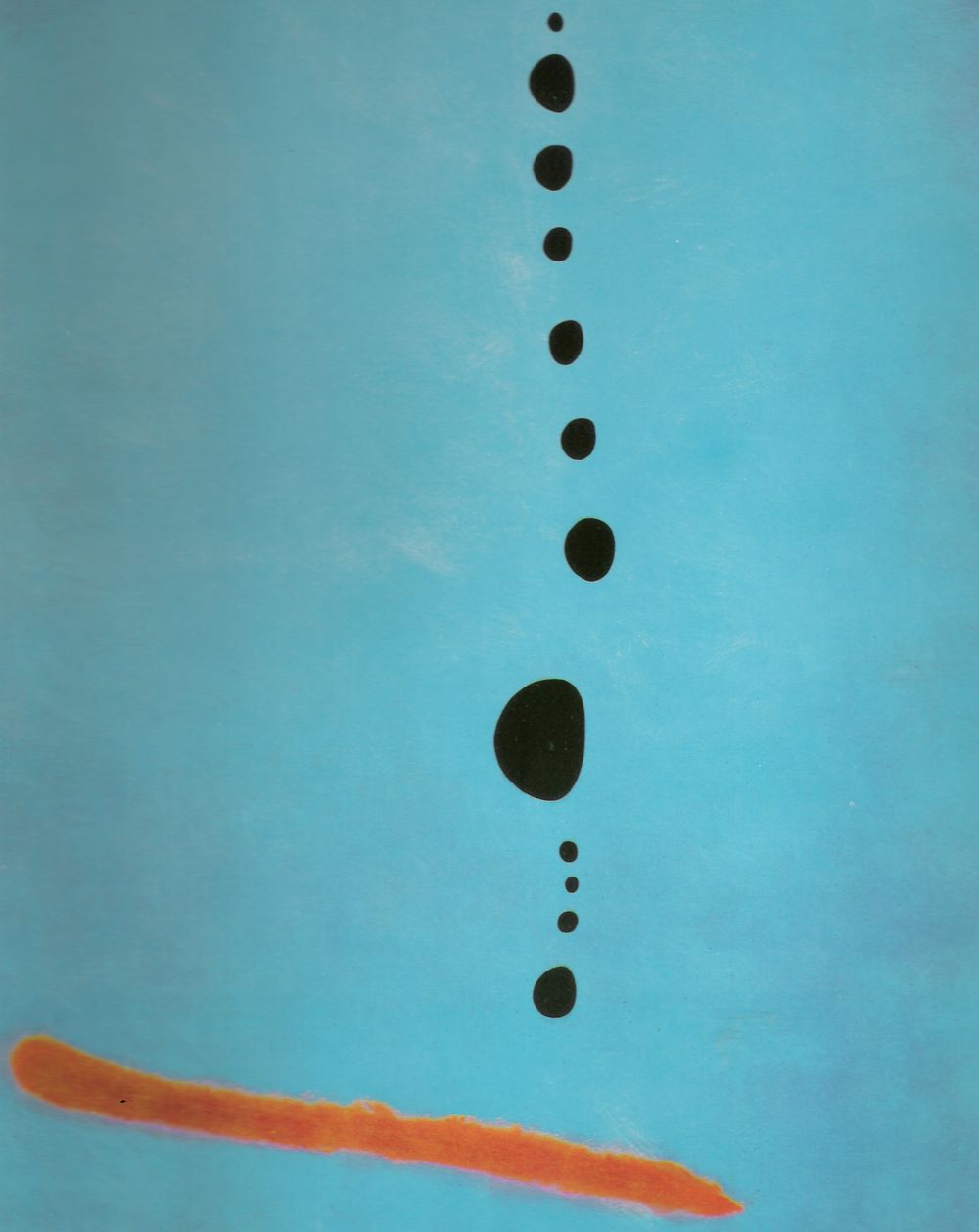 Update Required
To play the media you will need to either update your browser to a recent version or update your
Flash plugin
.
Category: Chamber Music
Zwei Versuche, die Bilderwelt Miró's zwischen Reduktion und Expression in Töne zu fassen:

'BLau II' (270cm x 335cm, 1961).
Eine unaufhörliche Blaufläche, die den Betrachter trunken und orientierungslos macht: die eingelassenen Punkte und Zeichen provozieren Reflexe, die sich der greifbaren Wahrnehmung entziehen.

'Personen in der Nacht' (89cm x 115cm, 1950).
Kraftvolle Farbinseln vor einem Braunton: zu einer Welt der Zeichen reduzierte Lebewesen, die sich in ihrem rhythmischen Überschneidungen zu immer neuen phantastischen Gestalten zwischen Mensch und Tier formen, - eine surreale Spuk-Gesellschaft blieb die Einsicht, dass Musik und Malerei doch zwei nicht zusammenführbare Zeichensysteme bleiben: die Statik des Bildes, die Gegenständlichkeit und die Farben lassen sich nicht in das Zeit-Gewand der Musik übersetzen. So sind auf jeden Fall Musikstücke entstanden, die auch ohne Bild und nur aus sich ihren Sinn schöpfen.
Movements: 1st version: flute, vibraphone, two harps and cello; 2nd version: zither quartet
Duration: 10:00
Solo instruments: Flute, Harp, Percussion, Violoncello
Introduction: 'BLau II' (270cm x 335cm, 1961).
An unending plane of blue that leaves the beholder confused and disorientated.

'Personen in der Nacht' (89cm x 115cm, 1950).
Vibrant islands of colour in front of a shade of brown: a world of creatures reduced to signs - creatures rhythmically intersecting and continually forming new fantastic human and animal shapes - a surreal and spooky party.
World premiere: 12.03.1985, Großer Saal der Musikhochschule München
Performers at world premiere: Anne Kortenkamp (fl.), Stefan Blum (vibr.), Petra Huter, Uta Schmitt (harp), Markus Wagner (c), direction: Sergio Mirabelli
Records: Version 1: Recorded by BR, direction: Sergio Mirabelli, 1986, 1999
Performers on recording: Version 2: CD 'Cantlicle of the Sun' 1999, recorded by Munich-Pasing zither orchestra, direction: Andreas Herrmann, Ulrich Kraus recording studio,
MPO Audio Cologne LC 0766