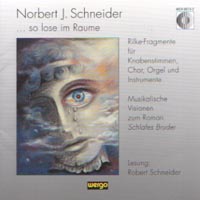 Update Required
To play the media you will need to either update your browser to a recent version or update your
Flash plugin
.
Category: Choir / Vocal , Organ / Sacred Music , Recordings
Movements: 1: 'Ein jeder Engel ist schrecklich'
2: 'Denn bleiben ist nirgends'
3: '...so lose im Raume'
4: Dichte der Kindheit
Duration: 43 min. (15:20 / 5:30 / 8:00 / 12:00)
Instrumentation: Childrens choir, choir, fl. 2 ob., 3 bs., solo trumpet, tenor tro., 8 double basses,5 percussionists, organ
Solo instruments: Organ, Trumpet
Text/Lyrics by: Rainer Maria Rilke:
Introduction: The work is very complex and was premiered by the boys choir Regensburger Domspatzen and the Church Music School in Regensburg 1995. On the threshold of secular and sacred music, it reflects man's destiny between God and worldly origin. The outer movements are very impressive, at the end with the complete 'Schlafes Bruder' toccata, elevated by the chorale 'Komm O Tod...'.
Additional remarks: With inserted text passages, which correspond to each movement (spoken on the CD by Robert Schneider), the oratorio can be lengthened to 60 minutes.
World premiere: 10.01.1995, Kirche St. Josef / Regensburg
Performers at world premiere: Regensburger Domspatzen (studied with Karlheinz Liebl), the choir of the Regensburg Church Music School, Franz-Josef Stoiber (organ), orchestra, general direction: Kunibedrt Schäfer
Press reviews for world premiere: on the performances in Munich (30.11.96) and Luzern (7.12.96) in the 'Neue Voralberger Tageszeitung' (7.12.96):
NEW MUSIC FOR BROTHER OF SLEEP. A German composer has created - motivated by Robert Schneider's novel 'Brother of Sleep' - an extensive musical work

Records: WERGO WER 6613-2286 613-2 LC 0846, 1996
Performers on recording: with Robert Schneider (speaker), Harald Feller (organ), Bruno Feldkircher (trumpet), orpheus choir Munich, Luzern boys choir, Orpheus Ochestra, director: Gerd Guglhör co-production with the Bavarian Radio, recorded from 30/11/96 - 1/12/96 in St. Ursula Munich, sound master Wolfram Graul