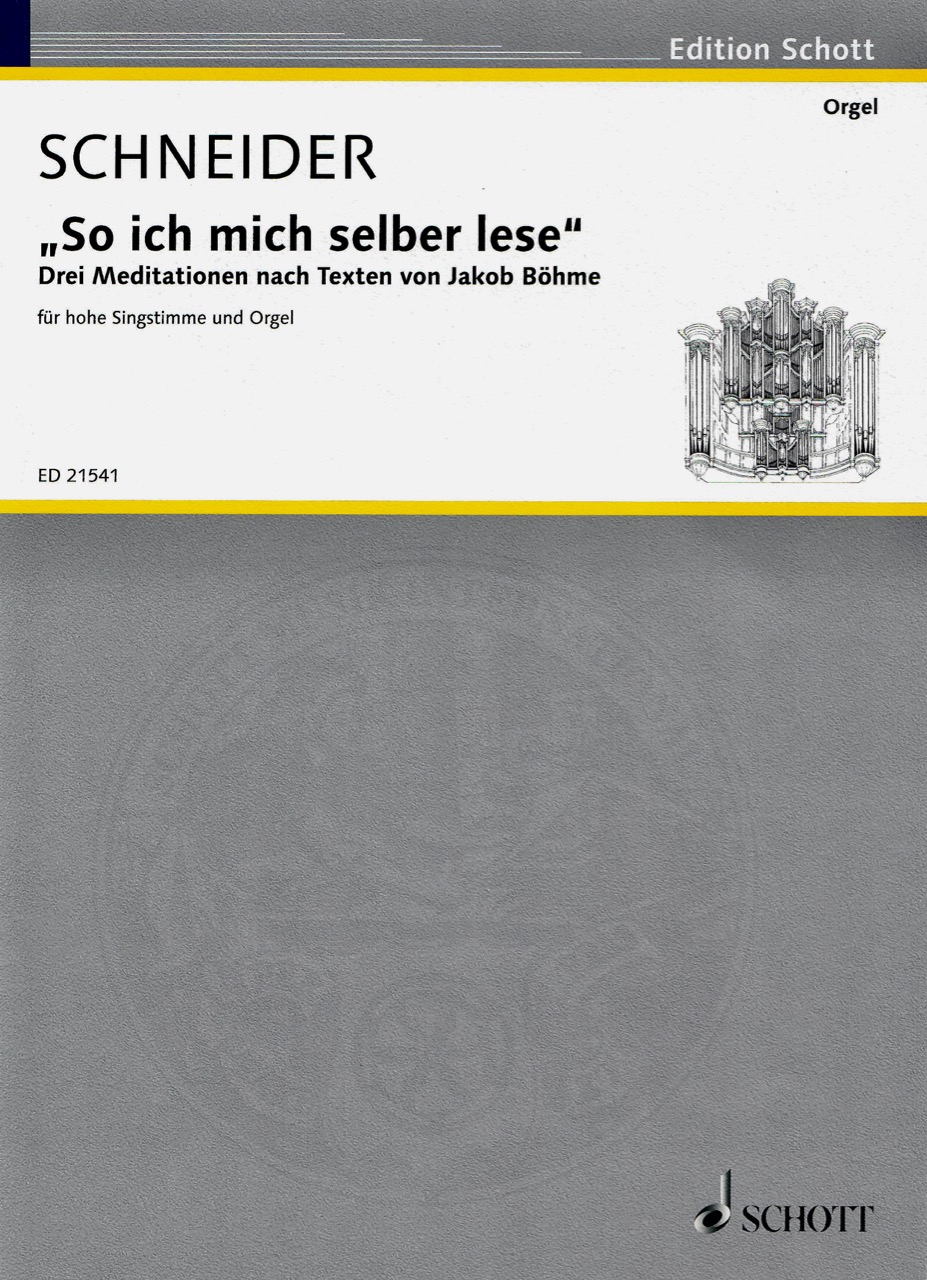 Update Required
To play the media you will need to either update your browser to a recent version or update your
Flash plugin
.
Category: Choir / Vocal , Organ / Sacred Music
Jakob Böhme (1575-1624) was a Silesian shoemaker who suddenly started to write his first work 'Aurora' in his 37th year. He belonged to the big Christian mystics. His work inspired Isaac Newton to his scientific researches and decisively influenced philosophers like Novalis, Schlegel or Franz von Baader. Ernst Bloch wrote about this big thinker of contrast forces of the being: 'Such it was not heard since Heraklit any more!'
Movements: 1: So ich mich selber lese...;
2: ...eine kleine Welt aus der großen;
3: ...das große Buch Himmel
Duration: 10:00 (3:00, 4:00, 3:00)
Publisher of notes/sheet music: Schott Music , Edition 21541 , 2008
Instrumentation: Soprano (tenor) and organ
Solo instruments: Organ
Text/Lyrics by: Jakob Böhme
World premiere: 05.07.1988, Munich , 'Holy Family' church
Performers at world premiere: Petra Geitner (soprano), Kunibert Schäfer (organ)
Press reviews for world premiere: Aufführung in Lauingen (Dillinger Zeitung vom 19.04.1991): The instrumental draught by Schneider is full of effect. The organ lives on a stormy, anyhow restrained joy of music. Anyhow in the broken, quick chords a book in which the soprano announces well-spoken the message is whipped... The quiet, accumulated sound world in the Adagio second meditation opens to an immense crescendo... A lasting compositional aid determines the third part: the high-level low-pressure area contrast of organ pedal and soprano escalation. Floating chords answer to the harsh-chill lines in weird expressionism. N.J. Schneider has found on the track of Hermann Schröder and Joseph Ahrens to a homogeneous sound architecture.
Records: Wergo WER6296-2, title 'Klänge des Lichts' LC 0846, 1995
Performers on recording: Renate Düerkop (soprano), Harald Feller (organ) on WERGO-CD