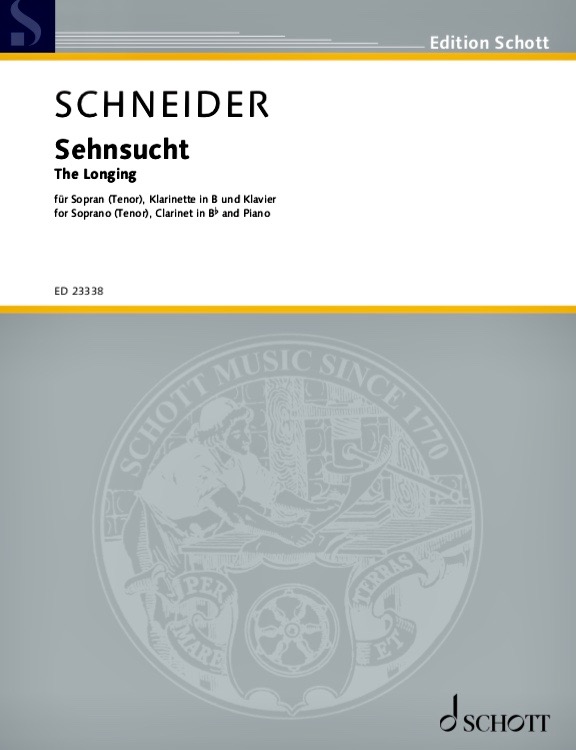 Update Required
To play the media you will need to either update your browser to a recent version or update your
Flash plugin
.
Category: Chamber Music , Choir / Vocal
The compositiion is a sister work to Franz Schuberts "Hirt auf dem Felsen"for Soprano, Clarinet and piano. But it is also a tribute to Beethoven and his setting of Goethe's "Nur wer die Sehnsucht kennt". The spiritual world of the young girl Mignon in the novel "Wilhelm Meister" is characterized by the longing to the transcendent world in the second life.... it seems to have some asiatic of buddhistic influences.
Duration: 9 Minutes
Instrumentation: Soprano (also Tenor), Clarinet in Bb, Piano
Solo instruments: Clarinet, Piano
Text/Lyrics by: Johann Wolfgang von Goethe (1749-1832) Songs of Mignon from the novel "Wilhelm Meister"
Introduction: SEHNSUCHT - The Longing -
Ludwig van Beethoven's setting of Goethe's mignon song "Nur wer die Sehnsucht kennt" (version in G minor) is one of the most moving songs in music history and has accompanied me all my life. Likewise, Goethe's novel "Wilhelm Meister" was my path to poetry, music, art and that of the other world in my early youth ... beyond our everyday usefulness.
The composition is a sister work to Franz Schubert's famous song scene "Der Hirt auf dem Felsen" (1829) and can be used with the same instrumentation soprano, clarinet and piano to complement concert programmes. The detailed quotations from Beethoven's Lied also give a certain stylistic affinity to Viennese Classicism and formulate a pleasant closeness. The use of two lyrics also refers to Schubert, so that a scenery is also created like storytelling: We experience the insatiable longing of the mignon "for that side", of the other world for death. In the second song "So laßt mich scheinen" the longing for death is facetted with details from the other, the more beautiful life. The purity of white clothing, the dematerialization without any heaviness of earthly existence, the androgynous sexlessness of a peaceful world without polarities. This spirituality of Mignon's world has almost Asian or Buddhist traits.
Dedication: Dedicated to the great Beethoven on his 250th birthday
Additional remarks: SEHNSUCHT
Only those who know longing / know what I suffer! /
Alone and separated from all joy / I see the firmament /
To that other side.

Ah! Who loves me and knows me! / is in the distance.
It dizzles me, it burns my guts.
Only who knows the longing / knows what I suffer! /

SO LET ME SEEM

So let me shine till I become;
Do not take off my white dress!
I hurry from the beautiful earth
Down to that solid house.

There I rest a little silence,
Then the fresh look opens up;
I then leave the pure shell,
The belt and the wreath back.

And those heavenly creatures
You don't ask for man and wife,
And no dresses, no wrinkles,
Surround the transfigured body.
World premiere: 12.01.2020, Bombay und Pune (Indien)
Performers at world premiere: January 2020 in Bombay and Pune (India) in Concerts of the Goethe-Institut, with Julia Sophie Wagner (Sopran), Jérome Voisin (Klarinette), Oliver Triendl (Piano)