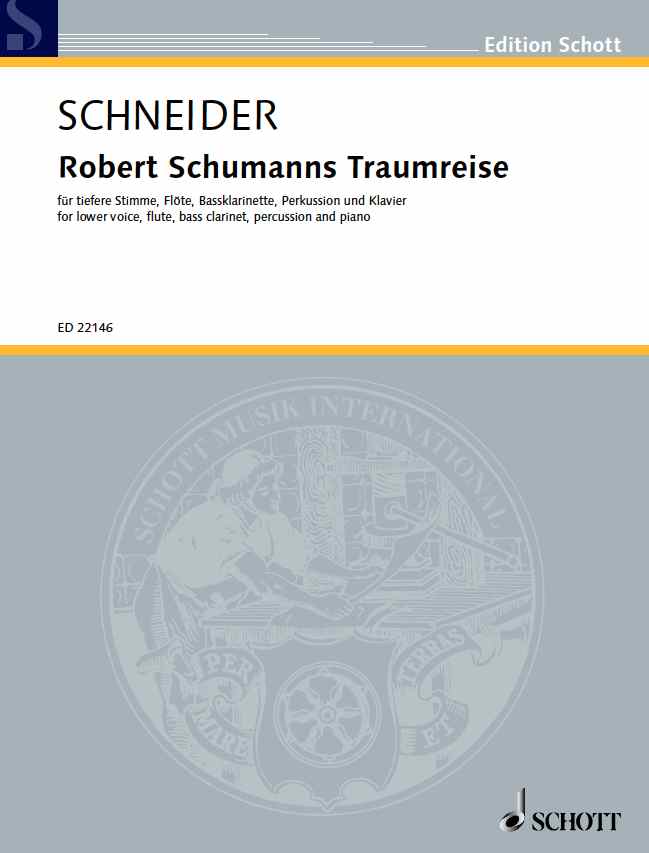 Update Required
To play the media you will need to either update your browser to a recent version or update your
Flash plugin
.
Category: Chamber Music , Choir / Vocal
Robert Schumanns "Kerner-Lieder" op. 35 are a beauty of endless black depression.... The breathing of Death.. like in Franz Schubert's "Winterrreise". With musical and quasi-psychological commentaries (using the idioms of Contemporary music) the composer developed a TRAUMREISE - DREAM JOURNEY.... and suddenly you feel very close to Robert Schumann and his lyrical pain and despair!
Movements: ROBERT SCHUMANN'S TRAUMREISE (Robert Schumann's Dream Journey) based on the 'Kerner' song cycle op. 35 for low voices, flute, bass clarinet, percussions and piano.

1. INTRODUKTION (Introduction)
2. "STIRB, LIEB' UND FREUD!" (Die, love and joy)
3. INTERMEZZO I (Interlude I)
4. STILLE TRÄNEN (Silent tears)
5. INTERMEZZO II (Interlude II)
6. "WER MACHTE DICH SO KRANK?" (Who made you so ill?)
7. ALTE LAUTE (Old sounds)
Duration: 24 minutes
Publisher of notes/sheet music: Schott Music , ED 22146 , 2014
Instrumentation: low voice (bass baritone or alto), flute (also alto flute), bass clarinet (also clarinet in B), percussions (vibraphone, large drum, medium and low cymbal, tam-tam, triangle, claves) and piano.
Text/Lyrics by: Justinus Kerner
Introduction: Motto: "MICH HEILT KEIN KRAUT DER FLUR….
UND AUS DEM TRAUM, DEM BANGEN,
WECKT MICH EIN ENGEL NUR".

(I will be healed by no meadow herb;
And from this dream, this fearful nightmare,
only an angel will awaken me.)
Dedication: dedicated to Yvonne Troxler and the 'Glassfarm-Ensemble' New York
Additional remarks: TEXTE VON JUSTINUS KERNER:

1. Motto
Mich heilt kein Kraut der Flur;
Und aus dem Traum, dem bangen,
Weckt mich ein Engel nur.

( I will be healed by no meadow herb;
And from this dream, this fearful nightmare,
only an angel will awaken me.)

2. Stirb, Lieb' und Freud' (Die, live and joy)
Zu Augsburg steht ein hohes Haus,
Nah bei dem alten Dom,
Da tritt am hellen Morgen aus
Ein Maegdelein gar fromm;
Gesang erschallt,
Zum Dome wallt
Die liebe Gestalt.

Dort vor Marias heilig' Bild
Sie betend niederkniet,
Der Himmel hat ihr Herz erfuellt,
Und alle Weltlust flieht:
,,O Jungfrau rein!
Lass mich allein
Dein eigen sein!''

Alsbald der Glocke dumpfer Klang
Die Betenden erweckt,
Das Maegdlein wallt die Hall' entlang,
Es weiss nicht, was es traegt;
Am Haupte ganz
Von Himmelsglanz
Einen Lilienkranz.

Mit Staunen schauen all' die Leut'
Dies Kraenzlein licht im Haar,
Das Maegdlein aber wallt nicht weit,
Tritt vor den Hochaltar:
,,Zur Nonne weiht
Mich arme Maid!
Stirb, Lieb' und Freud'!''

Gott, gib, dass dieses Maegdelein
Ihr Kraenzlein friedlich trag',
Es ist die Herzallerliebste mein,
Bleibt's bis zum juengsten Tag.
Sie weiss es nicht,
Mein Herz zerbricht,
Stirb, Lieb' und Licht!

(In Augsburg stands a lofty house,
near the old cathedral.
Out into the bright morning steps
a pious maiden;
a hymn rings out
and to the cathedral
the dear figure goes.

There in front of Mary's sacred image
she kneels down to pray:
Heaven has filled her heart
and all earthly joy flees:
"O Virgin pure!
Let me be
yours alone!"

When the muffled toll of the bells
awakens the worshippers,
the maiden walks along the halls:
she does not know what she is wearing;
upon her head
bright with Heaven's gleam,
there is a wreath of lilies.

With astonishment gaze all the people
at this little wreath, bright in her hair,
but the maiden does not go far;
She steps in front of the high altar:
"Dedicate me as a nun,
me, your poor maid!
Die, love and joy!"

God, grant that this maiden
may wear her wreathe in peace;
she is my heart's true love,
and she will remain so until Judgment Day.
She does not know it,
and my heart is breaking;
Die, love and light!)

4. Stille Traenen (Silent tears)
Du bist vom Schlaf erstanden
Und wandelst durch die Au.
Da liegt ob allen Landen
Der Himmel wunderblau.

So lang du ohne Sorgen
Geschlummert schmerzenlos,
Der Himmel bis zum Morgen
Viel Traenen niedergoss.

In stillen Naechten weinet
Oft mancher aus dem Schmerz,
Und morgens dann ihr meinet,
Stets froehlich sei sein Herz.

(You have risen from sleep
and are wandering through the meadow.
There lies over all the land
Heaven's wondrous blue.

As long as, free from cares,
you've been slumbering without pain,
Heaven has, since morning,
shed many tears.

In silent nights,
many weep from pain,
and in the morning you assume
their hearts are always light.)

6. Wer machte dich so krank? (Who made you so ill?)
Dass du so krank geworden,
Wer hat es denn gemacht?
Kein kuehler Hauch aus Norden
Und keine Sternennacht.

Kein Schatten unter Baeumen,
Nicht Glut des Sonnenstrahls,
Kein Schlummern und kein Traeumen
Im Bluetenbett des Tals.

Dass ich trag' Todeswunden,
Das ist der Menschen Tun;
Natur liess mich gesunden,
Sie lassen mich nicht ruhn.

(That you are so ill -
who has then caused this?
No cool breath from the North,
and no starry night.

No shadow under the trees,
no heat from sunbeams,
no slumber and no dream
in the blossom bed of the valley.

That I bear fatal wounds,
this is the deed of men:
Nature would let me be well,
but they do not let me rest.)

7. Alte Laute (Old sounds)
Hoerst du den Vogel singen?
Siehst du den Bluetenbaum?
Herz! kann dich das nicht bringen
Aus deinem bangen Traum?

Was hoer' ich? Alte Laute
Wehmuet'ger Juenglingsbrust,
Der Zeit, als ich vertraute
Der Welt und ihrer Lust.

Die Tage sind vergangen,
Mich heilt kein Kraut der Flur;
Und aus dem Traum, dem bangen,
Weckt mich ein Engel nur.

(Do you hear the bird singing?
Do you see the blossoming tree?
Heart! can this not rouse you
from your fearful dream?

What do I hear? Old sounds
of a mourning, youthful breast,
from that time when I trusted
the world and its joys.

Those days are gone.
I will be healed by no meadow herb)
And from this dream, this fearful nightmare,
only an angel will awaken me.
World premiere: 15.02.2014, Symphony Space New York
Performers at world premiere: Michael Leibundgut (bass baritone) and the Glassfarm-Ensemble (Yvonne Troxler, piano)