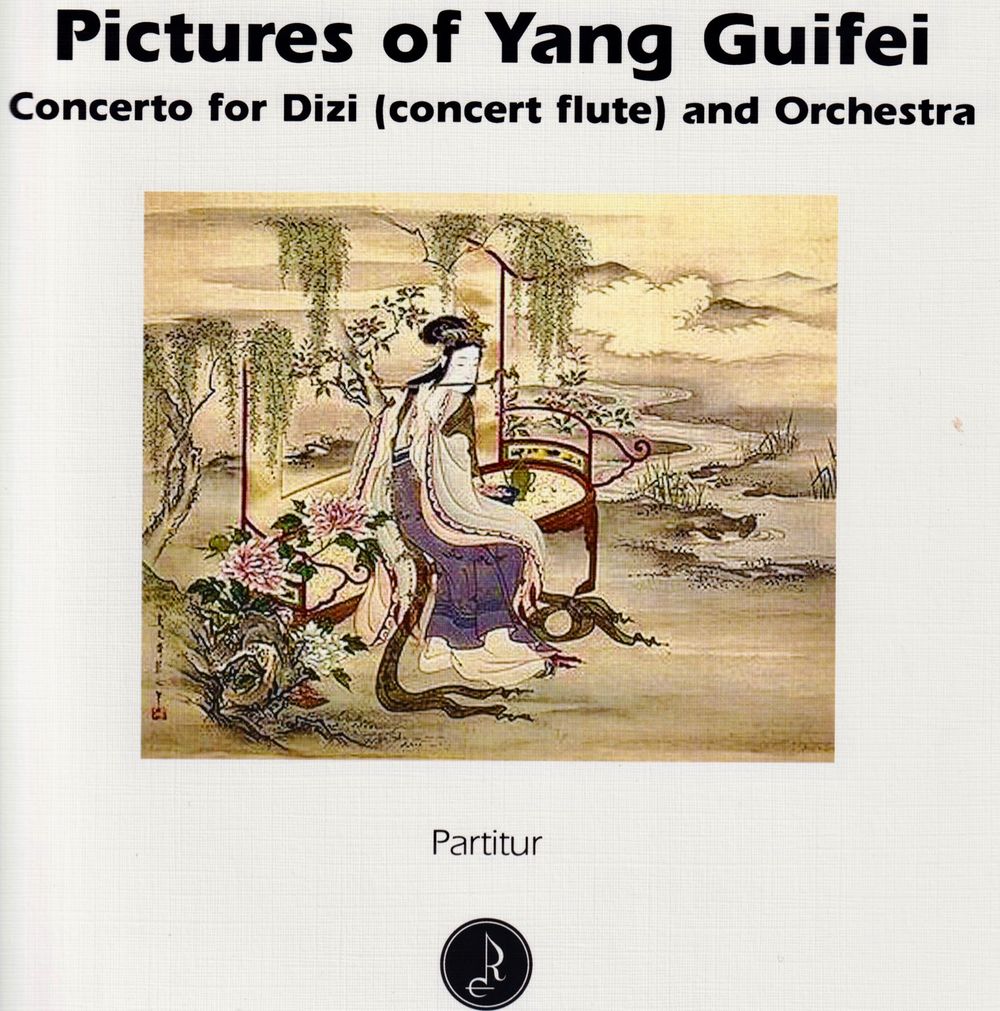 Update Required
To play the media you will need to either update your browser to a recent version or update your
Flash plugin
.
Category: Symphonic / Orchestral
Yang Guifei (719-756) was one of the "Four Beauties" of ancient China and the favorite concubine of Tang Emperor Xuanzong (685-762). Elevated to the status of "Guifei" of the emperor at the age of 26, she made the court a center of art and culture, where she herself danced, sang and played the flute. It came to the revolt and escape. Yang Guifei was caught and demanded her death: she hanged herself from a tree with silk cord. The flute concerto tells this life in musical sounds. It can be played on the Chinese dizi (bamboo flute) or on the western concert flute.
Movements: 1. DARK MYSTERIES OF AN ANCIENT BEAUTY
2. THE RAINBOW FEATHER DANCE
3. SCENT OF PINK-RED LYCHEES
4. REVOLT, SUICIDE & TRANSFIGURATION
Duration: 26 minutes
Publisher of notes/sheet music: Ries & Erler Musikverlag Berlin , Score & Parts ED 51400 / Piano Score and Soloparts ED 20046 , 2017
Instrumentation: Dizi solo / or concert flute solo

3 flutes (2nd and 3thrd also piccolo)
oboe
cor anglais
2 clarinets in Bb
bass clarinet
2 bassons

4 french horns in F
2 trumpets in Bb
3 trombones (T-T-B)

harp

timpanies
4 percussionplayers

large string orchestra (14-12-10-8-6)

(Additionally there will also be an orchestration for Chinese Orchestra
and an edition for solo & piano)
Solo instruments: Flöte
Introduction: YANG GUIFEI (719-156) was one of the "Four Beauties" of ancient China and the favorite concubine of Tang Emperor Xuanzong (685-762). Yang got a divorce from her former husband, became a taoist nun with the sobriquet "Taizhen" ("Utmost Truth"). When she was twenty-six she was made a "guifei" (imperial consort) by the sixty-one years old emperor Xuanzong. Fallen in love, he rebuilt the ancient hot springs palace at Lishan Mountain for Yang Guifei and her sisters. The palace was named Huaqing Palace and became a place where music, poetry and all arts found a climax in the Tang Dynasty. Yang was a singer, dancer and played the dizi flute (as shown in a famous painting of Hosoda Eishi 1756-1829). The Emperor was a skilled musician too and often performed the 'Rainbow Feather Dance'. Every year on the 7th day of the 7th lunar month (in August) Xuanzong demonstrated his eternal love with a festivity where hundreds of musiciaens and artists were brought to court to entertain Yang Guifei. Her favorite fruits were lychees: Imperial messengers brought these fruits 1500 miles to the capital Chang'an (today: Xian) from the south riding on fast horses day and night. It was a life like in a fairy tale. The Tang poet Bai Juyi wrote in his famous "Song of the everlasting sorrow":
"Her hair like a cloud / her face like a flower /A gold hair-pin adorning her tresses. /
Behind the warm lotus-flower-curtain, / they took their pleasures in the spring night. /
Regretting only the spring nights wer too short; / Rising only when the sun was high."
Living this life of a fairy tale, Xuanzong paid less and less attention to the running of his empire. The power fell into the hands of court officials with Li Linfu as a dictator. General An-Lushan became a military governor, there were different revolts and after the year 751 he controlled 40 percent of the Tang forces. In 755 he proclaimed a new dynasty and initiated the Anshi Rebellion. When he took the capital Chang'an, the Emperor and his court made their escape to Chendu. Soldiers and officers captured Yang Guifei and demanded her death: Yang (38 years old) hanged herself on a tree with a silken cord.
When the devasteted Xuanzong tried to retrieve her body, no body was found in the grave! - A Japanese myth states that Yang didn't die, was rescued and escaped to Japan, where she spent the rest of her life. But the Love of Xuanzong could never be stopped, his perpetual grief over her loss never ended: "Heaven and earth may not last for ever / But this sorrow is eternal" (Bai Juyi, "Song of the Everlasting sorrow").
Dedication: Dedicated to the great Dizi-Player Chen Yue
Additional remarks: Commisioned 2015 by Chen Yue and the Chinese Ministry of Culture
World premiere: 03.12.2016, Jilin (China)
Performers at world premiere: CHEN Yue (Dizi) and the Jilin Symphonic Orchestra, directed by LU Shia
Records: WERGO, Distribution Naxos, 2020
Performers on recording: Version for CONCERT FLUTE & ORCHESTRA Lukas Dlugosz (Flute) Filharmonia Slaska (Schlesische Philharmonie) Katovice/Poland, conducted by Mirosław Jacek Błaszczyk