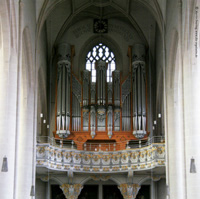 Update Required
To play the media you will need to either update your browser to a recent version or update your
Flash plugin
.
Category: Organ / Sacred Music
Movements: 1: Allegro Tenebroso 8:05
2: Vater unser im Himmelreich (Hommage à J.S.Bach) 5:28
3: Adagio Tenebroso (Hommage à César Franck) 6:06
4: Finale: Toccata Pater Noster 5:34
Duration: 26
Publisher of notes/sheet music: Schott Musik International , ED 9937 , 2006
Solo instruments: Organ
Introduction: My Organ Symphony No. 1 stands in the tradition of French symphonie organ works that features names such as Franck, Widor, Vierne, Durufle and Tournemire. With its underlying sense of direction from the darkness of despair to the consolation of light, the symphony embodies themes of prayer and entreaty from human beings in crisis, turning to the arche­ typal prayer of the Pater Noster, the Lord 's Prayer.
Movement 1 (Allegro tenebroso) is shadowy, dark and tormented in its stormy virtuosity. Over the recurring motif of chromatic lines reaching upwards and themes echoing Oe profundis (From the depths) , eventually there is a bold proclamation of the Latin Pater Noster. In oppo­ sition to this we have a twelve-note series (E-B'-G-F-F:-C-C:-A-E~-GLB-D) with a liberating breadth and chromaticism set against the harmonies of the chorale.
Movement 2 (Gur Father, who art in heaven) begins in fragmentary fashion with an unfamiliar range of sounds; the ostinato trumpet rhythm comes through like a question mark. This is resolved in the middle section into a chorale setting that pays homage to 1. S. Bach, a lovely island of sound from the distant past ... only to be interrupted again by alien interrogations.
Movement 3 (Adagio tenebroso) takes up the shadowy "tenebroso" character of the first movement again. this time in a dark Adagio whose figurations represent a tribute to Cesar Franck's Chorale in B minor: the harmonie structure is based upon the twelve-note series heard at the beginning, now freely developed in the form of a Passacaglia.
Movement 4 (Toccata Pater Noster) is driven on by a virtuoso impetus. In a bright G major the Pater Noster is played on the bass notes and set against a dotted secondary theme that modu­
.... , lates from an initial B' minor. 80th themes have their motifs developed fully in this ambitious
Toccata, which culminates in a jubilant Finale .
World premiere: 08.12.2005, Münster Ingolstadt
Performers at world premiere: Franz Hauk (organ) as part of the international Ingolstadt organ days
Press reviews for world premiere: Donaukurier (Ingolstadt, Katrin Fehr):
The premiere of Enjott Schneider's 1st organ symphony was an inspiring event. Schneider follows with flair the emotional worlds of a person in need who comes to fulfilment and to rescue, in the 'Pater Noster': at first gloomily and torn, then finally releasing up to comforting sounds, citations of Bach. It reaches a hopeful finale in a homage to César Franck.

Die Uraufführung von Enjott Schneiders 1. Orgelsinfonie war ein begeisterndes Ereignis. Schneider geht mit Gespür für die vielfältigen Gefühlswelten dem in Not geratenen Menschen, der im 'Pater Noster' Erfüllung und Rettung findet, nach: zunächst düster und zerrissen, schließlich befreiend bis zu tröstenden Klanginseln, Zitate von Bach. Über eine Hommage an César Franck gelangt er zu einem hoffnungsvollen Finale.
Records: Ambiente Audio ACD 3008, 2009
Performers on recording: Franz Hauk playing the Ingolstadt Klais organ