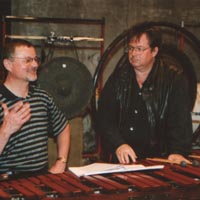 Update Required
To play the media you will need to either update your browser to a recent version or update your
Flash plugin
.
Category: Symphonic / Orchestral
Duration: 14:40
Instrumentation: Picc., 3 fl., 3 ob., 3 clar., b clar., 3 bs., b bs., 8 hr., 4 trp., 2 tro ., 2 b tro., 4 percussionists., kettledrums, harp, celeste, piano (keyboard), organ, strings (at least 16-14-12-10-8)
Introduction: Symphonic poem 'Vom Gang des Lebens' ('Of the course of life') arose from the 2nd movement of the nine-movement 'Bell Symphony'. A single theme arrives out of nowhere, takes on an individual form, finds itself in stormy escalation to be carries further by a dance-like rhythm (dance as a metaphor for the collective found again by the individual). Displaced by a forceful layer of the basses and the lower brass instruments, the theme disappears again. The symphonic poem mirrors the development process that C.G. Jung appropriately described as athe step from individuality to individuation.
Dedication: ... for Wolf Rögner
Additional remarks: Part of the Symphony no. 1 'Bell Symphony'