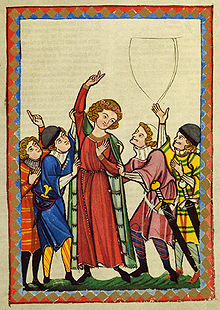 Update Required
To play the media you will need to either update your browser to a recent version or update your
Flash plugin
.
Category: Chamber Music , Symphonic / Orchestral
Movements: 1: Preludio
2: Estatico
3: Saltarello
Duration: 21 Minutes
Publisher of notes/sheet music: Schott Music Mainz , 2011
Instrumentation: Flute (also Piccolo)
Oboe
Clarinet (B)
Bassoon
2 Percussionists
1./2./3. Viola (soloist oder orchestral)
1./2./3. Cello (soloist oder orchestral)
Double bass (soloist oder orchestral)
Solo-piano
Solo instruments: Piano
Introduction: Heidhart von Reuenthal (approx. 1180-1240) was a fairly bizarre figure of the Middle Ages and the most successful musician of the 'Minnegesang' (courtly love-song). With his libertine texts and melodies full of verve, he criticised the prevailing system of values: his crude 'village poetry' was deliberately naive and understandable for the general public, not only directed o the nobility. He caricatured the 'courtly love' ideal with his 'courtly village poetry' (Karl Lachmann) a new way of playing the Missegesang. Walther von der Vogelweide insulted and called him "a croaking frog loudly screaming".

The bustle of the dancing rooms and the belligerent presence of the country bumpkins could at any minute degenerate into an ecstatic corporeality, that the poet - as illustrated in the Manesse Manuscript (Codex Manesse, ca. 1300) - called a desperate plight: Neidhardt's Nightmare.
Dedication: Dedicated in friendship to Siegfried Mauser
World premiere: 02.12.2009, Munich music college large concert hall Arcisstrasse 12
Performers at world premiere: Siegfried Mauser (piano) and the OKTOPUS ENSEMBLE FOR MEDERN MUSIC
Conducted by Konstantia Gourzi
Press reviews for world premiere: Süddeutsche Zeitung vom 16.2.2009 (Helmut Mauró):

Basically it does not happen so rarely that one can have fun with contemporary music. Whether one is not intellectual in the field or a profound expert.It is certain, though, that Munich based composer Enjott Schneider once again had a lot of pleasure with his new piece, a decent three-movement piano concert with an immodest sensuous texture, embedded in an orchestra from three double basses, Oboe, bassoon, string sextet, kettledrum and the second not less luxuriant percussion station in the big hall of the college of music.
Enjott Schneider calls this piece 'Neidhart's Nightmare', and it is a musical-frivolous nightmare, inspired by the relatively unknown 'Minnesänger' Neidhart who maintained the low courtly love, the love ballads and sex ballads for village people. It would just come together, says the 58-year-old successful composer, he needs a concrete reason for the composition and also images before his eyes. In the composer's life, Enjott Schneider is, however, highly complicated in his mind brings everything together with determination so that it works easily. But such a Middle Age sound with deep string players and rumbling drums plus oboe and bassoon coupling one must first be brought together neatly, so that it does not sound like a workshop of noise or experimental music.
'Neidharts Nightmare' is a big prank, and university director Siegfried Mauser obviously had pleasure in his solo , digging lascivious in the basses and jingled in the descant as if there would be money for it.

Records: Janotta arts management, 2010
Performers on recording: An info brochure with the CD recording of the world premiere can be ordered from the artsmanagement (private production)