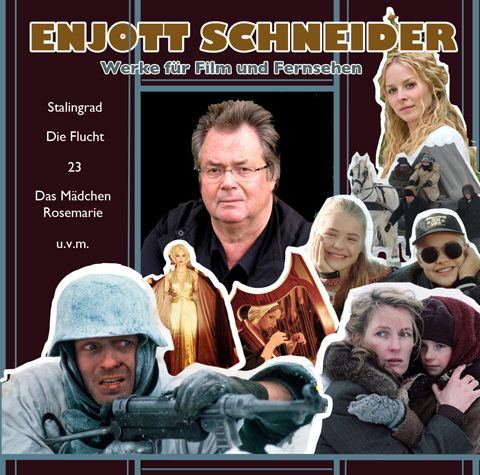 Update Required
To play the media you will need to either update your browser to a recent version or update your
Flash plugin
.
Category: Recordings
Introduction: Recording engineer: Klaus Strazicky, Robert Meilhaus, Peter Fuchs amongst others, Recording: Arco Studios Munich, Bavaria MusikStudios Munich, Pilotstudios and Faraostudios Munich
World premiere:
Press reviews for world premiere: FILM MUSIC COLLECTION on 6 CDs, 2013

MUSIK FÜR FILM UND FERNSEHEN (Music for film and television) (6-CD) # DFK (Score CD) this 6-CD set with 246 tracks, a duration of 474 minutes and a detailed booklet, is limited to 500 copies: "For more than 20 years now, Enjott Schneider has shaped our film- and television scene with his emotionally gripping and at the same time demanding compositions in a unique way. It was time to unite as many of the resulting highlights in a full set. Alhambra Records accepted this challenging task and, with this 6-CD set, presents a detailed showcase full of variety and surprises: from his emphatic Second World War film scores (Stalingrad, March of Millions (Die Flucht), Nicht alle waren Mörder), the genre fairytale (King Thrushbeard, The Frog Prince, The Goose Girl), horror (Das Tal der Schatten), drama (Die andere Frau, Rosemary (Das Mädchen Rosemarie)), documentary (Munich '72, Felipe and Letizia - the tamed Princess (Die gezähmten Prinzessin), The great Dictators (Die Großen Diktatoren)) to blockbuster movies (Charlie and Louise, 23), as well as the theme music for the Zoo TV series Giraffe, Meerkats and Co. (Giraffe, Erdmännchen und Co.): almost every genre is well-represented. Of particular appeal: this set is the first to document thematically Enjott Schneider's compositions for two films - Stalingrad (film of 1992, documentary of 2002), as well March of Millions (documentary film of 2003, ARD film in two parts of 2007). This 6-CD set with more than 474 minutes of music also includes a comprehensive booklet of 40 pages with detailed descriptions and numerous illustrations. Set is limited to 500 copies"
Records: Alhambra, 2013
Performers on recording: Philharmonic Film Orchestra Munich, cond.: Enjott Schneider with soloists, amongst others Sando Friedrich (Zurich) and ethno instruments

Order no.: A 9011 at
http://alhambra-records.de/Soundtracks/77/enjott-schneider-musik-fuer-film-und-fernsehen
or amazon, etc.
Movie:
Performers in movie: ENJOTT SCHNEIDER's note of thanks:

Such an ambitious 6-CD collection would not have been possible if music fans had not shown such selfless initiative. I would therefore like to express my most sincere thanks, - to John Elborg, the managing director of the label Alhambra, to Stefan Eicke, who wrote and designed the booklet and most of all to Jürgen Himmelmann, who spent many months carrying out the difficult task of daily research and detail arrangement with diligence, as well as attention and love for the subject. I also owe thanks to the recording studio Ulrich Kraus for the mastering. The fact that so many film scores could be produced since the 80s is due to the trust of film directors, editors and film producers - but it is also because of my Philharmonic Film Orchestra Munich that has been arranged for me by Manfred Hufnagel (Munich Philharmonic Orchestra) since 'Herbstmilch' (Autumn milk) in 1988. In the 'squad' of sound engineers from Mel Luker to Peter Fuchs, I would like to give a very special thank you to Klaus Strazicky who has not only managed my orchestra recordings but also my own recording studio since the 90s and who has since become my digitally advanced 'technical conscience'.