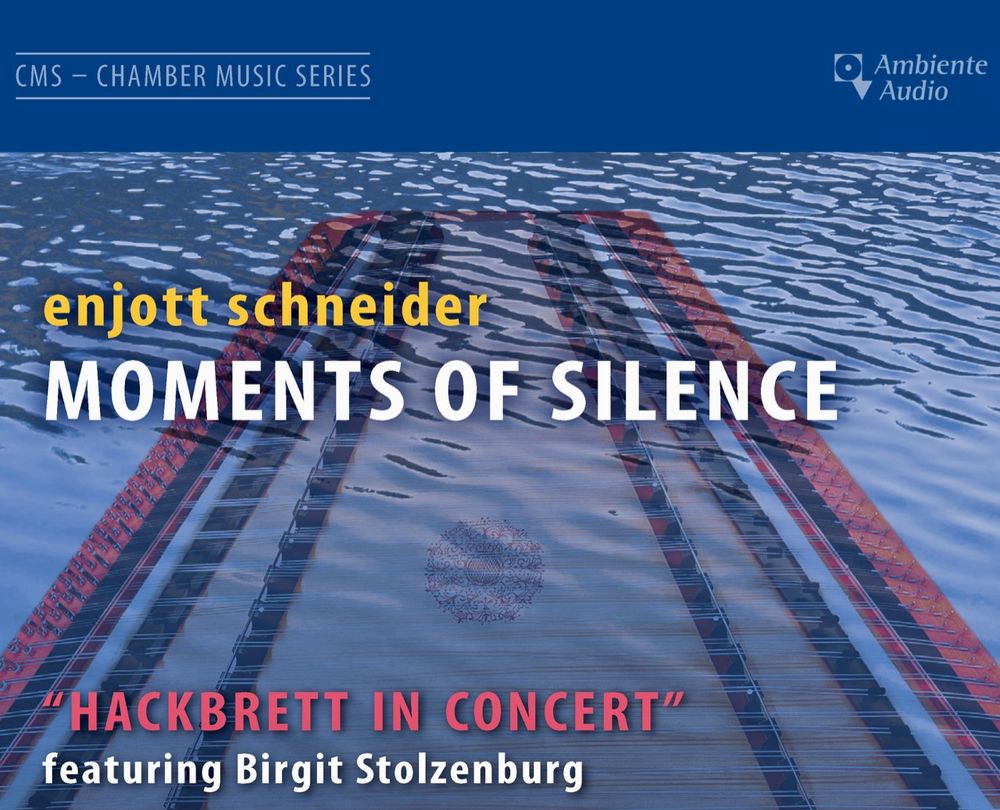 Update Required
To play the media you will need to either update your browser to a recent version or update your
Flash plugin
.
Category: Chamber Music , Organ / Sacred Music , Recordings
Modern Music, - for HACKBRETT (hammered dulcimer) in concert, - an instrument not only known from folk music, but - unknown to many classical music listeners - also belonging to art music since Renaissance and Baroque. Music of silence, intimate, delicate and leading into unheard spaces. Birgit Stolzenburg plays with top-class chamber music partners: with clarinet, flauto dolce, soprano, in a dulcimer duo, with organ, with string quartet... this CD with such exquisite compositions and instrumentations is a unique piece of music history, - "dulcimer" in completely new contexts.
Movements: Soloist in all compositions:
Birgit Stolzenburg performing on Hackbrett, Tenor Hackbrett and Kontrabass Hackbrett, Pantalon...


BEYOND THE SILENCE
with Slava Cernavka (Clarinet)

NOCTURNES with Lisa Schöttl (Tenor-Hackbrett)
1: "Somnus est imago mortis"
2: "Tempus fugit Amor manet"
3: "Gutta cavat Lapidem"

AILULU – Yiddish Lullaby
with Slava Cernavka (Clarinet)

HATIKWA with Gabriele Steck (Soprano)

CIACONNA MISTICA with Birgit Stolzenburg (Pantalon)

PRÉLUDE EN ROSE for Hackbrett and string quartet
with "Seraphin Quartet": Winfried Grabe (Vl) / Teresa Allgaier (Vl) / Malte Koch (Vla) / Markus Wagner (Vc)

BRUGHELIANA with Lisa Schöttl (Kontrabass-Hackbrett)
1: Preludio - 2: Saltarello

THE STONES OF NEWGRANGE. SPIRAL MUSIC FOR DULCIMER & ORGAN
with Harald Feller (Organ)

DREI MANDALAS
with Iris Lichtinger (flauto dolce)

PRAYERS… FROM THE HELLS OF WAR
with Harald Feller (Organ)
1: The mothers fear / Die Angst der Mütter
2: The starving Child / Das hungernde Kind (with Gabriele Steck, Ghost-Soprano)
3: Endless Prayer / Gebet ohne Ende
Introduction: SILENCE...

...is a high discipline of being human: from Laotse's "Silence and stillness bring the world to its right measure" to the statement of the cultural philosopher Max Picard (1888-1965) "Nothing has changed man so much as the loss of silence" we find the value of silence documented. Mathematics and geometry know that the vectors of all numbers originate from zero, in the inconspicuousness of white light is contained the richness of all spectral colours, every sound of music is born from silence. For all creative people, solitude and silence were indispensable. Thus Kurt Tucholsky "One must come from silence in order to create something thriving". Jean Paul "Our greatest experiences are not our loudest, but our most silent hours". Meister Eckhart, who as a mystic inspired all the philosophers of modern times: "The eternal word only becomes loud in silence", or Khalil Gibran: "Silence is the bridge between the souls".
The sounds of the dulcimer are made to find silence. Like silent bells, the string tones can no longer be modulated after they have been struck or plucked. No longer influenceable by man, they create their own sound space with their fading out, which refers to something eternal and otherworldly like a many-voiced choir of angels from past moments.
Records: Ambiente Audio, 2020
Performers on recording: Ambiente ACD 3056 LC 07811
Recording: 28.2. – 20.3.2021, im Tonstudio Am Wageck / Enjott Schneider, im Mastermix-Studio Unterföhring, in der Stadtpfarrkirche Maria Himmelfahrt Landsberg am Lech
Recording, Editing & Mix: Klaus Strazicky, Valentin Eckmann Assistent-Engineer


AMBIENTE AUDIO in der Reihe CMS: CHAMBER MUSIC SERIES Vol. 3