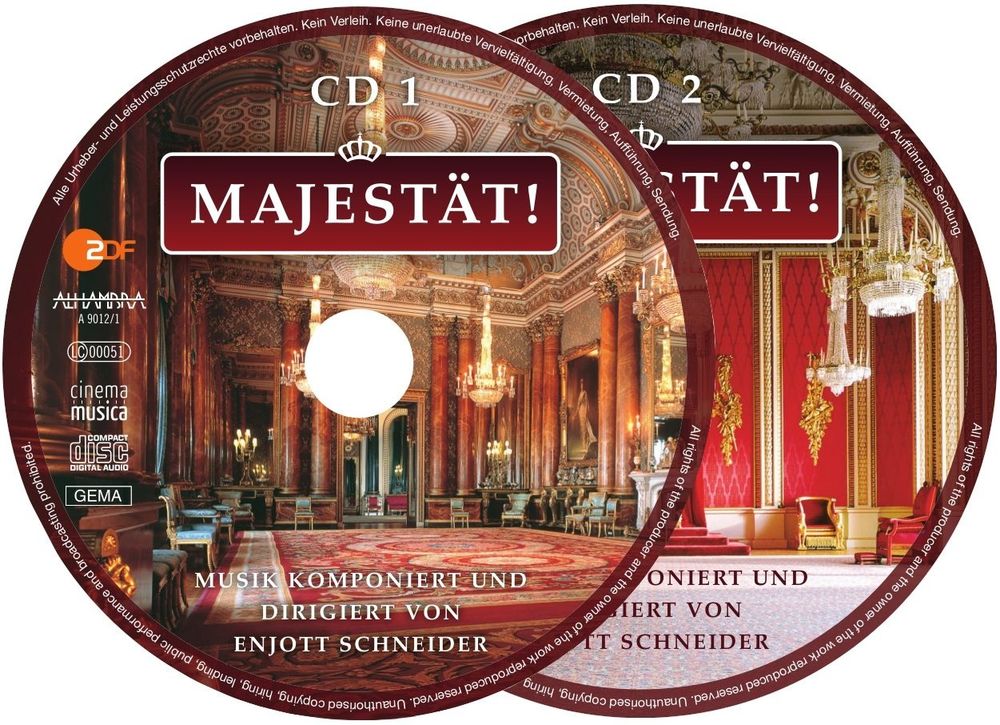 Update Required
To play the media you will need to either update your browser to a recent version or update your
Flash plugin
.
Category: Recordings , Film Music
From 2006-2012, ZDF ROYAL, a series of films such as "Majestät!" or "Königskinder" (King's Children), among others, directed by Prof. Dr. Guido Knopp, was shown on ZDF and was able to satisfy the tireless interest of German TV viewers in reports and background information on the royal houses of the world. The result was a quite opulent series of soundtracks - mostly composed and conducted by Enjott Schneider. The double CD gives a BEST OF overview. The booklet (reproduced below as photos, click to enlarge) gives all information about this widely ramified six-year project.
Records: Alhambra Records, 2013
Performers on recording: MUSIC COMPOSED AND CONDUCTED BY ENJOTT SCHNEIDER. Played by the Philharmonic Film Orchestra Munich, collaboration with Sandro Friedrich (Asian instruments) and Alex Komlew (Arabic instruments)
All music masters licensed by 'ESM Enterprises Sonor Musikverlag'. Executive producers Jürgen Himmelmann and John Elbor, mastering Ulrich Kraus (Walchstadt)
Movie:
Movie directed by: Guido Knopp, amongst others
Movie produced by: ZDF
Performers in movie: The ZDF films were developed between 2006 and 2012, overall direction: Prof. Dr. Guido Knopp


I owe a thank you to Jürgen Himmelmann for giving me the opportunity to create this manifold collection of my "royal ZDF scores". He listened to some of my older work in October of 2011 and was fascinated by my music. Suddenly, he managed to ignite a love for the work with royal scores in me as I had considered that work to be nothing but a daily routine and not of any emotional value up until that point... Today I very much comprehend the emotional value of such colourful melody assortments! Many thanks also to the sound engineer, Ulrich Kraus, who mastered this double CD set (just like the previous 6 CD set) with incredible diligence and creativity and who managed to give all of the many productions from 6 years of work a very subtle sound. My thanks also goes to Stefan Eicke who wrote the booklet, as well as to the CEO of the label 'Alhambra', John Elborg, for his courage to give the soundtrack a chance to be released despite the common lack of interest in TV documentary soundtracks. A big thank you to the Philharmonic Film Orchestra Munich that I conducted in all takes and that concertmaster Manfred Hufnagel (Munich Philharmonic Orchestra) has put together for me for many years - based on the respective film dramaturgy. I would also like to use this opportunity to cordially thank my friend of many years, employee, and sound engineer, Klaus Strazicky, who recorded all of the orchestra sessions in the Bavaria Recording Studios, as well as in the Farao Recording Studios Munich and then mixed the recordings in my own recording studio "Am Wageck". The music for the more 'exotic' royal dynasties such as Marocco, Jordan, Thailand, or Japan gives the listener the opportunity to listen to wondrous instruments like Ney, Duduk, Bansuri, Shakuhachi, etc. - it was a true pleasure that Sandro Friedrich from Zurich recorded those instruments for me, many thanks to him for his support as well! Last but not least, I would like to thank the ZDF editor team and staff of Prof. Dr. Guido Knopp for always giving me the possibility to satisfy my tonal hunger for fairy tales and great dreams in a nostalgic fashion and 'without constraint': Annette Baumeister, Sebastian Dehnhardt , Florian Hartung, Anja Greulich, Ulrike Grunewald, Julia Melchior, Ursula Nellessen, Annette Scherer, Katja Schupp, Annette Tewes, Annette von der Heyde and many others.