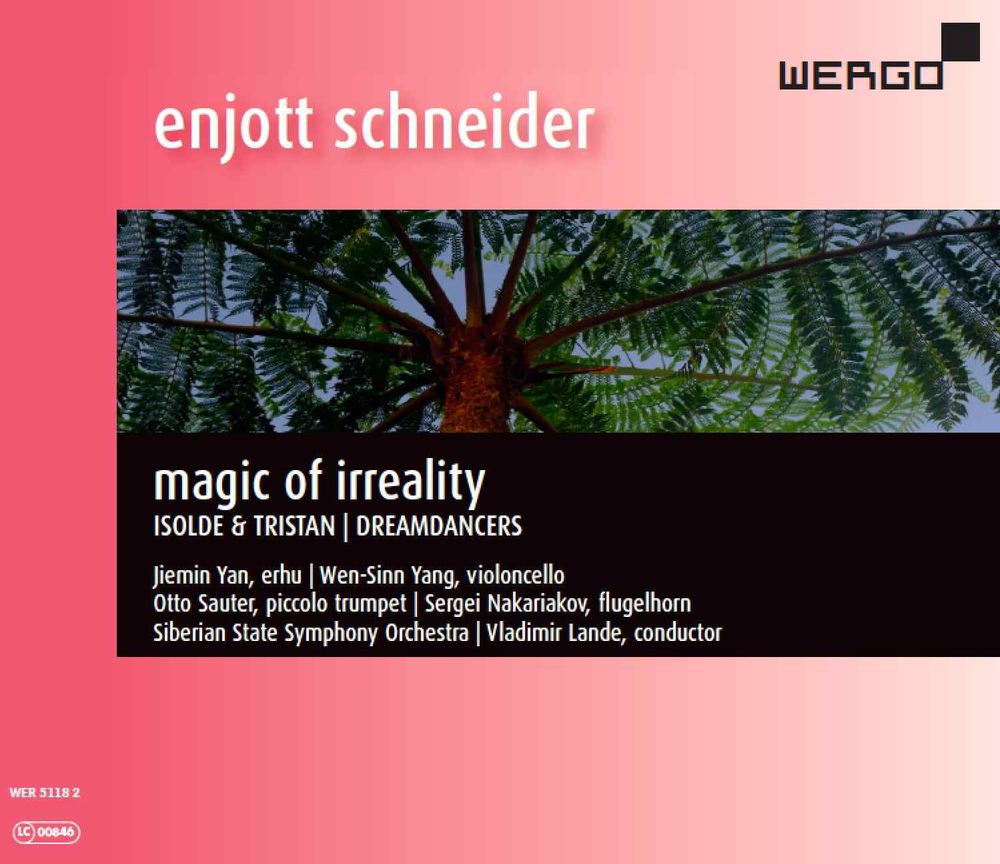 Update Required
To play the media you will need to either update your browser to a recent version or update your
Flash plugin
.
Category: Recordings
Surrealism in music! Materials that cannot be combined were joined together and creates a fantastic world of Irrealism. With four soloists of world class: Jiemin Yan (Erhu), Wen-Sinn Yang (Violoncello), Otto Sauter (piccolo Trumpet) und Sergei Nakariakov (Flugelhorn)
Movements: Two Double concertos: ISOLDE & TRISTAN for Erhu, Violoncello & Orchestra - DREAMDANCERS for Piccolotrumpet, Flugelhorn & Orchestra
Introduction: Bavarian Broadcast Station ARD - BR Classik May 2018:

"... he ist doubless one of the most performed contemporary composers in Germany".
"The topic here are the Un-heard, the fantastically absurd and the fluid walking between the worlds. And who could transform these crossings better into music than Enjott Schneider. He has always been fascinated by exploring spiritual matter and mythical-magic materials."
"...a bold mix of incompatible soundscapes. But the composer takes this hurdle with somnambulistic spiritedness – and sometimes also with humor. For example in "Isoldes's Love-death", presentated as a Slow Waltz. And yet the two soloists with Erhu and Cello are refining this deliberate demythologization into a highly erotic love-duetto. Not to mention the Siberian State Symphony Orchestra Krasnoyarsk, conducted by Vladimir Lande, that became a sensitive and competent partner" (Matthias Keller)

Magazin Klassik.com from June 2018:
"An exceptional production and a impressive insight into the compositional thinking of Enjott Schneider... The sound quality of the recording is outstanding" " (Dr. Jürgen Schaarwächter)


HR2 Kulturzeit July 2018, Hessian Broadcast Francfort:
THE UN-HEARD IS WELL WORT LISTENING TO – THE SURREALISTIC SOUNDSCAPES OF ENJOTT SCHNEIDER
"...he is one oft he most multilaterally and doubtless most popular composers in Germany today... "Magic of Irreality" is a sound journey into surrealism. The inconsistent is – very astonishing – bound together harmoniously."
This CD is a force and unusually original. Welcome in Schneider's ingenious sound universe of absurdities. Unconscionable worth listening to!
(Nick Sternitzke, HR-Kulturzeit broadcast station July 2018)

webmusic international (july 2018):
"With skilled performances and a decent recording, this is one of those releases that is likely to divide audiences. If you like your music well-crafted and fairly easy to consume the this should appeal greatly... The other camp will probably consider this as corny as hell and avoid it at all costs. I can indeed admire the skill at work here....)
(Dominy Clements)
Additional remarks: Enthusiastic reviews of the latest CD "MAGIC OF IRREALITY" at Label WERGO distributed by NAXOS with two double concertos, recorded october 2017 with Siberian State Symphony Orchestra (Vladimir Lande, conductor) in Krasnoyarsk: Jiemin Yan (Erhu) and Wen-Sinn Yang (Cello) playing ISOLDE & TRISTAN, Otto Sauter (piccolo trumpet) and Sergei Nakariakov (flugelhorn) playing DREAMDANCERS. "Pizzicato"-magazine: "a music bursting out between real drama and scriabinesque unreality, between human emotions and a surreal flood of images!" (N. Tischler). Or "BR-Klassik" (Bavarian broadcast): "The un-heard, the fantastically absurd world, the fluid conversion between the contrasts is here the topic. And who could compose such boundaries more vividly than Enjott Schneider, who is bdoubtless one oft he most played german composers".
Records: WERGO, distribution: NAXOS, 2018
Performers on recording: Jiemin YAN-Erhu
Wen-Sinn YANG-Violoncello
Otto SAUTER-Piccolo Trumpet
Sergei Nakariakov-Fluegelhorn