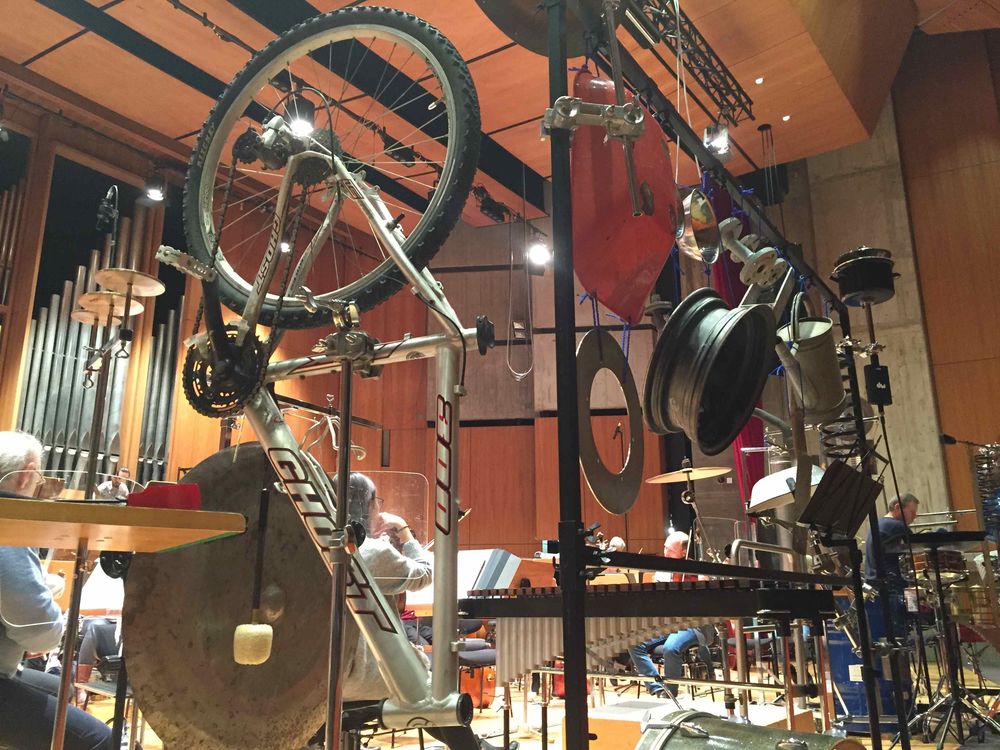 Update Required
To play the media you will need to either update your browser to a recent version or update your
Flash plugin
.
Category: Symphonic / Orchestral
MACHINE WORLDS thematisizes the "MYTH OF MACHINE": the power of the "Machine-Like" has suppressed and repressed the mankind. The living life, organic and full of irregulartities, with free pulsating breath has been pushed back by the mechanical machine cycle. We are not longer living a free life. We are in the state of beeing totally programmed by fixed programmes. The machine has become Antagonist of man..... and in this concerto we can experience how a lonesome percussion soloist is fighting against a machine-like orchestra... fighting with strange materials from the scrapyard.
Movements: 1: THE MACHINE
2: GOTHAM CAVE
3: TINGUELY - THE FREEDOM OF MOTION
Duration: 25 minutes
Publisher of notes/sheet music: Ries&Erler music publisher Berlin (material on hire) , 2018
Instrumentation: Solo-Percussion (Scrap Metal)
+
orchestra-cast:
2 flutes (2nd also Piccolo)
2 oboes (2nd also English horn)
Bass clarinet
2 bassoons
3 horns
2 trumpets
3 trombones (T T B)
timpani
drums 1+2
large string orchestra

-----------------------------------------------------------------------------------------
Instruments of the drummer of the orchestra:
1:bass drum, crashmetal, snare, crotales, a bucket (metal can), a piece of metal (bright), a triangle, tubular bell, a metal guiro, 2 handsized pepple stones (hit against each other), a whip,
2:snares, 3 suspended cymbals, a Tamtam, a chime, a bucket (metal can), a triangle, claves, 2 handsized pepple stones (hit against each other), deep gong in F (ad lib), Tomtom, large cymbals (ad lib), 2 lids of a cooking pot
Introduction: MACHINE WORLDS.
Concerto for Scrap Metal & Orchestra
---------
A machine is a tool which, originally, was created by humans, an artificial device, a device with pieces, which are moved by a drive system. For a long time, however, machines have gained complexity and dimensions that have turned them into opponents of humans. If the human being stays connected to nature as something alive and organic, machines and mechanics (then also vending machines and robots) increasingly represent the inanimate, inorganic and dead. The machine as nightmare without a soul. This dialectic of "man versus machine", inspired films such as "Batman-Gotham City" or "Metropolis and especially also inspired the visual arts in a phantasmagorical way – starting with Duchamp, HR Giger to Jean Tinguely and his sculptures of machines.
The composition MACHINE WORLDS has been composed for one drum set-up, mainly comprising materials that had been thrown in the scrap yard and bulk waste.
Dedication: warmly dedicated to the percussionist Stefan Blum...
Additional remarks: About the esthetic background of Jean Tinguely:

About the esthetic of Jean Tinguely:
Despite his cosmopolitan attitude (he visited Paris very often and felt very close to the USA because of his marriage to Niki de Saint Phalle), Tinguely was connected with the city of Basel, where the architecturally remarkable Tinguely Museum was built (on the Rhine promenade opposite the Basel Minster) a few years ago. Since I myself was born in Weil am Rhein (about 300 meters from the Swiss border and 300 meters from the French border) and culturally grew up, so to speak, in Basel, I has been greatly influenced by his polarizing aesthetics - between junkyard and art, between triviality and artificiality .... but always provocative and always on the move ("Standstill does not exist!", 1959) already during my youth.
Anyone who ever has time to spend in Basel, may look at and listen to the monstrous strange and completely pointless machines in the museum there: made out of scrap materials, partly terrifyingly big and loud, partly funny or amusing, grotesque and absurd and always full of surprises: if it creaks somewhere, you do not know where it rattles next! Some people also know Tinguely's machines from other museums or also from international parks and public places such as the "Tarot Garden" by Niki de Saint-Phalle in Tuscany or the Picasso fountain behind the Centre Pompidou in Paris ....


Tinguely's quotes-:
Tinguely: "I try to concentrate the technology thrill in our happy industrial world. I want to express this by a somehow desperate tool, a machine - like Sisyphus, stuck and assuredly useless. "
These useless machines, oscillating between playful wit and threatening aggressiveness, reflect Tinguely's enthusiasm for technology on the one hand, and ironize the modern industrial world and as well as the world of art with their absurd ridiculousness and uselessness on the other hand.
Tinguely: "…that I often work with junk, I put together the speeds, the feelings, the psychology!"
The relationship between man and machine has been discussed in philosophy and literature very often. Thus, according to La Mettrie (philosopher and physician of the 18th century), the machine is not the solution to the question of human existence, but is its mystery itself. The machine takes over the place of some sort of lack, which is that the man will finally never explore what and how he is. "Who knows, by the way" - he asks - "whether the meaning of man's existence is not his existence itself?"
World premiere: 15.01.2018, Augsburg Kongress am Park, Gögginger Str. 10
Performers at world premiere: Stefan Blum (Percussion Solo) and the Augsburg Philharmonic Orchestra, conducted by: Domonkos Héja