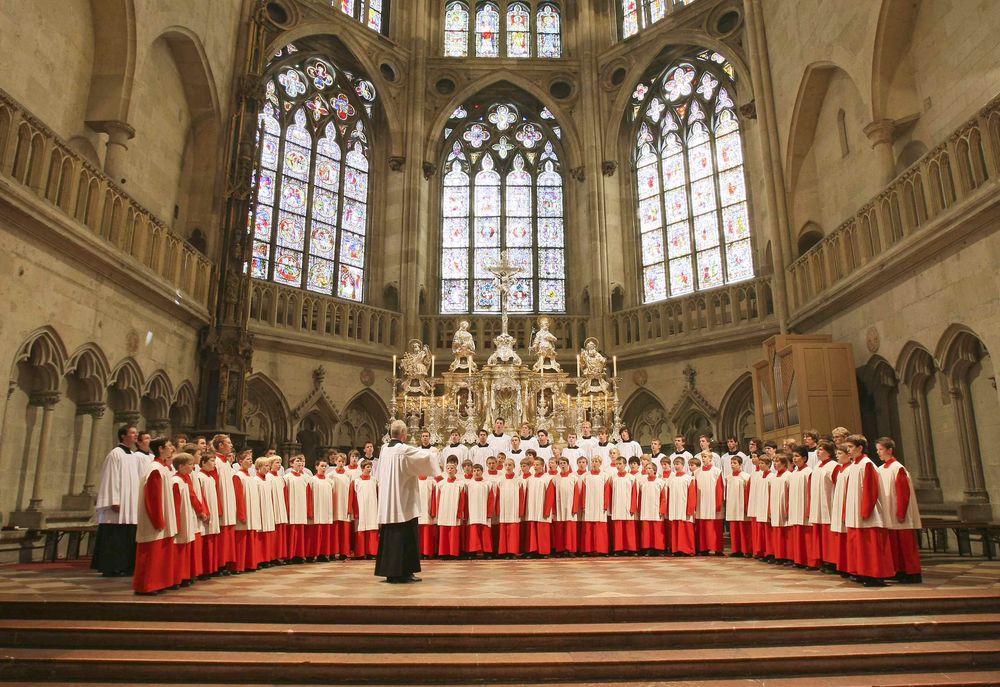 Update Required
To play the media you will need to either update your browser to a recent version or update your
Flash plugin
.
Category: Choir / Vocal , Organ / Sacred Music , Recordings
LAUDATO SI' – MUSIC FROM REGENSBURG
The fact that Pope Francis named his encyclical about central questions of a holistic ecology after the refrain from the solar song of the St Francis of Assisi 'Laudato si' and thereby strongly connected himself to his name model may be understood as a pontificial prologue to the program of this CD. Because also this CD is about nature, creation, its mystical admiration and glorification: The sun, the moon, the stars and all creatures are praised in the solar song; the musical themes of the Organ Symphony No. 12 are dove, water and firestorm; the 13th Organ Symphony in its entirety is dedicated to "the moon" as designer of our daily moods; and the Toccata Jubilissimo exaggerates everything by its cheer.
Movements: Id 01 THE SOLAR SONG OF FRANZ OF ASSISI - IL CANTICO DI FRATE SOLE
for eight voices choir a capella

German version by Leonhard Lehmann OFM cap (by courtesy of the author) in:
Leonhard Lehmann (Hg.), The legacy of a poor. The writings of Francis (2003, joint publishers Topos Plus, Kevelaer)

The Regensburger Domspatzen, conducted by Roland Büchner

ORGAN SYMPHONY NO. 12 "VENI CREATOR SPIRITUS"

Id 02 1: INVOCATIO "VENI CREATOR SPIRITUS"
Id 03 2: COLOMBA DELLO SPIRITO SANTO
Id 04 3: L'AQUA DELLA VITA (Adagio sopra "Come, Holy Spirit")
Id 05 4: TOCCATA: TEMPESTA DI FUOCO

Franz-Joseph Stoiber at the Rieger Organ of the Regensburg Cathedral

Id 06 JUBILISSIMO. Toccata for organ

Franz-Joseph Stoiber at the Rieger Organ of the Regensburg Cathedral

ORGAN SYMPHONY NO. 13 "LUNA"

Id 07 1: New moon - "The dark night of the soul"
Id 08 2: Kali, Isis, Aphrodite - when moon goddesses are dancing
Id 09 3: "Mondnacht" ("Moonlit night") – elegy to a song of Robert Schumann
Id 10 4: Full moon. Ciaconia lunatica

Stefan Baier at the Goll Organ of the concert hall of the Musikhochschule Regensburg (Academy of Music Regensburg)
Instrumentation: ___________________________________________________
Sound recordings:
Solar song recorded with the sound recordist Christoph Claßen in the Wolfang Hall of the Regensburger Domspatzen on July 29, 2008. The licensing of this sound recording was made with the kind approval of the management of the Regensburger Dompspatzen from the CD SOLAR SONG.

Organ Symphony No. 12 and Jubilissimo with the sound recordist Toms Spogis in the Regensburg Cathedral on March 26, 2015.

Organ Symphony No. 12 with the sound recordist Toms Spogis in the concert hall of the Hochschule für Musik Regensburg (Academy of Music Regensburg) on August 7, 2015.

Musical manuscripts:
published by Schott Music:
Solar song edition C 52850; Organ Symphony No. 12 ED 21226; Organ Symphony No. 13 ED 21227
published by Strube-Verlag Munich: Jubilissimo edition 3439
Records: Ambiente Audio, 2015
Performers on recording: Regensburger Domspatzen conducted by the director of music at the cathedral: Roland Büchner-------------------- Cathedral organist: Franz-Josef Stoiber---------------- Stefan Baier