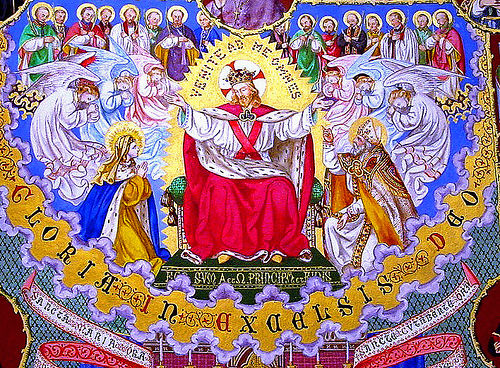 Update Required
To play the media you will need to either update your browser to a recent version or update your
Flash plugin
.
Category: Choir / Vocal , Organ / Sacred Music
Movements: Nr.1 TE DEUM

Nr.2 TIBI OMNES ANGELI


Nr.3 PLENI SUNT CAELI


Nr.4 SALVE REGINA

Nr.5AETERNA FAC

Nr.6 IN TE DOMINE SPERAVI

Duration: 22 minutes
Publisher of notes/sheet music: Schott Music , Matian on loan , 2010
Instrumentation: Soprano- and Tenor solo
large choir (childrens choir ad lib.)
2 flutes
2 Piccolos
2 oboes (2 (also) Englisch Horn)
2 clarinets (2 (also) bass clarinet)
2 bassoons
4 horns(F)
2 trumpets(B)
3 trombones(T T B)
Bass tuba
3 kettledrums (1 player)
3 percussionist
Large string orchestra
Text/Lyrics by: Latin texts
Introduction: The "Landsberger Te Deum" was composed for the reopening of the town parish church ofthe Assumption 2010. As a reverence to the name patroness Maria are found in the musical course not only text and melody of the "salvo of Regina" (text 11th century, Melody Henri Du Mont 17th century), but also softy and "romantic" tones which prime the otherwise robust and vital joy of the ambrosian hymn of praise with her marian delicacy. With field whistle, lansquenet drums and a citation of the Moresca of Tilman Susato (1500-1561) reference is made to the Landsberg tradition of the Reuthen festival with his historical plays. Thus originated many-faceted "Te Deum" with own (sometimes almost naive-popular) gesture of the expression.
Dedication: Dedicated to Johannes Skudlik
Additional remarks:
Nr.1 TE DEUM
Te Deum laudamus, Te Dominum confitemur.
Te aeternum patrem omnis terra veneratur.

Nr.2 TIBI OMNES ANGELI
Tibi omnes Angeli, tibi caeli et universae potestates:
Tibi cherubim et seraphim incessabili voce proclamant:
Sanctus:
Sanctus:
Sanctus Dominus Deus Sabaoth.

Nr.3 PLENI SUNT CAELI
Pleni sunt caeli et terra maiestatis gloriae tuae.

Nr.4 SALVE REGINA
Salve Regina, mater misericordia,
Vita, dulcedo et spes nostra, salve.
Ad te clammus, exsules filii Evae.
Ad te suspiramus, gementes et flentes in hac lacrimarum valle.
O clemens, o pia, o dulcis Virgo Maria.


Nr.5AETERNA FAC
Aeterna fac cum sanctis tuis in gloria numerari.

Nr.6 IN TE DOMINE SPERAVI
In te, Domine, speravi: non confundar in aeternum.



World premiere: 23.07.2010, Stadtpfarrkirche Landsberg a.L.
Performers at world premiere: Final concert at midnight Landsberg NACHT DER ROMANTIK:
Sandra Moon/Soprano, Adrian Xhema/Tenor, Landsberg Oratorien choir, Vocal ensemble Landsberg, Capella Cantabile, Landsberger chamber choir, youth chamber choir of the Music school, Camerata Ignatiana, Landsberger youth choir, Landsberger childrens choir, Philharmonic Orchestra Bacau/Romania, direction: Johannes Skudlik
Press reviews for world premiere: Landsberger Bote 26.7.2010 PERFECT HARMONY The premiere of Enjott Schneider's TE DEUM at the end of the event was cheered by 1200 listeners in the town parish church. The TE DEUM is the central Latin praise, thanks and Bittgesang in the Christian liturgy.... Climax at a night which was richly in events.