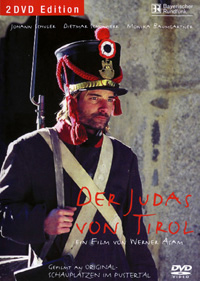 Update Required
To play the media you will need to either update your browser to a recent version or update your
Flash plugin
.
Category: Film Music
Der Film (Regie Werner Asam rekonstruiert dramatisch und an originalen Schauplätzen die Geschichte des Tiroler Patrioten Andreas Hofer. Mit Johann Schuler (Toitelrolle), Dietmar Schönherr und Monika Baumgartner prominent und gut besetzt. Großartige Bergbilder und ein Historien-Epos.
Duration: 58 minutes music length, 90 min. film length
Instrumentation: Actors: Johann Schuler, Dietmar Schönherr, Monika Baumgartner, Gerd Siloberbauer, Sabrina White among others
Camera: Fabian Eder
Introduction: Werner Asam (direction) in BR press booklet: In Fabian Eder I found a camera man with whom I ogt on very well and whose expressive images play a deciding role in my films. The same goes for Prof. Enjott Schneider, who sensitively creates wonderful music.
Additional remarks: First broadcast 13.4.2006, 21.45 Bayerische Fernsehen,
7.4.2006 Rai/Italy (Bozen)

Records: DVD bei www.101pixel.de MOK 6021, 2006
Performers on recording: Double-DVD of 101Pixel with the film and the BR-documentary Andread Hofer, directed by Bernhard Graf


Movie: Judas of Tirol, 2007
Movie directed by: Werner Asam
Movie produced by: Infa- Film Munich
Distributor of movie: Bayerischer Rundfunk
Performers in movie: Merrit Ostermann (vocals), Munich philharmonic film orchestra, conducted by Enjott Schneider
Edititng: Greenhouse sound studio Enjott Schneider