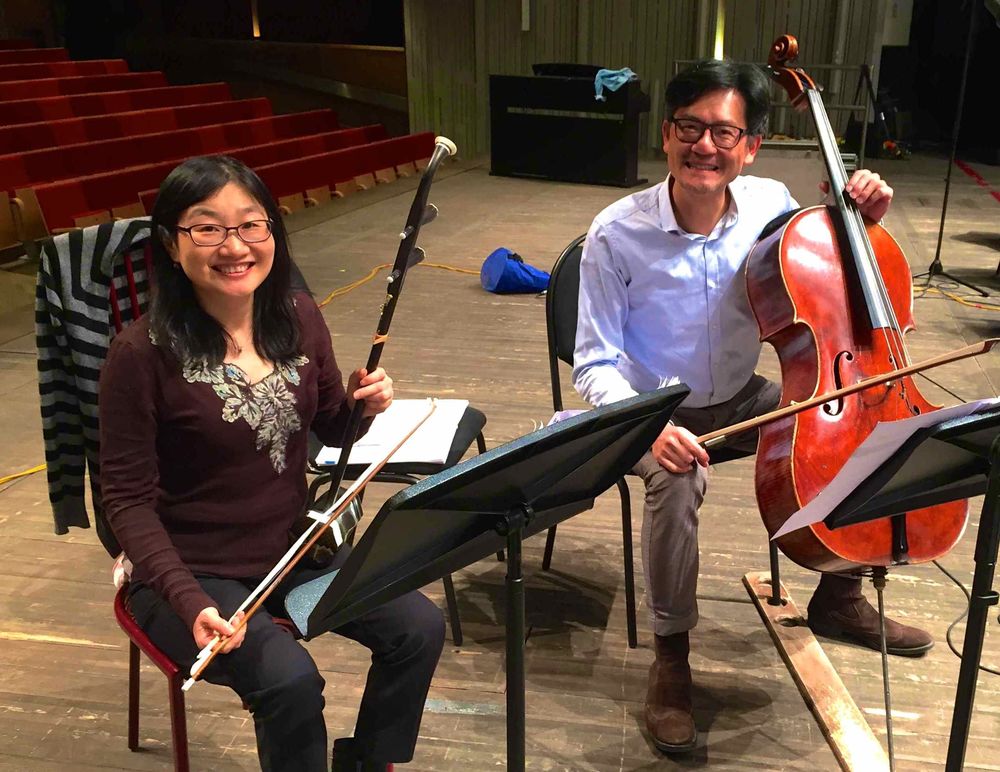 Update Required
To play the media you will need to either update your browser to a recent version or update your
Flash plugin
.
Category: Symphonic / Orchestral
Movements: 1: Once upon a time ...far on northern islands
2: Death Potion or Love Potion?
3: Eternal Night of Love
4: Fight & Grief
5: Love Death


Duration: 32 minutes
Instrumentation: Erhu solo
violoncello solo
2 flutes (2nd also piccolo)
oboe
cor anglais
clarinet Bb
bass clarinet Bb
2 bassons
3 French horns
3 trombones TTB
harp
timpani
percussions 1 (vibraphone, triangle, bass drum, claves, tubular bells, large cymbal)
percussions 2 (3 hanging cymbals, tam-tam, Chinese gongs, darabukka, glockenspiel (chimes), triangle)

String orchestra (14-12-10-8-6)

Introduction: Composers Preface:
During visit to Xiamen (Southern China) in January of 2014, accompanied by Xincao LI (principal conductor of the China National Symphony Orchestra), I was originally only supposed to meet the soloist Beiru XU for a commissioned composition, so that she could introduce me to the sound of her erhu instrument and her ways of playing it. The outcome was the idea of a double concert for erhu and cello. As 'abstract' music is relatively rare in the traditional Chinese music because of the intention to use music as a means of 'telling a story', we came up together with the idea to tell the popular tale of 'Tristan and Isolde' in a new version by 'making it a bit Chinese'. We intended to make the Chinese erhu instrument the center of the composition and, therefore, we chose the title "Isolde & Tristan" (instead of "Tristan & Isolde"). This personification remained a strict leitmotif for the entire composing process: The erhu embodies the distant princess (that comes originally from Ireland) and provides a wide range of emotional melodies. The violoncello on the other hand embodies the hero and warrior and often plays virtuosic and powerful passages.
It goes without saying that Richard Wagner with his genius opera scoring served as the musical inspiration: chords, motifs and sometimes even longer orchestral passages have been adopted from Wagner's works in a way, that they are almost like an inevitable result of the flow of the contemporary language of music. Five movements create the dazzling kaleidoscope of "Wagner & Schneider".
In movement 1: "ES WAR EINMAL… FERN AUF NORDISCHEN INSELN" (Once upon a time ...far on northern islands), the material is exposed. The two protagonists are mostly separated and shown mainly with a level of distance and contrast. In movement 2: TODESTRANK ODER LIEBESTRANK" (Death Potion or Love Potion?), there are clearly the two worlds of the diatonic-modal music (definitely with some Irish idioms) and Wagner's chromatic music, in which special emphasis is placed on the expressive death potion motif with its shift from A-flat major to A major. Movement 3: EWIGE NACHT DER LIEBE (Eternal Night of Love) draws the listener to Wagner's "Sink hernieder, Nacht der Liebe" (Come down to earth, night of love) that has become a heartfelt and moving dialog between erhu and cello. After the 4th movement: KAMPF UND TRAUER (Fight & Grief), that gives both, the virtuosic violoncello, as well as the touchingly dolorous erhu, the opportunity to indulge, the peak is reached in the grand finale LIEBESTOD (Love Death). This finale has been created as a loosened waltz, so that it does not compete with the ingenuity and perfection of Wagner's musical drama. That is how the gravity is removed from Wagner's music in this abridgement. Wagner is almost quoted in the climax, - then dissolves again in the weightlessness of the waltz, - a particularly charming version of dying of love!
Dedication: Cordially dedicated to the charming erhu player Beiru Xu (Xiamen)
Additional remarks: The photos below were taken during my visit in Xiamen (Southern China) in January of 2014, where the soloist Beiru XU introduced me to her erhu instrument and where Xincao Li (principal conductor of the China National Symphony Orchestra) completed our creative trio.
Records: 2018