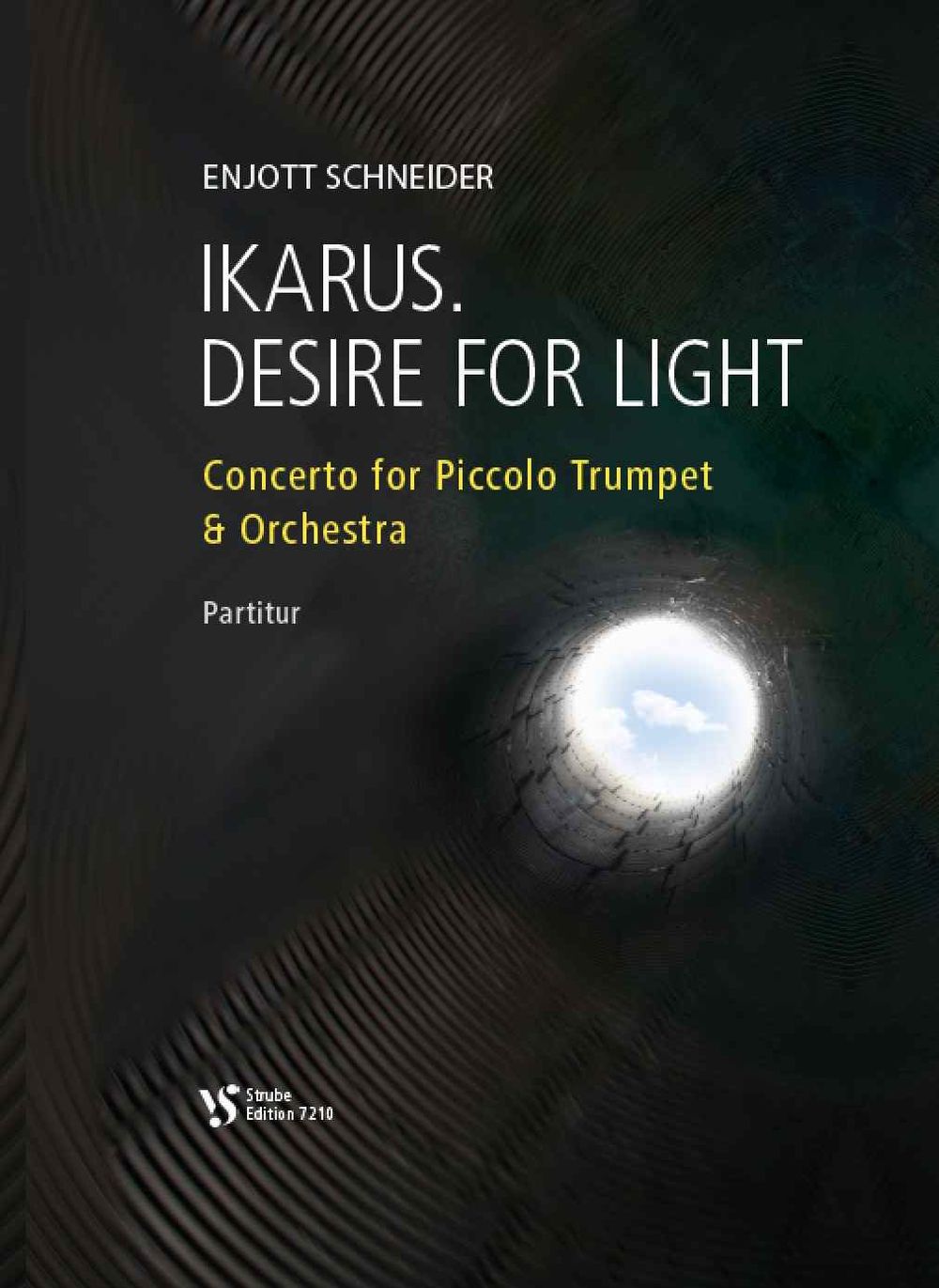 Update Required
To play the media you will need to either update your browser to a recent version or update your
Flash plugin
.
Category: Symphonic / Orchestral
The demanding Concerto thematises that path into the light which is reported with great consistency in all near-death experiences: the darkness gives way to a transition into a bright light and peace.
What remains is the longing for the light. In the mythological figure of Icarus, this longing has become a symbol for us. The boundless light, however, is not granted to the mortal ego and must be paid for with real death: Icarus wanted to fly to the sun and freedom with the wings made by his father Daedalus, and paid for his longing with death. There is a wonderful CD-Version performed by Reinhold Friedrich (Trp), Münchner Symphoniker, conducted by Martín Baeza-Rubio.
Movements: 1: CARPE DIEM: LIFE NOW
2: STRUGGLING & DISASTER
3: TRANSITION: REALM OF DARKNESS
4: THE GARDEN OF SPIRITS
5: IKARUS: DESIRE FOR LIGHT
Duration: 22 minutes
Publisher of notes/sheet music: Strube-Verlag Munich , 2016
Instrumentation: 2 Flutes /2nd also Piccolo flute,
2 Oboes/ 2nd also Cor anglais,
Clarinet,
Bass Clarinet,
2 bassons,
4 frenchhorns,
3 trombones (T T B),
Bass Tuba,
Harp,
Timpani,
3 Percussion players,
1: Triangel, große Trommel, 3 Becken (hängend) klein-mittel-tief
2: Triangel, Tamtam, metal chimes, kleine Trommel, Tomtom, Vibraphon
3: große trommel, 2 Donnerbleche (groß, klein), Röhrenglocken, Tempelblocks

Large String Orchestra
Solo instruments: Trompete (B)
Introduction: The composition deals with the path into the light that is often described by people with a near-death experience: the fear when wrestling with death and the endless darkness make room for a transition phase to a bright kingdom of peace and light. There is a garden of bliss, dematerialized lightness and completeness, with surprising encounters and for many this is an experience of endless freedom. The inevitable path back to life in case of a resuscitation therefore becomes an awful trauma when the pain and the limitations of the human body dominate again. The lightness is forced to make room for bitter heaviness.
All that remains is a longing for the light. The mythological creature Icarus has become a symbol fot that longing. The mortal human is not entitled to the endless light though and needs to pay for it with the actual death: Icarus wanted to fly to the sun and to his freedom using wings that were made by his father Daedalus. Icarus ended up crashing down and paying for his longing for the light with his own death.

Literature (a personal selection):

Raymond A. Moody:Life After Life: The Investigation of a Phenomenon--Survival of Bodily Death (1977)

Raymond A Moody: Glimpses of Eternity: An Investigation Into Shared Death Experiences (2011)

Pim van Lommel: Consciousness Beyond Life: The Science of the Near-Death Experience (2011)

Eben Alexander: Proof of Heaven: A Neurosurgeon's Journey into the Afterlife (2012)

Kenneth King: "International Association for Near-Death Studies" and founder of the "Journal of Near-Death Studies"
Dedication: ...cordially dedicated to the fabulous trumpet player Otto Sauter
Additional remarks: This composition is a commissioned work for the World & European Brass Association
World premiere: 20.03.2016, Manaus/Brazil Teatro Amazon
Performers at world premiere: First performance:
20th march 2016 with Otto Sauter (trumpet) in the Amazon Opera House in Manaus/Brazil at the Amazona Brass Weeks: Director Alain Trudel with Manaus Philharmonic Orchestra
(in cooperation with Universidade Federal do Amazonas-UFAM, Orquestra de Camera do Aamazonas-OCA). As part of a ring performance, followed by concerts in Teheran, Istanbul, Kiew, Philadelphia and Gdanks
Records: SOLO MUSICA, 2023
Performers on recording: Reinhold Friedrich (trp), Münchner Symphoniker, conducted by Martín Baeza-Rubio,
on the CD "REINHOLD FRIEDRICH - THE ART OF TRUMPET", recorded in May 2022 / Munich