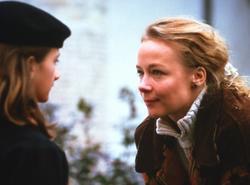 Update Required
To play the media you will need to either update your browser to a recent version or update your
Flash plugin
.
Category: Film Music
After his debut film SEKT ODER SELTERS in 1989 at the Munich Film Academy HFF and his graduation film DIE MECHANIK DES WUNDERS in 1992 - for both I was allowed to compose the film music - HIMMEL UND HÖLLE was his first feature film project in 1994. Hans-Christian Schmid trained his excellent and precise cinematic view on documentaries and then created oppressively "real" feature films...above all the cult film "23 - Nothing is as it seems"... which is one of my best and most beloved film scores.
HIMMEL UND HÖLLE - starring Katja Riemann - is a feature film that continues the theme that was already dominating in MECHANIK DES WUNDERS about the arch-catholic place of pilgrimage Altötting: the sometimes terrible consequences of a catholicism that has got out of control. The film describes how a girl comes under the influence of the village priest and religion teacher. It refers to a documentary case that took place in southern Germany and sees itself as a parable on seductiveness and as a psychogram of the seducers. Exorcism is no longer far off...
Duration: 90:00, soundtrack: 40:00
Additional remarks: with Katja Riemann, Hannelore Hoger among others
Movie: 1994
Movie directed by: Hans Christian Schmid
Movie produced by: Claussen & Wöbke Filmproduction Munich
Distributor of movie: SWF
Performers in movie: 'Augenklang' recording studio