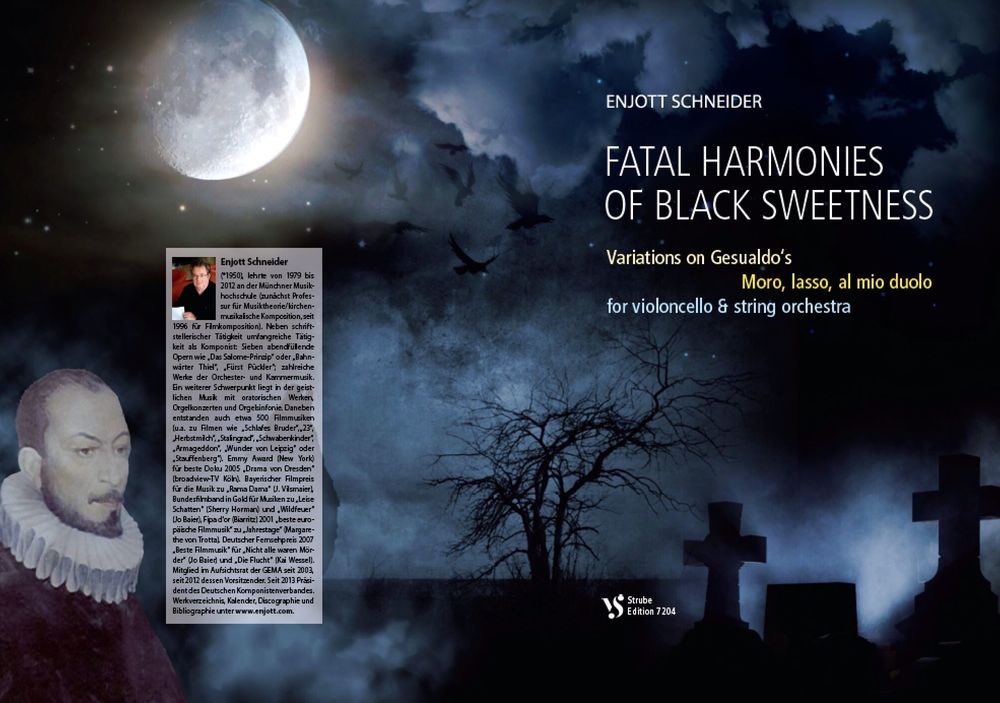 Update Required
To play the media you will need to either update your browser to a recent version or update your
Flash plugin
.
Category: Symphonic / Orchestral , Chamber Music
Movements: 1: PROLOGO
...armonie mortali

2: CANTILENA
...la bellezza di Maria d'Avalos

3: BALLO MORTALE (I)

4: RICERCARE

5: Ballo Mortale (II)

6: PASSACAGLIA DELLA MORTE
...morire d'asfissia su un'altalena
Duration: 16 minutes
Publisher of notes/sheet music: Strube-Verlag Munich , 2015
Instrumentation: Violoncello solo and string orchestra (at least 6-5-4-3-2)
Introduction: Carlo Gesualdo (1560-1613) can be considered one of the most courageous and mysterious composers of all times. His madrigal art guides harmonically to the times of Wagner and is unprecedented for his era. The background behind the permanent themes of 'death' and 'pain' for the art of composing is the murder of his beautiful wife Maria d'Avalos that led to depression and isolation... and the establishment of the radical movement that can only be understood when considering the mentioned background.
This composition adopts the dark sweetness that dominates Gesualdo's madrigal art and that cannot be seen any clearer than in the madrigal Moro, lasso, al mio duolo of his year of death - 1613 (from the 6th madrigal book). The striking sequences of chords C sharp major / A minor / H major / G major are used as the main theme and are introduced in No. 1 PROLOG. In No. 6 PASSACAGLIA DELLA MORTE they are complemented to form a quaver time Passacaglia sequence. The final tune and its swaying, sliding and glissando also refers to the reported gruesome killing of his child: tied to a swing set in the yard of a castle and exposed for days to choral tunes ... until the child died.
Dedication: Cordially dedicated to Julius Berger
World premiere: 29.03.2015, Palm Sunday, 29th of March 2015, St. Nikolaus Herrsching am Ammersee
Performers at world premiere: with Julius Berger (violoncello)
accompanied by COLLEGIUM BRATANANIUM, cond.: Johannes X. Schachtner
Movie: